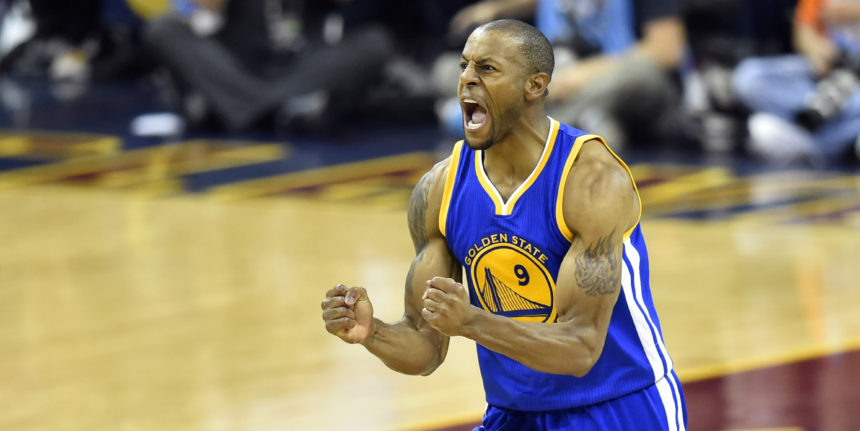 Who were the most unlikely Finals MVP winners in NBA history?
The Bill Russell NBA Finals MVP award is often one of the most confusing additions to a player's legacy.
Logically, it doesn't make much sense to apply so much weight to an award tied a tiny seven-game sample size at most. But Finals MVP recognizes the ability to elevate one's game to new heights while on the greatest basketball stage in the world. It's a touchstone for the series, and that season, and its place in the history of the NBA.
But the small sample also allows some players to make a surprising mark on a Finals. These five award-winners may not have been the odds-on favorite entering the showdown, but they all took command in high-stakes moments and became X-factors for their respective franchises. Though these are the most "unlikely" Finals MVP winners, all of them deserve praise for contributing to success.
Magic Johnson, 1980 Los Angeles Lakers
When Kareem Abdul-Jabbar was ruled out for Game 6 of the 1980 NBA Finals with an ankle injury, the Lakers had to turn to one rookie point guard from Michigan State to bring home the title. Magic Johnson was less than a year removed from being selected first overall, but was already blazing his trail as a basketball legend.
In that pivotal Game 6, Johnson put up 42 points, 15 rebounds, 7 assists and 3 steals -- as the team's center -- in a 123-107 championship-clinching win over the Philadelphia 76ers. At age 20, he is still the youngest Finals MVP winner in league history and the only rookie to receive the award. Johnson's star would only continue to rise; he took home three Finals MVP trophies in his illustrious career.
Jerry West, 1969 Los Angeles Lakers
Only one player has ever won Finals MVP as the leader of a losing franchise. Ironically, it came in the first year of the award, and even as trophy namesake Bill Russell and the Boston Celtics won in seven games. But it's tough to go against West's unreal series, in which he averaged 37.9 points (without a three-point line!), 7.4 assists and 4.7 rebounds per game.
West scored 53 points in the Lakers' Game 1 victory and 42 points in the 108-106 Game 7 loss. He beat out John Havlicek, who put up 28.3 points and 11.0 rebounds per game for Boston, to win the award. I'd bet against seeing another losing MVP winner for now, unless they can put up the same gaudy numbers as West.
Cedric Maxwell, 1981 Boston Celtics
Maxwell is the lone winner before 2000 to not be inducted into the Basketball Hall of Fame. During his 11-year career, the small forward made an impact as a dynamic scorer and rebounder, but never made an All-Star team or averaged over 20 points per game.
But Maxwell did capitalize on a sluggish Finals between the Celtics and Houston Rockets. As a 25-year-old, he put up a team-high 17.7 points to go with 9.5 assists and 2.8 rebounds per game. Larry Bird, Kevin McHale and Robert Parish were all on the roster, but all three were still growing into their roles as a Big Three. Maxwell carried the torch in advance while helping hold Houston to just 38% shooting as a team during the series.
Andre Iguodala, 2015 Golden State Warriors
During the 2014-15 regular season, Iguodala was no more than a serviceable bench piece for the Warriors, averaging just 7.8 points and 3.3 rebounds per game. But he transformed in the Finals, putting up 16.3 points, 5.8 rebounds and 4.0 assists while helping the Warriors begin their dynasty with the 2015 championship.
6 YEARS AGO, The Golden State Warriors won the title & Andre Iguodala took home Finals MVP!pic.twitter.com/LjXLhg1HOa

— Fadeaway World (@FadeawayWorld) June 16, 2021
There's skepticism around this award, as Warriors superstar Stephen Curry also dropped 26.0 points, 6.3 assists, 5.2 rebounds and 1.8 steals per game in the series. But Iguodala was the front man for defending LeBron James, and led a Warriors fortress that kept the Cavaliers from surpassing 100 points in any game. Both Curry and Iguodala deserve praise for delivering Oakland a title.
Wes Unseld, 1978 Washington Bullets
Of all the awards handed out, this one stumps me. Unseld was no-doubt an amazing NBA player, a well-deserved Hall-of-Famer and a key piece for the Bullets. But the power forward won Finals MVP in 1978 while averaging just 9.0 points, 11.7 rebounds and 3.9 assists per game. Scoring isn't the only way to impact the game, but Unseld was seventh on his team in that category, and others such as Elvin Hayes and Bob Dandridge consistently stepped up in the seven-game series win over the Seattle SuperSonics.
In fairness to Unseld, he is one of the supreme connectors in league history. Unseld's play often transcended the box score, which was especially limited back in the 1970s, and his defense against Jack Sikma and the SuperSonics was notable. It's just such an outlier from other MVP-caliber performances. Hayes and Dandridge each shouldered the scoring load and pushed Washington ahead in some gritty contests.