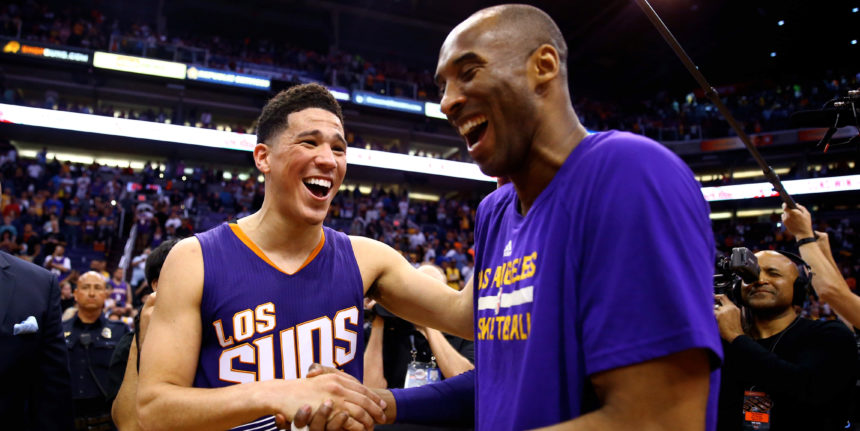 Kobe Bryant's fingerprints are all over the 2021 NBA Playoffs
Throughout Kobe Bryant's NBA career, he was obsessed with winning championships and cementing himself as the greatest player of all-time. He was known for his maniacal work ethic and drive. Even after he became the best player in the NBA, he continued to outwork everyone – determined to maximize every ounce of his potential.
He prioritized winning over everything.
"I focus on one thing and one thing only – that's trying to win as many championships as I can," Bryant once said.
However, as Bryant got older and became a father, that started to change. He realized that there's more to life – more to his legacy – than how many times he hoisted the Larry O'Brien trophy.
He started prioritizing his family. He also went from being notoriously guarded and cagey with fellow players to mentoring some fellow stars and taking them under his wing.
"It's not something that you think about when you're playing, but as you get older, you become a little more conscious of that kind of stuff; you start looking at the next generation and how you can help in some kind of way," Bryant told me in 2018. "Because at some point, it has to become about something more than just winning championships, right? It has to become about something more – about how you've helped the next generation and how you've given back to the game. So to hear [how I've impacted] players who are playing today, it means a lot, man."
Bryant made it his mission to help these young players. Suddenly, he was holding invite-only camps in the offseason, breaking down film with them, passing along advice and words of encouragement, and more.
"It's almost like a big-brother type of thing," Bryant explained to me in 2018. "They know I was in the league for so long and I've seen so many things, so there's hardly any scenario they can throw at me that I haven't come across; either I've been through it myself or I've seen one of my teammates or close friends go through a similar situation, so I can help. I get called a lot, and it's not just from NBA players; I get calls from athletes in a bunch of other sports, as well. It's fun to play that role. I really enjoy it."
Now, it's clear those lessons paid off.
Many of the players who have shined during the 2021 NBA Playoffs were influenced by Bryant. Some were mentored by Kobe directly, while others just grew up idolizing him and emulating his game. A few even said that Bryant is the reason they fell in love with basketball.
It's been almost a year-and-a-half since Bryant tragically passed away, but his fingerprints are all over this postseason.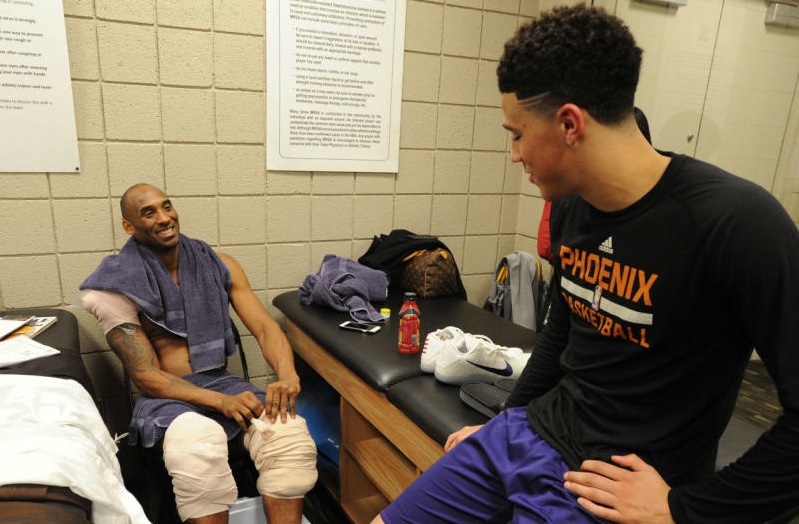 DEVIN BOOKER
Phoenix Suns star Devin Booker idolized Bryant as a kid, trying to emulate his game and "Mamba Mentality." That's why it meant so much to him when he eventually developed a relationship with Bryant.
"[He's the reason for] a lot of what I do, man, mentality-wise, approach-wise, everything," Booker said. "Before I even knew him personally, he had shaped my life, my basketball career, my approach to everything... The biggest thing for me was earning his respect."
When Booker was a rookie, he got the chance to play against Bryant during his retirement tour, finishing with 28 points and 7 assists in the Suns' win. After the game, Bryant gave Booker his game-worn shoes and autographed them, with the message "Be Legendary." After Bryant passed away, Booker decided to get this phrase tattooed on his forearm in Kobe's handwriting.
"I got 'Be Legendary' tatted on my arm," Booker said of his very first tattoo. "That's something that Kob' left me with after our final game against each other. That still keeps me motivated, and will always keep me going."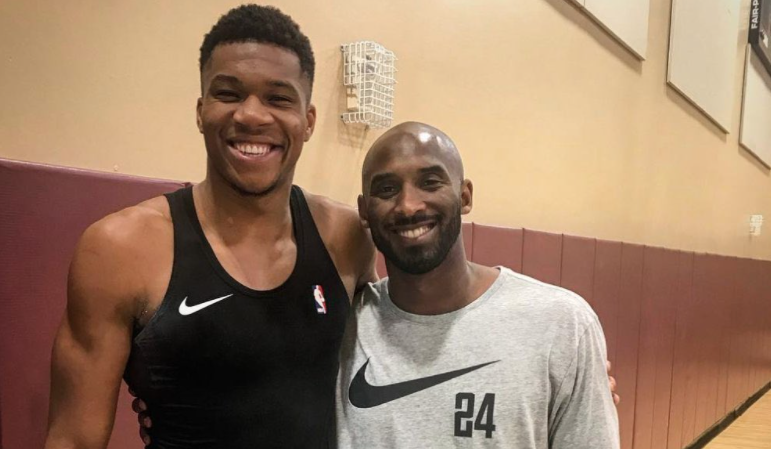 GIANNIS ANTETOKOUNMPO
Milwaukee Bucks star Giannis Antetokounmpo also grew up rooting for Bryant.
"Kobe influenced my life, looking up to him," Giannis said. "[He's] one of the reasons I started playing basketball, one of the reasons that I am here today… Growing up, he was my idol. Not just my idol, probably the whole generation's idol. For us, he was the Michael Jordan of our generation."
In 2017, Bryant challenged Antetokounmpo to win the NBA's Most Valuable Player award (as one of his 'Mamba Mentality' Challenges). In 2018, Giannis got the chance to work out with Bryant and pick his brain. Then, he achieved the goal that Bryant set for him, winning back-to-back MVP awards in 2019 and 2020.
"He was one of those guys that gave back to the game so much, gave back to the players," Antetokounmpo said. "A lot of people when they're so great, they don't do that. There was a quote that said, 'Talent is worthless if you're not willing to share it.' He was one of those guys that was sharing his talent with us… When I'm gone, if I can impact people's lives the way Kobe impacted mine and people's lives around the world, that'd be a blessing."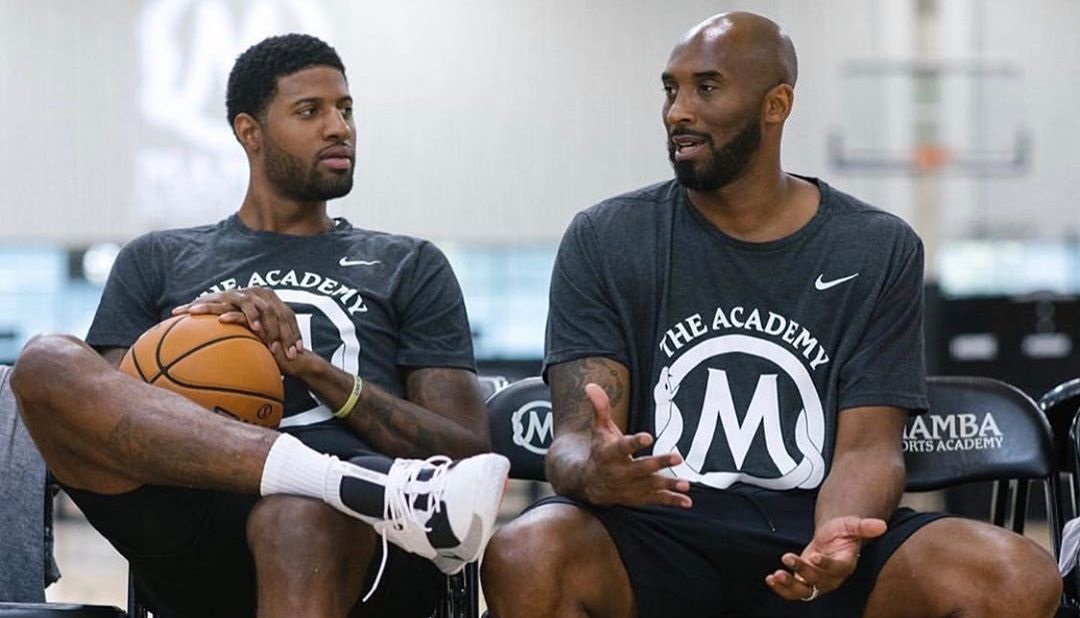 PAUL GEORGE
Los Angeles Clippers star Paul George made very similar comments to Antetokounmpo's about Kobe. Growing up in California, he was a huge fan from a very young age.
"He's the reason all of us played the game… He was our MJ, he was our hero, he was our GOAT," George said. "Growing up as a SoCal kid, he was what every kid wanted to be here. I started playing basketball because of Kobe. I attacked the game the way he played both ends. I took so many things away from him, and he made a big impression on me as a kid, just about how to go about playing the game. Aside from God-given talent, I credit everything else to him… If there was no Kobe Bryant, I don't know who I would've looked at and idolized... I picked this ball up because of this man."
Later, Bryant and George became close and trained together. After Bryant passed away, George wrote a lengthy post on Instagram that concluded with, "Thank you for taking me under your wing and being in my corner."
"From idolizing him as a kid to developing a friendship and brotherhood to now having conversations with him this summer at his Mamba Academy and talking about fatherhood, it's just some sh*t you can't get over," George said.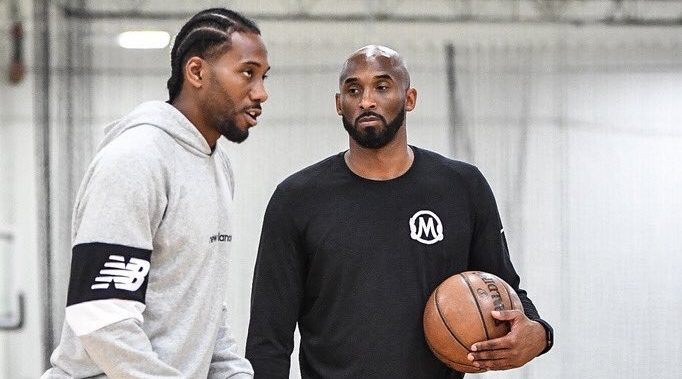 KAWHI LEONARD
George's teammate, Kawhi Leonard, also grew up in California and had a ton of respect for Bryant. And, like Antetokounmpo and George, he worked out with Kobe on several occasions.
"I had a relationship with him," Leonard said. "He's a big inspiration in my life. He did a lot for me… I want to thank Kobe for everything he's done for me. All the long talks and workouts; thank you."
Leonard spoke to Kobe throughout the Toronto Raptors' championship run, and he was one of the first people Leonard talked to after they won the title in 2019.
"I talked to Kobe last year before the season and right after we won in the locker room," Leonard said. "Me and [Raptors assistant coach] Phil Handy worked out with him before I went to Toronto, and then he was probably the first or second guy we talked to – other than our teammates or family – after we won."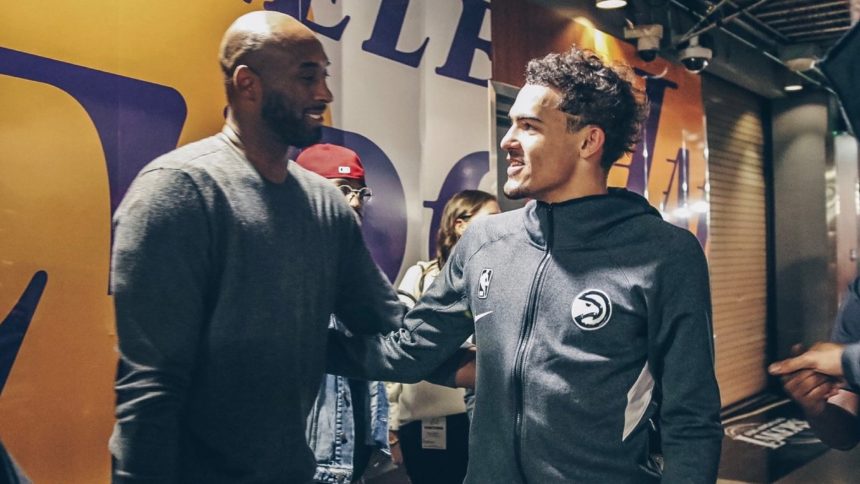 TRAE YOUNG
Atlanta Hawks star Trae Young and Bryant also had a relationship. Young was his daughter Gigi's favorite player, which brought Young and the Bryant family closer together. Gigi even started working out with Young's trainer, Alex Bazzell, in hopes of playing more like Trae.
"Me and Kobe got to talk pretty frequently, and he just gave me a lot of advice," Young said. "I was just blessed that I was able to meet him and have that sort of relationship with him."
Young actually spoke with Kobe and Gianna the day before they passed away; they called to congratulate Young on becoming an All-Star.
"One of the last conversations we had, man, he was just telling me how he's seen my game progress," Young said. "He was just happy for me. He was saying how proud he was of me and how he wants to continue seeing me be a role model for kids growing up and just for Gigi and all of the kids looking up to me and continue to inspire these kids and continue to play my heart out. That was one of the last things he said to me."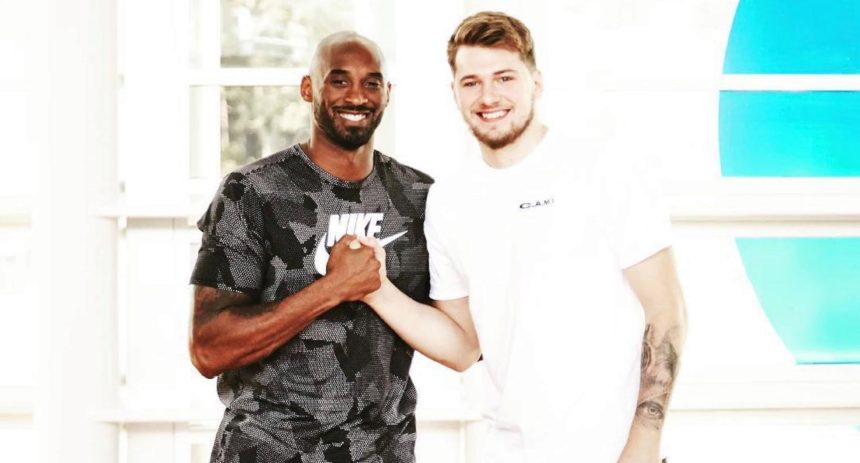 LUKA DONCIC
Gigi was also a big fan of Dallas Mavericks star Luka Doncic, who credits his love of basketball at least in part to Bryant.
"He and LeBron were, for me, the guys; that [is why] I play basketball," Doncic said. "I looked up to them and that's why I got motivated to play basketball."
In 2018, Doncic worked out with Bryant, posting a photo of the two of them together.
In December of 2019, Kobe and Gianna attended a Lakers-Mavericks game so that they could watch Luka play in person. Bryant jokingly talked trash to Doncic in Slovenian, which caught him off guard. Once he turned around and saw it was Bryant, Luka laughed and dapped him. After the game, Kobe and Gianna each took a photo with Doncic.
"That day was amazing and I'll never forget this," Luka said. "He was one of the guys I looked up to."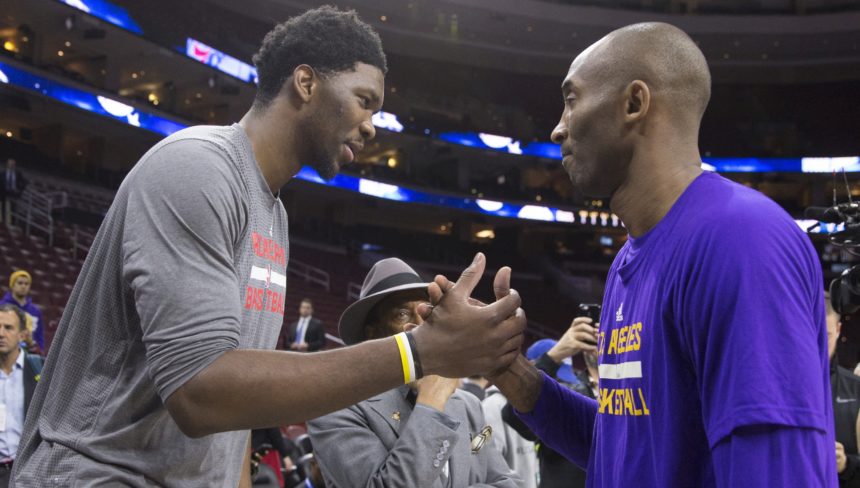 JOEL EMBIID
Embiid said that watching Bryant during the 2010 NBA Finals changed his life.
"Back in 2010 watching the Finals, Lakers against Celtics, that was the turning point in my life," Embiid said. "Watching that Finals, watching Kobe. After watching, I just wanted to be like him. I just wanted to play basketball... If it wasn't for that moment, I wouldn't be here. [I] probably would have been playing volleyball or something ... [Kobe] meant a lot to me."
After Bryant passed away, Embiid temporarily wore No. 24 to honor him.
"He was my favorite player, and even when you watch the way I play basketball and the moves that I've added -- especially when it comes to fadeaways over both shoulders -- that comes from a lot of tapes on Kobe's game," Embiid said. "I miss him a lot. I wish he was still here with us."
"The first player I fell in love with was Kobe," he added.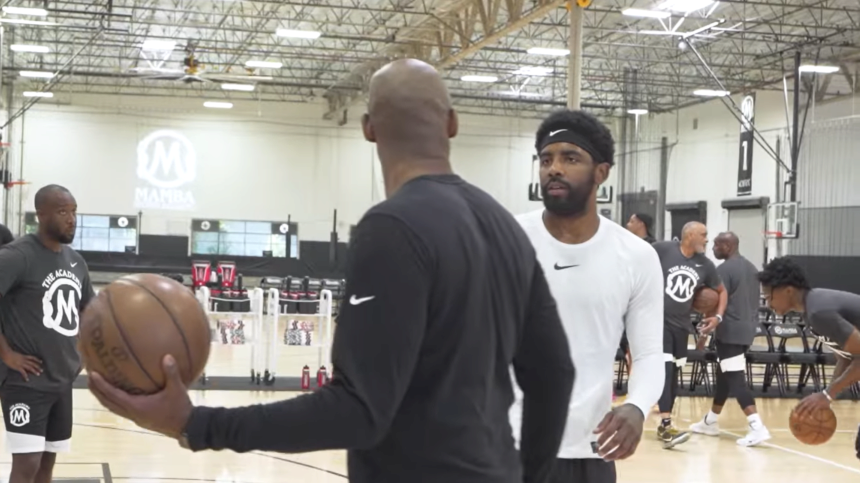 KYRIE IRVING
Irving idolized Bryant growing up, and they eventually connected in 2013 thanks to then-Cleveland Cavaliers assistant Phil Handy, who coached Irving in Cleveland and Bryant in Los Angeles.
"Kyrie really respected Kobe, and Kobe was a big fan of Kyrie," Handy recalled to BasketballNews.com. "When I got to Cleveland, I asked Kobe, 'If you don't mind mentoring this kid and helping, that would be tremendous.' … And Kobe played a huge part in helping [Kyrie] from a peer standpoint, getting him to understand what his mindset needs to be."
Of all the players currently in the NBA, Irving may have been the closest with Bryant. They worked out together in the offseason and spoke regularly.
"His words of encouragement throughout the year, just checking up on me and making sure I'm okay and seeing where I was health-wise, just giving me advice constantly throughout the year, it's helped me tremendously throughout my career," Irving said in 2015. "I try to emulate [him] and take things from his game and turn it into my own. But he's Kobe Bryant. There's not going to be anybody like him."
When Irving found out that Bryant was retiring, he sent a heartfelt text: "I was like, 'Man, you've allowed me to grow in my own space, but having guys like you that I can idolize and look up to, I'm going to try to take your legacy even further and be on the same greatness wavelength as you,'" Irving recalled.
Since Bryant's death, Irving has pushed for the NBA to change its logo to a silhouette of Kobe.
"He was the standard for our generation, and he will continue on," Irving said. "He's the guy, for me. A mentor. He's more than just an inspiration. I took a lot of knowledge and wisdom from that guy. He's always around me. Gigi is always around me."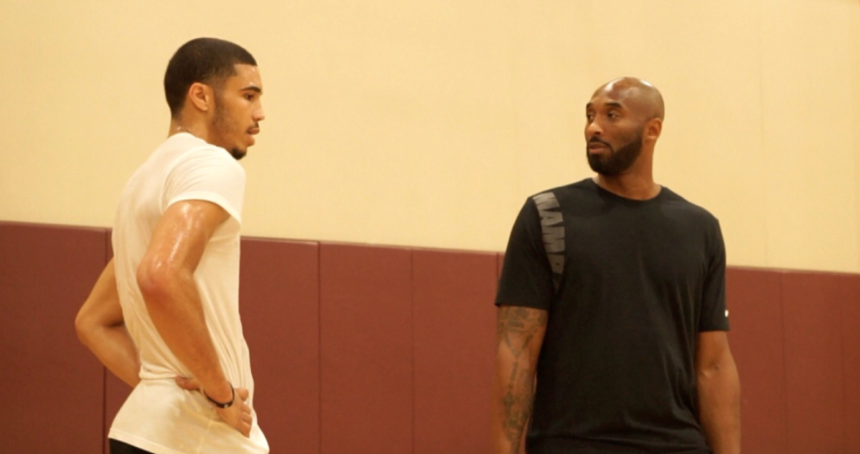 JAYSON TATUM
Boston Celtics star Jayson Tatum also modeled his game after Kobe and trained with him at one point. He even named his dog "Bean" after Bryant.
"[Training with Kobe] was just a surreal moment," Tatum said. "Just looking at him, remembering myself when I was a toddler, just a young kid watching him on TV and being like, 'That's who I want to be like. This is why I love basketball.' He inspired me. Fast-forward, now I'm 20 and I'm having a one-on-one interaction with him…
"Besides my son being born, that's like the best day of my life, just to be in that gym with him and work out with him and learn some tips. I'll never forget that day, how I felt going into the workout, how I felt afterward. I just felt like that was the coolest thing ever for me. I'll never forget that."
After Bryant passed away, Tatum detailed Bryant's impact on him in an IG post: "My hero. My idol. The reason I started to play this game, the reason I fell in love with this game. Growing up, wanting to be just like you, to you becoming a mentor, [I'm] beyond thankful for everything you've done for me. 'I didn't have a Plan B. I put all my eggs in one basket, and I knew I was going to make it happen.' Hearing you say that stuck with me every day of my life. You inspired me, and I am forever grateful – more than you know."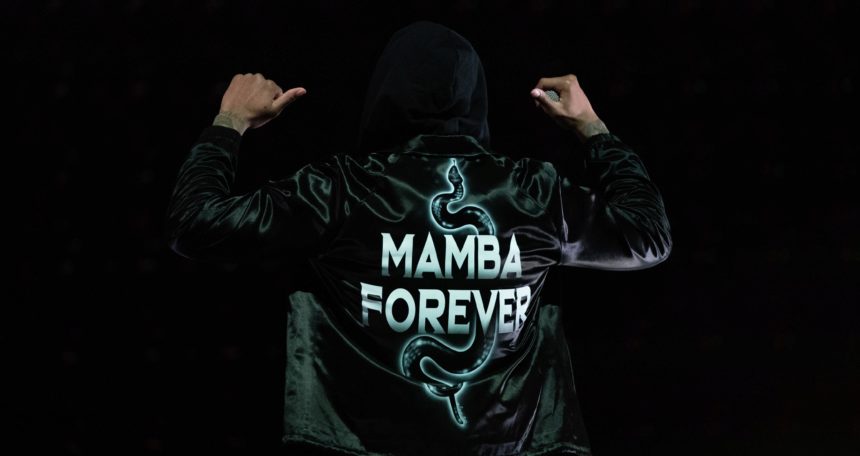 DAMIAN LILLARD
Lillard also made the transition from rooting for Bryant to competing against him to eventually developing a bond with him.
"I grew up idolizing Kobe, I grew up a huge fan of Kobe and cheering for Kobe and eventually becoming a peer of his and playing against him and getting cool with him and being in contact with him," Lillard said.
During Lillard's first All-Star Game, in 2014, Bryant kept telling him, "You fu**ing belong here. You're right where you're supposed to be with everyone here. You're an All-Star. Just keep working, young fella."
Lillard really appreciated the support.
"For me, I've never sought out validation and I've never needed it... but when it came from him, it was just different," Lillard added. "It hit different to me. I appreciated that more because of just the history of growing up a fan, idolizing him and then becoming a peer. When you hear it from him, you know it's certified. So, that just meant a lot to me."
While performing during NBA All-Star Weekend in 2020, Lillard wore a "Mamba Forever" jacket.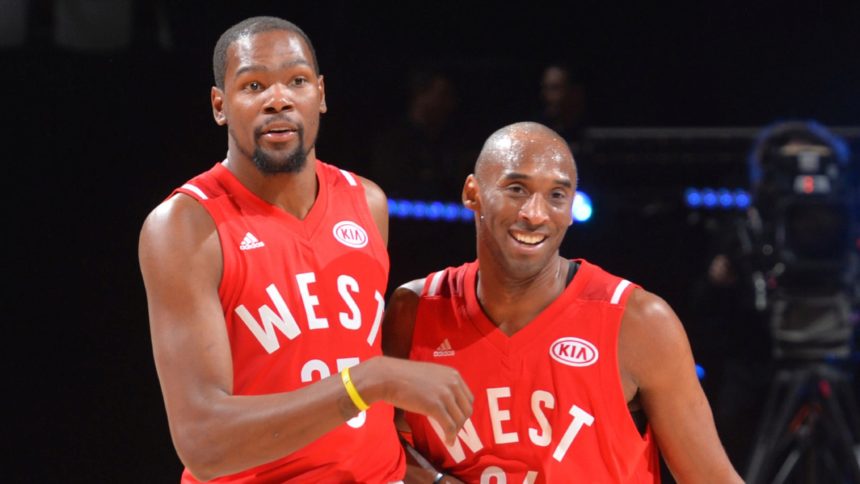 KEVIN DURANT
Back in 2015, while defending Bryant from the media's criticism, Durant talked about Kobe's impact on him and the game as a whole.
"I did idolize Kobe Bryant. I studied him, wanted to be like him," Durant said. "He was our Michael Jordan. I've been disappointed this year because you guys treated him like sh*t. He's a legend, and all I hear is about how bad he's playing, how bad he's shooting and it's time for him to hang it up. You guys treated one of our legends like sh*t, and I didn't really like it. So hopefully now you can start being nice to him now that he decided to retire after this year...
"He had an amazing career, a guy who changed the game for me as a player mentally, physically. Means so much to the game of basketball. Somebody I'm always going to look to for advice, for help, anything. Just a brilliant, brilliant, intelligent man."
Durant and Bryant were teammates on Team USA, and KD has also talked about how seeing Kobe's work ethic up close motivated him.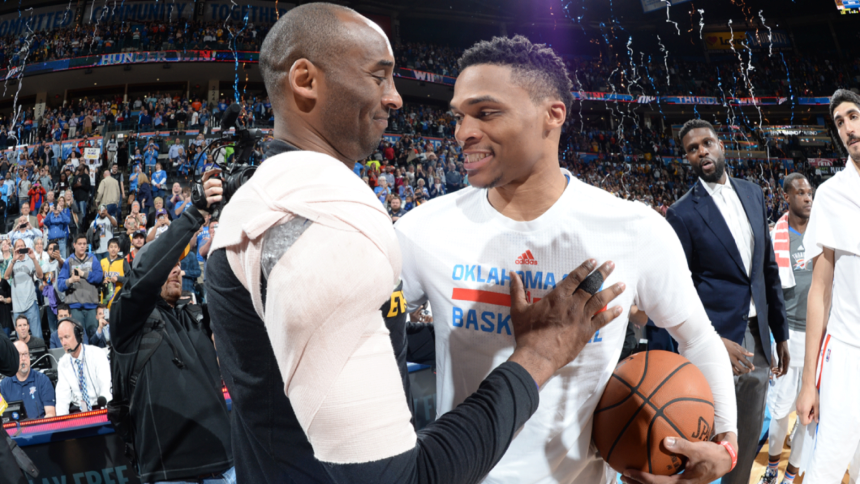 RUSSELL WESTBROOK
Like George and Leonard, Westbrook is from California, so he also became a Kobe fan at a young age. As a teenager, he actually met Bryant and played against him.
"I met Kobe when I was 16 at UCLA playing against him in a pick-up game," Westbrook wrote on Instagram. "He played like it was the NBA Finals. From that point on, I decided that I wanted to emulate his Mamba Mentality. At the time, there was no name for it, but I recognized in him what I always felt in myself."
Years later, Westbrook also developed a relationship with Bryant and trained with him.
"He became a friend, a brother, a mentor, a teacher, he defended me, he believed in me, and he taught me how to weather the storm," Westbrook said. "I can go on and on, but I want to thank you for being my idol and inspiration."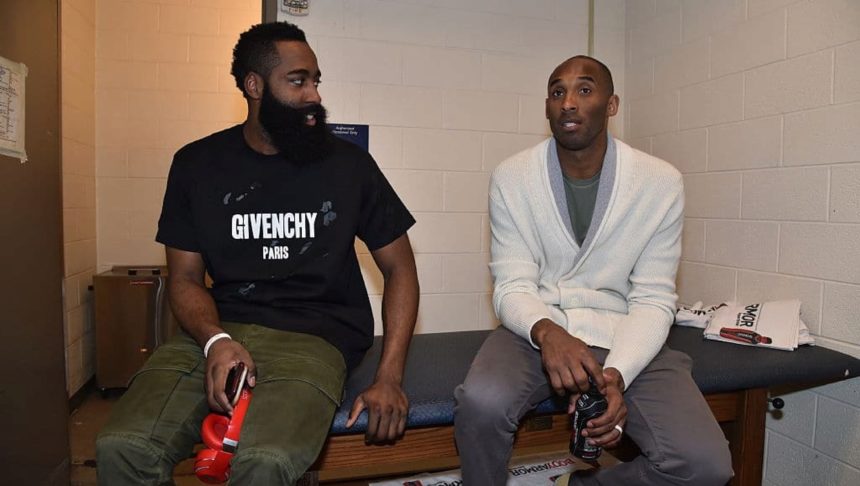 JAMES HARDEN
Harden, who is also from California, has always said that he looked up to Bryant.
"Anytime somebody asked me who my idol is, who I grew up watching and idolizing, it's Kobe," Harden said. "I have so many memories."
Eventually, the two became close, with Harden saying that Kobe was "like a big brother to me."
"I think of him a lot, man," Harden said. "Obviously, we all miss him. He was like a [role] model to me. I looked up to him as a role model when I was younger, growing up in L.A. Then, as he got older, on his way out of the league, he became a real mentor outside of basketball, in the business world. That's kind of where our relationship really grew."
In fact, Harden and Bryant even worked together on some business projects.
"We had some investments together. We had a couple business plans together we were actually working on," Harden said. "Off the court, business savvy, that's a side nobody really knows about our communication."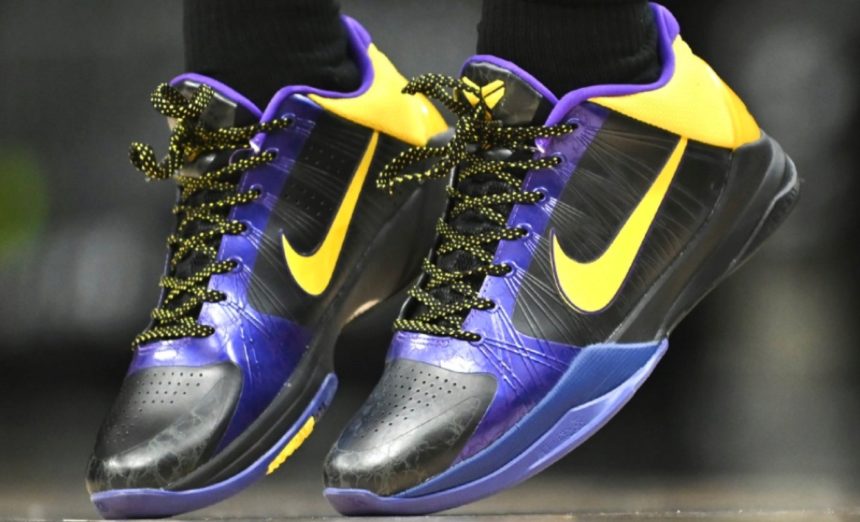 JA MORANT
Memphis Grizzlies star Ja Morant also grew up watching Bryant, and he has talked about how he's always loved Kobe's mentality and approach to the game.
"Growing up, AAU, 8 years old, that's who I watched: Lakers vs. Celtics to watch Kobe," Morant said. "I used to shoot... like every kid when you were young, if you had anything you had to throw in the trash, you'd shoot it and say, 'Kobe!' That's all I grew up watching. That's my guy."
After Bryant passed away, Morant was visibly upset and displayed an autographed Kobe jersey in his locker. Morant has worn a ton of Nike Kobe sneakers throughout his career, even vowing in January to only wear high-top Kobes for the rest of the year.
***
It's remarkable just how many people Bryant impacted, including many of today's NBA biggest stars.
After Devin Booker's 47-point, 11-rebound performance at Staples Center to knock the Lakers out of this year's playoffs, he was asked what was going through his head during the game.
"Honestly, I was thinking about Kob' and the conversations that we had," Booker said. "About what we just went through – the postseason and being legendary and taking the steps to get there. So seeing that 8 and that 24 up there, with the way the lighting Staples has here, it feels like it's shining down on you. And I know he was here tonight.
"I know he was here tonight. I know he was in the building, and I know he was proud."