Throughout Kobe Bryant's NBA career, he was obsessed with winning championships and cementing himself as the greatest player of all-time. He was known for his maniacal work ethic and drive. Even after he became the best player in the NBA, he continued to outwork everyone – determined to maximize every ounce of his potential.
He prioritized winning over everything.
"I focus on one thing and one thing only – that's trying to win as many championships as I can," Bryant once said.
However, as Bryant got older and became a father, that started to change. He realized that there's more to life – more to his legacy – than how many times he hoisted the Larry O'Brien trophy.
He started prioritizing his family. He also went from being notoriously guarded and cagey with fellow players to mentoring some fellow stars and taking them under his wing.
"It's not something that you think about when you're playing, but as you get older, you become a little more conscious of that kind of stuff; you start looking at the next generation and how you can help in some kind of way," Bryant told me in 2018. "Because at some point, it has to become about something more than just winning championships, right? It has to become about something more – about how you've helped the next generation and how you've given back to the game. So to hear [how I've impacted] players who are playing today, it means a lot, man."
Bryant made it his mission to help these young players. Suddenly, he was holding invite-only camps in the offseason, breaking down film with them, passing along advice and words of encouragement, and more.
"It's almost like a big-brother type of thing," Bryant explained to me in 2018. "They know I was in the league for so long and I've seen so many things, so there's hardly any scenario they can throw at me that I haven't come across; either I've been through it myself or I've seen one of my teammates or close friends go through a similar situation, so I can help. I get called a lot, and it's not just from NBA players; I get calls from athletes in a bunch of other sports, as well. It's fun to play that role. I really enjoy it."
Now, it's clear those lessons paid off.
Many of the players who have shined during the 2021 NBA Playoffs were influenced by Bryant. Some were mentored by Kobe directly, while others just grew up idolizing him and emulating his game. A few even said that Bryant is the reason they fell in love with basketball.
It's been almost a year-and-a-half since Bryant tragically passed away, but his fingerprints are all over this postseason.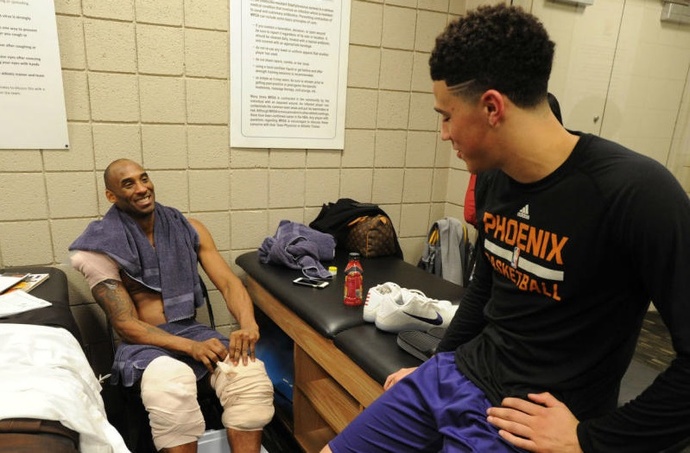 DEVIN BOOKER
Phoenix Suns star Devin Booker idolized Bryant as a kid, trying to emulate his game and "Mamba Mentality." That's why it meant so much to him when he eventually developed a relationship with Bryant.
"[He's the reason for] a lot of what I do, man, mentality-wise, approach-wise, everything," Booker said. "Before I even knew him personally, he had shaped my life, my basketball career, my approach to everything... The biggest thing for me was earning his respect."
When Booker was a rookie, he got the chance to play against Bryant during his retirement tour, finishing with 28 points and 7 assists in the Suns' win. After the game, Bryant gave Booker his game-worn shoes and autographed them, with the message "Be Legendary." After Bryant passed away, Booker decided to get this phrase tattooed on his forearm in Kobe's handwriting.
"I got 'Be Legendary' tatted on my arm," Booker said of his very first tattoo. "That's something that Kob' left me with after our final game against each other. That still keeps me motivated, and will always keep me going."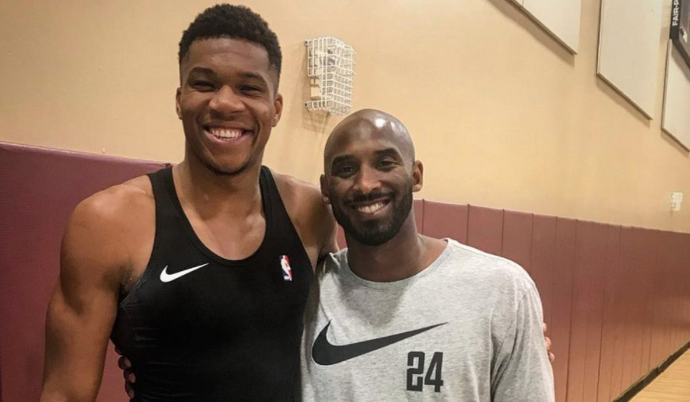 GIANNIS ANTETOKOUNMPO
Milwaukee Bucks star Giannis Antetokounmpo also grew up rooting for Bryant.
"Kobe influenced my life, looking up to him," Giannis said. "[He's] one of the reasons I started playing basketball, one of the reasons that I am here today… Growing up, he was my idol. Not just my idol, probably the whole generation's idol. For us, he was the Michael Jordan of our generation."
In 2017, Bryant challenged Antetokounmpo to win the NBA's Most Valuable Player award (as one of his 'Mamba Mentality' Challenges). In 2018, Giannis got the chance to work out with Bryant and pick his brain. Then, he achieved the goal that Bryant set for him, winning back-to-back MVP awards in 2019 and 2020.
"He was one of those guys that gave back to the game so much, gave back to the players," Antetokounmpo said. "A lot of people when they're so great, they don't do that. There was a quote that said, 'Talent is worthless if you're not willing to share it.' He was one of those guys that was sharing his talent with us… When I'm gone, if I can impact people's lives the way Kobe impacted mine and people's lives around the world, that'd be a blessing."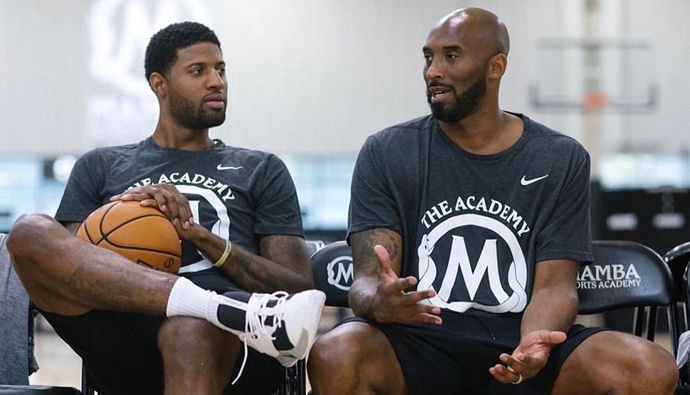 PAUL GEORGE
Los Angeles Clippers star Paul George made very similar comments to Antetokounmpo's about Kobe. Growing up in California, he was a huge fan from a very young age.
"He's the reason all of us played the game… He was our MJ, he was our hero, he was our GOAT," George said. "Growing up as a SoCal kid, he was what every kid wanted to be here. I started playing basketball because of Kobe. I attacked the game the way he played both ends. I took so many things away from him, and he made a big impression on me as a kid, just about how to go about playing the game. Aside from God-given talent, I credit everything else to him… If there was no Kobe Bryant, I don't know who I would've looked at and idolized... I picked this ball up because of this man."