Los Angeles Lakers assistant coach Phil Handy is one of the most respected coaches in the NBA. He's a three-time champion, and he's been to the NBA Finals in six-straight seasons with the Cleveland Cavaliers (2015-2018), Toronto Raptors (2019) and L.A. Lakers (2020).
From 2013 to 2018, Handy was an assistant on the Cavaliers and one of the main reasons he was brought to Cleveland was to develop Kyrie Irving. When Handy joined the team, LeBron James was still a year away from returning to the Cavs, so Irving was the face of the franchise and getting the young point guard to realize his full potential was the top priority.
Handy was the guest on this week's episode of "The Posecast" with James Posey. Posey was also an assistant coach on the Cavaliers from 2013 to 2019, so he and Handy were on the same staff and worked closely together. During the podcast, they talked about working with Irving and how he became one of the league's best players.
"You remember that first year that I got to Cleveland, that was a challenge within itself because Ky is an unbelievable talent," Handy said. "Ky is an unbelievable talent. That dude is probably the most naturally talented dude I've ever been around. [Pose], you've been with him, you've played ones with Ky on a daily basis. For me, when Mike Brown hired me, it was more about, 'Phil, we want you to really come in and mentor this kid and help him the best way you can.' … He's tremendously gifted and the challenge for me was to help Kyrie just understand how important the work was. Pose, you built your career on being the hardest-working dude on your team. Helping Kyrie understand that if you're willing to put in the work and really focus on some things to help you with your ball-handling, your footwork and your balance, you're going to take your game to a whole other area that you don't even think is possible. Once he bought into that, Pose, it was easy. It was easy because it wasn't anything I was influencing, it was really that he just bought in to getting the work in. And that's one of the hardest battles: getting guys to understand if you put the work in, you have a chance. Especially with a skill set like that? If you're willing to work, it's over. He bought into that and understood that.
"[I asked] Ky, 'Do you just want to be a good player on a losing team or do you want to really prove to people that you can be one of the best point guards in this game and play at a high level and help your team win?' Obviously, Bron coming back to Cleveland was a big caveat to that but before Bron came, Kyrie set himself on that path once he understood what it meant to work, did a better job of taking care of his body, changed his diet a little bit and just committed himself to the game on a full-time basis."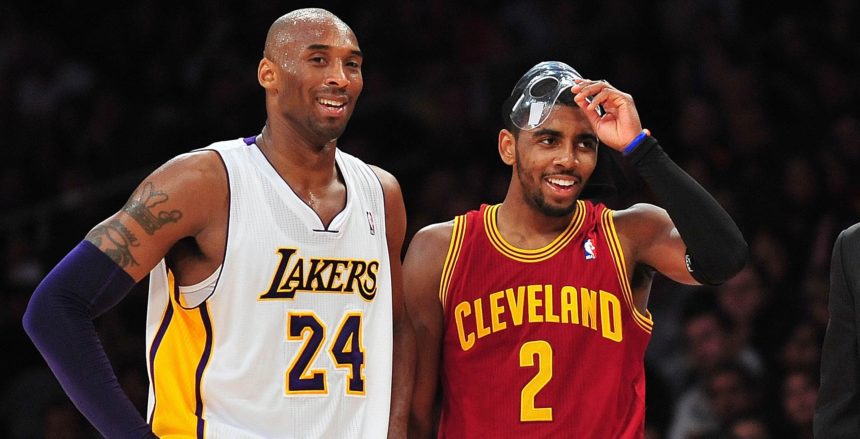 Kobe Bryant also played a significant role in Irving's development. The relationship between Irving and Bryant is well-documented, with Bryant often naming Irving as the current player he was closest to. That friendship started because Handy connected the two guards.
"The draw was that I just left L.A. with Kobe; I was with Kobe and the Lakers [from 2011 to 2013]. Kyrie really respected Kobe, and Kobe was a big fan of Kyrie," Handy explained. "When I got to Cleveland, I asked Kobe, 'If you don't mind mentoring this kid and helping, that would be tremendous.' … And Kobe played a huge part in helping [Kyrie] from a peer standpoint, getting him to understand what his mindset needs to be."
Because the game comes so easy to Irving, Handy realized that he needed to challenge Irving.
"You talk about him being a natural, I remember I'd be helping you guys out and you would get so mad -- like a good mad -- because he would just do everything so easily," Posey said with a laugh. "He would look at you with that little smirk, that little smile, like, 'This is all you want me to do?' Everything was too easy for him! So, you realized that you really had to challenge him. From the ball-handling drills to finishing, people don't understand that the stuff you see in games, he really works on a lot of this stuff! Some of it is natural, but he really works on it and puts in the time. And you helped him with it! Once you started to challenge Kyrie with those drills and those workouts, I think that the trust [between you two] became even greater and then, on the mental side, you were someone that he could talk to and who helped him who understood the game. I witnessed that, so I have to give you your kudos for helping that young man."
Handy was sure to share the credit.
"Nah, man. That was a village, man," Handy said. "We all had to tap in with Kyrie and the other guys we had. You saw that process, man. Ky was a willing student and I think he respected the work ethic that we brought and the knowledge that you were able to share, that I was able to share, that Bron shared with him, that Ty Lue and Larry Drew [shared]. Our coaching staff was a bunch of guys who had a wealth of knowledge [along] with some of the guys he played with. It was a big combination of him buying in and being willing to grow on his own."
During the 2013-14 season, Irving would go on to average 20.8 points, 6.1 assists, 3.6 rebounds, 1.7 threes and 1.5 steals, becoming an All-Star starter for the first time. The following year, he continued to improve and earned his first All-NBA selection (on the Third Team).
Be sure to subscribe to "The Posecast" on Apple Podcasts, Spotify or wherever you stream podcasts!