We have a fantastic matchup on our hands, health permitting.
In one corner, the Milwaukee Bucks have finally broken through the glass ceiling. Back-to-back postseason meltdowns led to an epiphany: hey, maybe we should do some things differently.
And so, they did.
A different offensive formation. A departure from their strict drop scheme, opting to sprinkle in more switching as preparation for later rounds. You've seen the fruits of that labor. Their drop suffocated the Miami Heat's offense in round one. Their alterations in drop and willingness to switch were evident against the Brooklyn Nets in round two, and especially against the Atlanta Hawks in the Conference Finals.
The health of Giannis Antetokounmpo looms large, but this is a talented, mentally tough, and diverse (at last!) group ready to bring this thing home.
And then there are the Phoenix Suns, who almost nobody expected to be here.
They barely missed the playoffs last season, partially due to an unfortunate suspension. They went 8-0 in last season's bubble, leading to optimism and ultimately setting the stage for a Chris Paul trade.
Paul raised the floor tremendously with his playmaking, shooting, shot creation, and leadership. Internal improvement from the young studs -- Devin Booker, Deandre Ayton, Mikal Bridges -- raised the ceiling. The vets filled the gaps, with Cameron Payne's resurgence leading the charge.
They took down the defending champs in round one, with injuries on both sides permeating the series. They destroyed the Denver Nuggets in round two, one pick-and-roll at a time. The Los Angeles Clippers threatened late, but ultimately couldn't push the Suns to a seventh game in the Conference Finals.
The Suns have the goods, y'all.
I'm not a coach -- I'm just a pun-loving basketball fan with a hankering for film breakdowns. But instead of a traditional series preview, I decided to go into the basketball trenches and devise gameplans for both teams. The tone of this piece will be a little more informal, but it will still be informative (at least I hope).
First, let's look at how the Bucks will try to stop the Suns.
Defensive Matchups
Jrue Holiday --> Chris Paul
PJ Tucker --> Devin Booker
Khris Middleton --> Mikal Bridges
Bobby Portis --> Jae Crowder
Brook Lopez --> Deandre Ayton
Middleton got the Booker assignment during the regular-season meetings. The idea of starting with Tucker on Booker as an innings-eater of sorts would make some sense. Tucker has gotten the Jimmy Butler, Kevin Durant, and Trae Young (in spurts) assignment in consecutive rounds. Letting him hound Booker and be physical – something that Patrick Beverley had some success with – could frustrate him.
Top Priority on Defense: Discipline vs Pick-and-Roll Attack
The Suns may have the most versatile pick-and-roll attack in the NBA. Drag screens in transition. Screen-the-screener actions from the wings. A buffet of options out of the HORNS alignment - a player in each corner, and a player stationed at each elbow, for those who aren't familiar. We'll dig into some of the specifics shortly.
Not only are the actions diverse, they also do a fantastic job of mixing up the spacing. They'll give you an empty corner look. They may go with a traditional spread formation. Sometimes, there will be one shooter in the strong side corner. They may go with identical looks on consecutive possessions, but have the spacers relocate to different areas.
Staying out of rotation is going to be key. If this team is able to scramble you, you might as well get back on the bus.
Suns' Team Stats (and Phoenix's stats vs. Milwaukee)
Offensive Rating: 116.3, 7th (120.5)
Half-Court Offensive Rating: 102.7, 3rd (106.8)
True Shooting Percentage: 59.7, 3rd (60.7)
Assist Percentage: 62.2, 9th (54.6)
Turnover Rate: 12.6, 4th (10.5)
Pace: 98.00, 24th (100.04)
Free-Throw Attempts: 18.7, 29th (17.5)
Free-Throw Percentage: 83.4, 2nd (77.1)
Three-Point Attempts: 34.6, 15th (36.5)
Three-Point Percentage: 37.8, 7th (43.8)
Offensive Rebounds: 8.8, 28th (10.0)
Suns' Play Type Breakdown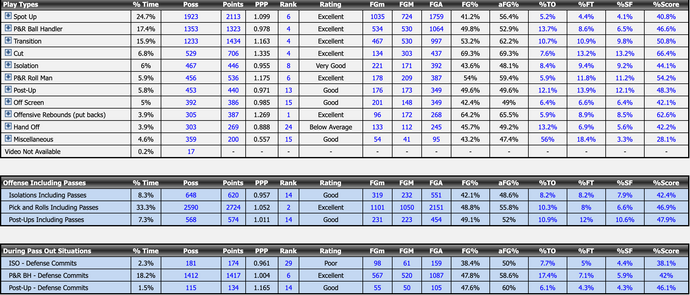 Actions to Watch For
(Before digging in, I'd once again like to recommend this breakdown for a more comprehensive look at the Suns' playbook. It is absolutely worth your time, I promise.)
This is a favorite for Phoenix. High ball screen up top, a back screen on the screener's man. The back screener will pop up above the break, or flare out to the wing. It's an incredibly tough action to defend on the fly.
Also known as "21" action, keep an eye out for Booker screening for Paul on the wing (or vice versa) as part of their early offense package. A pitch to the screener may precede the action, but otherwise, they'll be looking to get downhill early.
Don't overthink this one. The tell for this action is pretty simple. The center (5) and another player – the shooting guard (2), small forward (3), or power forward (4) – will be stationed at each elbow, predominantly in a HORNS alignment. The center will screen for the other player at the elbow as they lift to the wing and receive a pass.
Here's a loose example.
This would be "52" since Ayton (5) and Booker (2) are involved at the free throw line. If you peeped, Booker fakes a handoff to Paul before flowing into a pick-and-roll with Ayton. That handoff-to-ball-screen option exists. Sometimes, the lift from the wing will act as a decoy for a more traditional ball screen.
Base Coverage: Drop
This remains the go-to, though tweaks can be made if necessary. The drop coverage deployed in Game 1 against the Hawks is not what it looked like in Game 2, for example.
For this series, it'll need to look more like the Game 2 version. Bring Lopez or Portis closer to the level of the screen and drop back from there. Active help at the nail and elbows to clutter the driving lanes.
Paul and Booker are mid-range artists; you don't want them getting comfortable. If they get comfortable, they'll force extra help. Extra help will lead to kick-outs, and you don't want a Suns team that ranked seventh in three-point percentage to get a bunch of open looks.
To that point: they're draining north of 43% of their "wide-open" triples during the postseason.
Keep things tight.
The Changeup: Heavy Switching
This is what the regular season was for.
This is what slipping from first to eighth in defensive rating was for.
More presently, this is what the back-half of the Eastern Conference Finals were for.
If the Suns are able to get to their automatics against drop and scramble the defense, switching may be the way to go. Keep the ball in front, and turn things into an isolation battle. With or without Giannis, there should be enough size to keep the Suns out of easy mismatch-hunting on the block.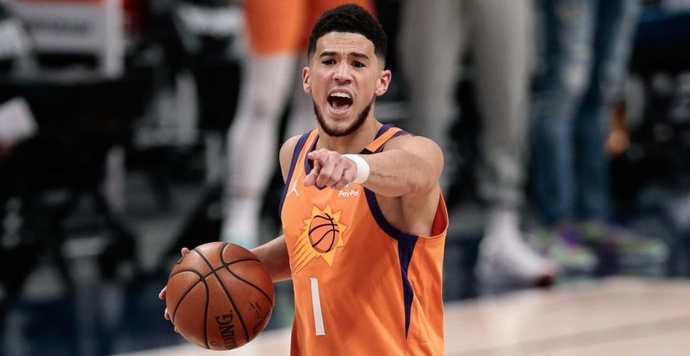 Defending Devin Booker
Booker is one of the most complete offensive players in the sport. Smooth off the dribble, physical when getting downhill. Superb footwork. Early reps as a point guard helped instill all the basic pick-and-roll reads.
There isn't a full-blown weakness to hammer home, which has allowed him to flourish during the postseason (27-6-5, 56.7 True Shooting Percentage) so far. Booker dropped 54 points across the two regular-season meetings, and did so on a mid-range heavy diet. Shoring things up and cutting off some of the automatic looks could go a long way towards slowing him down.
Major Key: Crowd the elbows
Booker was one of 12 players to average at least 5.0 mid-range attempts during the regular season. Of those 12 players, his 48.6% clip on those shots ranked fifth.
He's improved his volume during the postseason, taking 6.7 middies and knocking them down at a 41.1% clip. I won't go full-blown math nerd on you. I also have no interest in having the mid-range/analytics "debate." Let's just say a 41.1% clip on nearly seven attempts is not an ideal diet.
Booker was woeful on those looks against the Clippers (34.7% on 8.2 attempts). There were some misses that you can chalk up to randomness, but for the most part, the Clippers did their homework early.
Look through Booker's (pick-and-roll) film in that series, and you'll see someone loading up at the "nail" or around the elbows before he even begins an attack.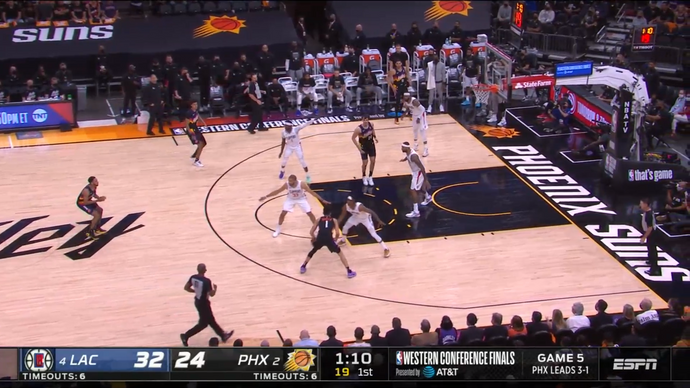 Terance Mann has the primary assignment on Booker, but look at where Nicolas Batum is stationed. Cameron Payne is one pass away, but it doesn't matter. The priority here is to make sure Booker can't flow into a left-drifting pull-up. He's going to have to pull in Mann's face, or work his attack towards the baseline.
Booker shot a shade under 44% on middies against the Bucks during the regular season with near-identical volume to the Clippers series. This is what some of those looks, well, looked like.
There are makes and misses in that compilation, but one thing is constant. More accurately, one thing isn't constant.
Help.
Step one to slowing down Booker is making sure he can't walk into those Paulian middies around the elbows. Make him shoot over two. Push him towards the baseline. Push him back above the break if necessary.
If he gets rolling on those middies, it'll open everything else up. He'll toss in a head fake to sell the pull-up, then get to the basket instead. He'll toss in shot fakes to draw easy free throws.
Don't let Booker get into his bag like that.
Other Notes
It's worth noting that Booker's pull-up prowess is only scary in the mid-range area. Despite coming out of Kentucky known as a knockdown shooter, that hasn't completely shown itself in the pros. More specifically: the pull-up three hasn't translated. He shot just 30.8% on pull-up threes this season, a little bit below his career mark (31.7%). If they're setting high ball screens for him, ducking or spinning under those picks could be a way to keep him in front.
To the ball-screen point: the Suns do a great job of mixing up the location of those screens. They don't mind operating below the arc. Trapping Booker on lower screens could be a way to keep him out of rhythm.
Defending the Shooters (Perimeter)
Chris Paul: Hard, but controlled close-out
It's been a strong shooting season for Paul. In addition to his mid-range mastery, he's coming off a season in which he shot 39.5% from three -- and an absurd 47% on catch-and-shoot looks. Running him off the line is the play, but you'll have to stay attached. Not only is he a threat to flow into one or two-dribble pull-ups from there, any extra rotation from the defense will open up kick-out opportunities for him.
Cam Payne: Hard, but controlled close-out
Payne and that funky form can do work. You can't be too reckless when closing out; he doesn't mind pump-faking, watching a defender fly by, then letting an uncontested triple rip. Keep things in front.
Mikal Bridges: Hard, but controlled close-out
Bridges made a leap as a shooter this season, improving his efficiency (36.1% to 42.5%) and volume (2.7 attempts to 4.4) from last season. He's improving as a driver, and has become more willing to stop-and-pop for middies. Don't give him easy driving lanes.
Cam Johnson: Hard close-out
Don't let the middling regular season numbers (34.9% on 5.6 attempts) fool you; Johnson can shoot the skin off the ball. He's up to 45.1% from deep in the postseason; the low attempts (3.4) can be attributed to the switching defenses the Suns have faced thus far. He's often on the move, either lifting above the break in some of Phoenix's HORNS sets or finishing Spain pick-and-roll possessions. Don't lose track of him, and don't let him establish a rhythm.
Defending the Shooters (Frontcourt)
Jae Crowder: Soft close-out
Crowder has a strong argument for the streakiest shooter in the sport. Look no further than his playoff run last season in which he buried the Milwaukee Bucks in Miami's surprising second-round victory, then nearly buried Miami with his cold shooting in the Eastern Conference Finals. Muck up actions elsewhere unless Crowder proves that he's on a heater.
Torrey Craig: Let him fire
Craig has shot well in Phoenix (36.9%) on low volume, but those looks are almost exclusively open. He's a classic tip-your-cap candidate.
Dario Saric: Soft close-out
Saric shot 39.3% from three on over five attempts in his second season (2017-18), and hasn't matched that volume or efficiency since. He's a willing shooter, but a somewhat streaky one. The real fear is his pump-and-drive game. Stay disciplined on his fakes and force him to drain contested shots.
Frank Kaminsky: Hard close-out
Kaminsky can stroke it as a pick-and-pop guy. He isn't an elite shooter, but a good enough one to pay attention to. He also isn't a dangerous passer on the move, nor is he a high-level finisher. Running him off the line shouldn't be too dangerous.
Deandre Ayton: Let him fire
Ayton has taken 20 threes this season. If he's flinging one, the shot clock is winding down or the game is out of hand already. Don't worry too much.
X-Factor: Deandre Ayton
Ayton has had a wonderful postseason thus far. His per-game numbers speak for themselves: 16.2 points with a 70.5 TS, 11.8 rebounds (3.4 offensive).
He's doing the little things, and doing them well. Per Synergy, Ayton is generating north of 1.4 points per possession off of cuts (1.46), in transition (1.47), and as the roller in ball-screen actions (1.56).
Ayton has been doing a great job of doing his job early. Running the floor hard, sealing his man off and putting them in the photographer section. It's simple stuff, but effective stuff.
Getting a body on Ayton early will be key. If you can get him to catch further from the basket, you may be able to goad him into face-up jumpers. He has the touch to knock those down, but they're inherently less threatening.
His post-ups will also be a mini-battle that could swing the series. If the scheme shifts from drop to switching, it'll be on Ayton to abuse size mismatches. He's only generating 0.59 points per possession on post-ups this postseason. Can he dislodge Holiday? Flip in hooks over Middleton?
In theory, of course he can. He'll need to prove it, though.