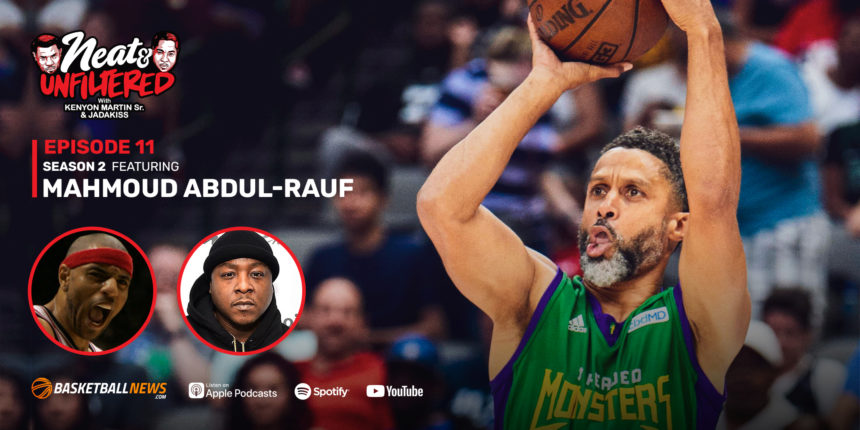 Neat & Unfiltered: Mahmoud Abdul-Rauf on his Tourette's, anthem protest, BIG3, more
On this week's episode of Neat & Unfiltered, Kenyon and Jada are joined by Mahmoud Abdul-Rauf. After struggling with Tourette's Syndrome at an early age, Abdul-Rauf gave himself the drive and enough reps to go to LSU and have one of the greatest freshman seasons in NCAA history. A lengthy NBA career included a lot more than just basketball, including his decision not to stand in a "dignified posture" during the National Anthem. Time-stamps for this episode are below!
2:45​ - Abdul-Rauf played his first actual basketball game at 10 years old and has never wanted to stop playing ever since.
5:15​ - The impact Abdul-Rauf's mother had as he was growing up in Gulfport, Mississippi, and the emphasis on bettering himself each day.
8:00​ - Dealing with Tourette's and for how many struggles there were growing up, it gave him the discipline and repetition that's required to be a pro basketball player.
16:10​ - Abdul-Rauf must have perfected his craft by the time he came to LSU, averaging 30 points a game, and having one of the most dominant freshman seasons in NCAA history.
20:00​ - The LSU Tigers had Abdul-Rauf but they also had "big and bigger" with Shaquille O'Neal and Stanley Roberts.
21:45​ - Abdul-Rauf's decision to leave the NBA after his sophomore season and having no regrets becoming a professional athlete to provide for his family.
25:45​ - Entering the NBA and not having the success he was used to right away, and ultimately changing his name after becoming the NBA's Most Improved Player.
30:10​ - The NBA's policy on standing and addressing the flag for the National Anthem became a subject of controversy long before Colin Kaepernick, and Abdul-Rauf details his thought process while navigating repercussions from the NBA.
36:50​ - How David Stern's tenure as Commissioner seemed to rub both Abdul-Rauf and Kenyon both the wrong way.
44:15​ - Adbul-Rauf and Kenyon facing off against each other in the Big 3.
Be sure to subscribe to "Neat & Unfiltered" on Apple Podcasts, Spotify or wherever you listen to podcasts. Also, leave a rating and review to show your support for the show!