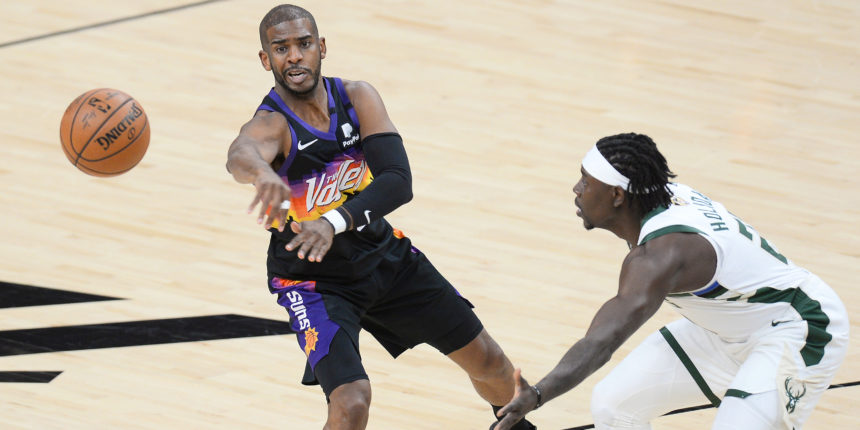 How the Bucks' adjustments have impacted the Suns' offense
How did the Phoenix Suns reach this seemingly unimaginable point, an NBA Finals appearance for the first time in 28 years? It was largely due to their offensive system.
Suns head coach Monty Williams implemented the "0.5 Offense" predicated around ball movement to find the most optimal shot selection. Within a half-second timeframe, players must decide to take a shot, drive to the basket or pass it for a better opportunity elsewhere. Throughout the 2020-21 season, Phoenix lived off the "0.5 Offense" principles and it worked to perfection. Acquiring Chris Paul via trade was the cherry on top to a sundae ready-made to carve up defenses on a nightly basis.
After taking a commanding 2-0 lead on the Milwaukee Bucks in their first Finals appearance since 1993, Phoenix continued to hold true to their "0.5" style, and Milwaukee had no answers. In Game 1, Devin Booker and Paul went mismatch hunting on the Bucks' bigs, which ended in a resounding 118-105 win.
In Game 2, the Bucks dared Phoenix to beat them by playing even more to their "0.5" philosophy, playing off their shooters while limiting opportunities for Booker and Paul. This led to Mikal Bridges scoring a career-high 27 points, while Jae Crowder and Cameron Johnson both canned multiple three-pointers as well. Whether it's scoring or setting up others, the Suns' offensive engines of Booker and Paul were having their way against the Bucks.
With the series heading back to Milwaukee, the Bucks made a series-changing adjustment. Jrue Holiday would hound Chris Paul with full-court pressure, taking the basketball out of his hands more quickly than the first two games in Phoenix. Paul's time of possession fell off a cliff thanks to Holiday's harassment:
Game 1: 10.5
Game 2: 10.1
Game 3: 8.3
Game 4: 8.7
Game 5: 7.3
Limiting Paul's rhythm within the Suns' offensive flow created serious issues, including nine turnovers for CP3 over a two-game span. Also, the Suns' potential assists have steadily declined throughout the Finals: 53, 44, 41, 38, 29. Milwaukee icing out Paul's effectiveness while not playing off their wings in the corners, sans Game 2, has turned the Suns into an iso-heavy offense with a lot of ball-watching. This is a complete identity shift from how the Suns reached the Finals in the first place.
Milwaukee's critical adjustments led to them being more comfortable with a one-man band of Booker attempting to beat them while limiting everything else around him. After Booker's sub-par Game 3 (10 points on 3-of-14 shooting), he's gone off for consecutive 40-plus point outings. It hasn't mattered, with the Bucks now holding a 3-2 series lead with the chance to win an NBA championship on their homecourt on Tuesday night.
Another point worth noting is that Paul hasn't looked 100% either. With Holiday's aggressive on-ball defense picking him the length of the court almost every possession, Paul's partially torn ligaments in his right hand seem to be a more consistent issue.
This puts even more pressure on Booker to put on his Superman cape and will the Suns across the finish line to a title. Over the last two games, Booker has averaged 41 points on a remarkable 61 True Shooting percentage. Add in the fact that Booker's usage rate in Games 4 and 5 totaled out to 42.9, and he has effectively become their whole offense. In both games, Phoenix nearly pulled out a win -- even without anyone else supplying strong secondary support around their 24-year-old star.
So, what do the Suns need to do to force the Bucks back on the plane to Phoenix following Game 6? The answer is simple: play Suns basketball. While the adjustments Milwaukee made throughout the series have severely limited the Suns' efficient scoring attack, the fourth quarter of Game 5 showed there's success to be found. When Booker and Paul were able to get inside the lane and force drive-and-kick opportunities, which was a huge factor in their Game 2 victory, it led to so many easy looks from the corners. And when the extra help from Milwaukee didn't come, the Suns' backcourt duo won their one-on-one matchups on a few key possessions late.
Booker can continue to be the superstar scorer he is, but the basketball needs to whizz around the perimeter to find better looks more consistently.
If the Suns can secure another hot scoring night from Booker, while also keeping the ball moving for better opportunities when needed, their odds of keeping confetti from falling inside Fiserv Forum will grow exponentially. When the Suns hold true to Williams' "0.5" principles, it gives them a much better chance of pulling off the upset and forcing a winner-take-all Game 7 at the newly re-named Footprint Center.