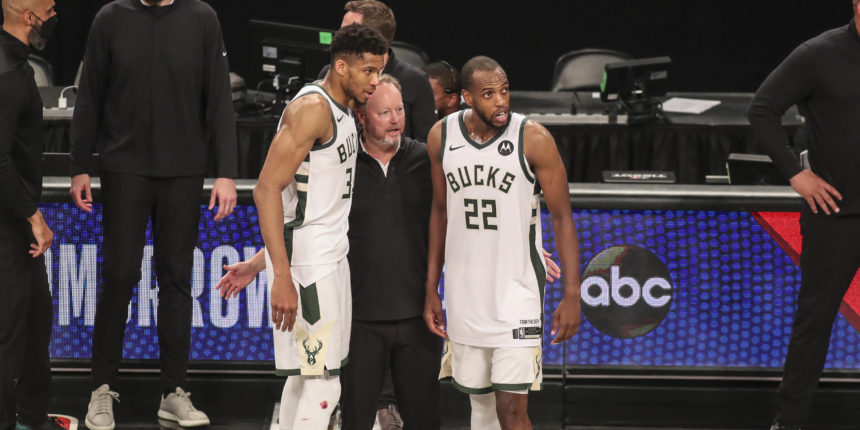 Behind Giannis, Milwaukee is proving that failure is the best teacher
There's no better motivation than having your heart ripped out. And that's why I picked the Milwaukee Bucks to beat the Phoenix Suns in the NBA Finals.
The job is far from over. It might take six games, it could take seven, but at least through the first five games of the series, it's became obvious that the Bucks had something extra, something deep down inside that was motivating them.
It's pain. And I can tell you that from experience.
Nothing against Phoenix, but as a whole, with the exception of Chris Paul and Jae Crowder, the Suns aren't a team that has taken their lumps and learned the hard lessons of what it takes to overcome adversity and succeed in the playoffs.
Milwaukee, on the other hand, knows it all too well. That's why they just refuse to quit.
During my career, I was fortunate enough to have some great teammates, and with Jason Kidd, Keith Van Horn, Kerry Kittles and Richard Jefferson, I was able to help the Nets get to back-to-back Finals in 2002 and 2003.
In 2002, we were a really young team that hadn't been there before — none of us. The Lakers, on the other hand, won two championships in a row and were looking for their three-peat. They put foot to ass for four games straight and swept us. From that series, I learned what a complete team looks like. We had pieces, but we found out the hard way that we were missing a few things, including the experience.
When people think about Shaq and Kobe, they remember the three-peat and all that, but they don't remember that they had a couple early exits, too. The Lakers went 61-21 in the 1997-98 season and got swept by the Utah Jazz in the Western Conference Finals that year.
So yeah, Shaq and Kobe beat us down, but by that time, they were seasoned. But you know what? The next year, we used that as motivation.
Losing, especially when you're favored and definitely when you lose in the Finals, changes you as a player. You work for years to get the opportunity to win a championship, and when you fall short time after time… Man, it just hits you differently when you get right there on the doorstep. It's the equivalent of your bride or your groom not showing up on your wedding day.
We had that chip on our shoulder the entire next year, and when the 2003 playoffs came around, we were a different team. We were tired of hearing people question our toughness and our talent. We found a different gear.
In the first round, we split the first four games with Milwaukee, but then we won our next 10 games in a row. We took Game 5 and Game 6 of that series, then swept the Celtics and Pistons in the next two rounds. We got back to the Finals, but this time, we had to play San Antonio.
Obviously, we couldn't get over the hump. We split the first two games in San Antonio, but then lost two out of the three on our home floor. We went back to San Antonio for Game 6 and Game 7 behind in the series, 3-2. And couldn't force a Game 7.
The next season, our head coach Byron Scott got fired and we lost to the Pistons in seven games in the second round. I really thought we were close in Jersey, but, that's the thing about the NBA: you never know when you might be on your last chance.
The front office there shook things up a bit and I ended up signing with Denver. I never got back to the Finals again.
That's the thing with Giannis and the Bucks — these guys have been through it. They've been favored, had the best record, got swept, been doubted, and they just keep coming back.
When they were down 3-2 to Brooklyn in the second round, there was something about them that just wouldn't let them quit, and they've developed amazing resolve. That can be said of the front office, too.
Some teams would've considered making wholesale changes, but they stuck with the core and allowed them to develop. They exercised some patience and continued to build around Giannis and found ways to bring in guys like Brook Lopez, Jrue Holiday and P.J. Tucker. Most importantly, they re-signed Khris Middleton when he was a free agent back in 2019.
They gave Giannis every opportunity to finish what he started, and it's fitting considering the fact that they saw something in him from the very beginning.
In 2014, my career was winding down, and I got an opportunity to sign with Milwaukee. Although my time there was short, I was able to spend some time with Giannis. He had just one season under his belt, but the staff there was working so hard to develop him and bring his talent out. His dedicated work ethic and positive attitude were there from Day 1, but the staff was utilizing advanced stats and all kind of metrics to build him individual workout regimens, provide nutritional guidance and schedules for when he should do his work.
So yeah, man, even though I was only there for a short time, I saw when they started laying the foundation. There's no shortcuts to becoming a champion. Title teams are built and developed.
Along the way, you're gonna take some bumps and bruises, but you know what? You're gonna learn. And in those lessons, you're gonna find the extra motivation that you need to get the job done.
Giannis just hyperextended his knee not too long ago, yet somehow, he found the ability to have the biggest defensive play of the series against Deandre Ayton and be the most impactful two-way player on the floor.
So I guess what I'm saying is that I believe in Milwaukee because I know what's motivating them. They paid their dues and they're able to use their past failures as fuel to get them through those tough times when things aren't in their favor.
It's nothing against Phoenix, as a unit, they just haven't been there yet. And while they obviously still got a shot to win this series, in the end, in a way, I think Milwaukee's past failures are what's gonna be able to get them through the storm and make the difference when it's all said and done.