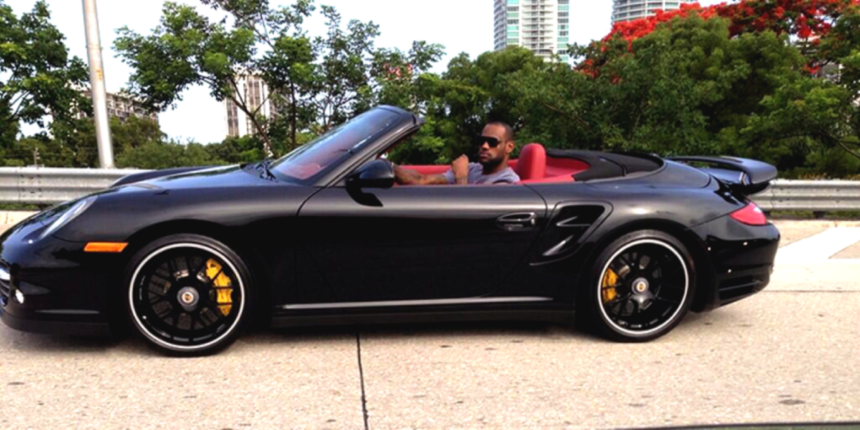 Which NBA players have the most valuable car collection?
The world's best professional athletes can earn hundreds of millions of dollars for their elite talents. With this comes the opportunity to have a luxurious lifestyle, and supercars may be some of the coolest flexes out there.
A study from ManySpins.com sought to estimate the most expensive car collections among pro athletes around the world.
"ManySpins.com analyzed Forbes' 2021 list of the world's 50 highest-paid athletes, investigating several reports into the number and value of cars these athletes have amassed with their enormous wealth," he study reads. "They then scoured the internet to find out which car brands and models each athlete owns alongside their estimated worth. Ultimately, this allowed ManySpins.com to rank the most expensive car collection of the best-paid athletes in 2021."
According to the study, global soccer star Lionel Messi has the most expensive car collection of any professional athlete, worth an estimated $38,873,313. However, the bulk of his 13-vehicle value comes from a single car: a Ferrari 335 S Spider Scaglietti that he bought for over $34 million.
Brooklyn Nets centerpiece Kevin Durant owns the most expensive car collection among NBA players. His eight-vehicle entourage is worth an estimated $4,369,741. It includes a 1966 Ford GT40, which has a ballpark value of around $2.5 million. Durant ranks eighth among all athletes included in the study.
LeBron James slots in at second among basketball stars and 11th among world athletes, with a collection valued at $2,798,824. His eight cars are headlined by a Lamborghini Aventador Roadster and a Rolls-Royce Phantom.
James Harden ($815,702), Stephen Curry ($782,277) and Anthony Davis ($710,900) round out the top-five basketball player collections. Kyrie Irving ($661,792), Russell Westbrook ($601,053), Damian Lillard ($518,915) and Klay Thompson ($511,636) also have collections estimated to be worth over $500,000.
Below is a table listing the top-10 most expensive collections among pro athletes:
| | | | | |
| --- | --- | --- | --- | --- |
| Rank | Athlete | Sport | No. of Cars | Est. Total Value ($) |
| 1 | Lionel Messi | Football | 13 | $38,873,313 |
| 2 | Cristiano Ronaldo | Football | 19 | $24,929,239 |
| 3 | Lewis Hamilton | Motor Racing | 9 | $17,084,400 |
| 4 | Saul 'Canelo' Alvarez | Boxing | 22 | |
| 5 | Neymar | Football | 9 | $16,271,392 |
| 6 | Max Verstappen | Motor Racing | 10 | $5,514,678 |
| 7 | Tom Brady | American Football | 10 | $4,619,790 |
| 8 | Kevin Durant | Basketball | 8 | $4,369,741 |
| 9 | Conor McGregor | MMA/Boxing | 13 | $3,753,914 |
| 10 | Paul Pogba | Football | 8 | $3,144,537 |
Listed here is the methodology for the study:
ManySpins.com sought to determine the current highest-paid athletes in 2021's most expensive car collection.
The list of athletes was sourced from Forbes 2021 top 50 world's highest-paid athlete list.
The data for this study was completed by using several reports and extensive research but is not a confirmed or an official list.
Sources included: Motorious, The Sun, Insider, Hot Cars, Financial Express, DriveTribe, EssentiallySports, RacingNews365, Express, The Gentleman Racer, RepublicWorld, TopGear, Sports24, SportsKeeda, Wtfoot, CarCollectorsClub, sportszion, networthmag, Soccerladuma, AutoJosh, KickOff, InsideSport, TheSportsGrail, ClutchPoints, 21Motoring and LifestyleAsia.
Some of the cars in the study did not have a specific model attributed to the car, so the average value of the car was used.
Each athlete's total car collection value was calculated by adding up the estimated value of each individual car, allowing for a final ranking of most expensive to least.
10 athletes were excluded from the final study due to no reported information on their respective car collections (Dak Prescott, David Bakhtiari, Ronnie Stanley, Dustin Johnson, Myles Garrett, Leonard Williams, Jimmy Butler, Chris Jones, Matt Judon and J.J. Watt).
The currency was converted from GBP (£) to USD ($) using XE's live currency converter.
The data was collected on 08/09/2021 and is accurate as of then but subject to change.