Nobody should be surprised the Miami Heat hold a 1-0 series lead over the Milwaukee Bucks.
As mentioned in this space, the Heat have the right mix of personnel and coaching to make this a series. All of Miami's advantages were on display on Tuesday night, generating an offensive rating of 116.2 and a defensive rating of 105.1.
The biggest story from the game was the off-night of Giannis Antetokounmpo. After averaging 30.6 points with a 65.1 True Shooting percentage (TS%) in round one against the Orlando Magic, Giannis was only able to muster 18 points on a meager 52.1 TS%. He was plagued with early foul trouble, but never really looked comfortable even within that context. The Heat made life tough for him, and the Bucks weren't able to get enough contributions from the "Others" to make up the gap.
Let's take a look at how the Heat were able to slow down the reigning NBA MVP.
Limiting Transition Opportunities
You can't allow Giannis to gain a head of steam if you want to stop him. That's true in the half-court, but that's especially true in transition. Per Synergy, Giannis led the NBA in transition points (526), and had the fifth-highest score percentage (57.0) - percentage of transition possessions where at least one point was scored - among 33 players that logged at least 200 possessions.
In short: Giannis in the open court is a nightmare.
When the wall isn't formed in time, Giannis can attack gaps and get to the rim with ease. Take this first quarter grab-and-go for example. Jimmy Butler isn't able to recover and cut off the left, which allows Giannis to load up, power through Bam Adebayo and flush this down.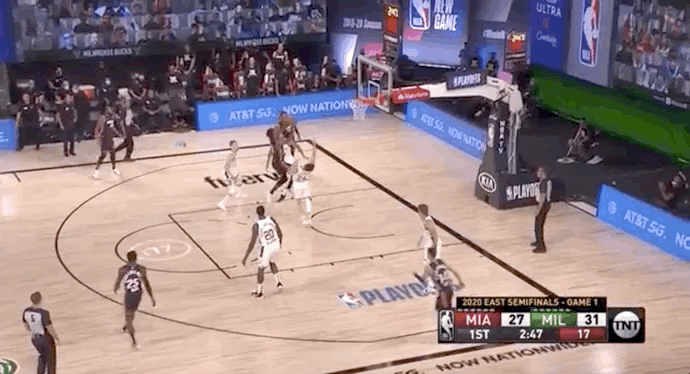 Overall, the Heat were able to limit him there. They did a great job of forming the wall and goading Giannis into pull-ups, or forcing the Bucks to set up their half-court offense.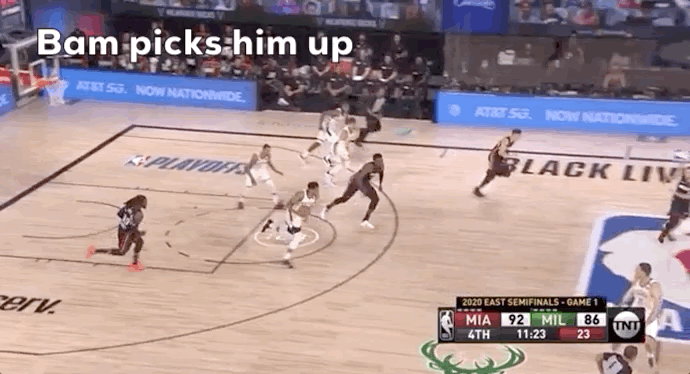 The Heat show four different bodies in the span of five seconds. It's hard to build a head of steam if you don't have space to accelerate. It's especially difficult to speed through cracks if you don't know where, or how long, they will exist.
Giannis finished the game with five fastbreak points, according to NBA.com. You live with that every day of the week if you're Miami.
Closing the Gaps
While stopping the Bucks (read: Giannis) in transition is rule number one, it's equally important to withhold those same principles in the half-court. Even from a standstill, it usually only takes one dribble for Giannis to long-stride his way into rim attempts. But, as they did in the regular season, the Heat did a tremendous job of showing multiple bodies whenever Giannis attempted to drive.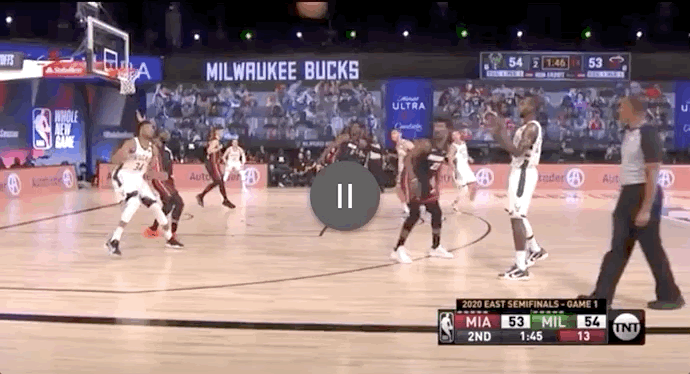 Above, Giannis gets a post-up opportunity on the left block after the Bucks run their "Cross" action. What should be a dribble-and-go situation turns into a game of cat-and-mouse. Crowder is positioned to funnel Giannis to the middle.
There's a gap there, but Butler is positioned to dig down and swipe at the ball. A spin towards the baseline would run him into a trap with Tyler Herro digging down. There's truly no good answer available. Giannis actually beats Butler to the spot on his drive, but he elbows Jae Crowder in the process, leading to the offensive foul.
The Bucks generated 0.89 points per possession on trips featuring a Giannis drive in Game 1, according to a source with access to Second Spectrum tracking data. That's below his regular-season mark against the Heat (0.96 PPP), and well-below his overall production on the season (1.07 PPP).
When the Heat weren't able to crowd Giannis in a timely fashion, bad things happened.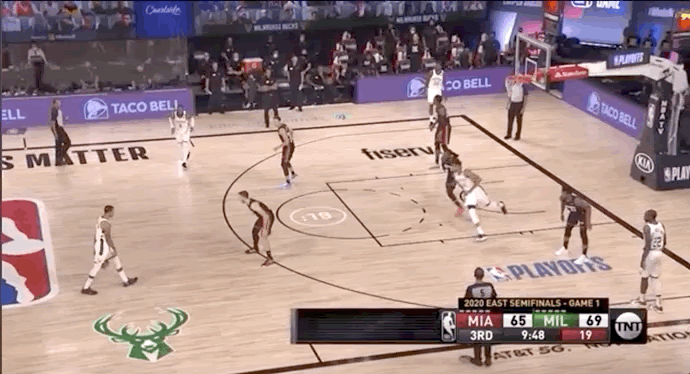 The Bucks use Giannis as a screener with George Hill operating the pick-and-roll. The Heat naturally don't want to switch Goran Dragic onto Giannis, so they employ a "drop" coverage with Crowder operating as the big.
The onus here falls on Duncan Robinson at the left elbow. He should've "tagged" Giannis on his short roll and dared Hill to make the kick out pass to Wesley Matthews. At worst, Matthews would've been taking a contested catch-and-shoot triple from above the break, where he's much less effective than he is from the corners.
Instead, Giannis is able to rumble into space, body Crowder and finish over the top with a finger roll.
Shutting Down the All-Star Two-Man Game
In theory, the two-man game of Khris Middleton and Giannis should give the Heat some problems. Middleton is one of the best three-level scorers in basketball and possesses enough passing skill to make him a difficult cover in pick-and-roll. Giannis, of course, is the most dangerous paint threat in the sport.
The duo generated 1.22 PPP against the Heat during their regular-season meetings, per the Second Spectrum source. They had virtually no success with that in Game 1 - the number plummeting to 0.42 PPP on 12 direct hookups.
You have to give credit to the marriage of personnel and scheme here. Having some combination of Butler, Crowder, Andre Iguodala and Adebayo defending the action made things tough. All four can move well enough laterally to hang with Middleton, and they're all strong enough to at least bang with Giannis for a dribble or two.
The Heat switched the action, but there were particular ways they wanted to switch to snuff it out. Whoever was defending Giannis would show high on the screen, preventing Middleton from turning the corner. Middleton's defender would slide or jump under Giannis to prevent him from slipping to the basket.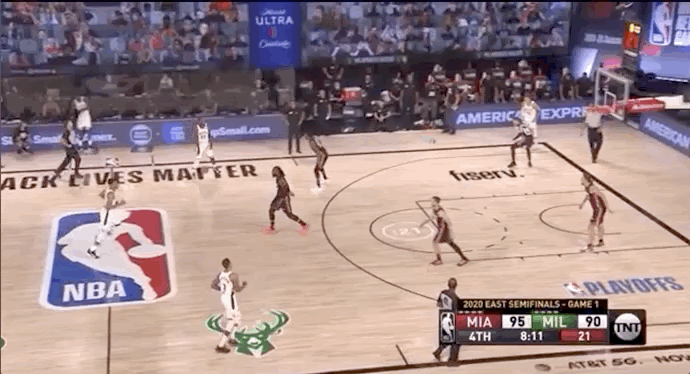 If it wasn't a show-and-under ordeal, the Heat would opt for a "jump-switch" instead. The Heat were daring Middleton to throw quick, high and on-target lead passes all night. He simply couldn't do it enough to burn them.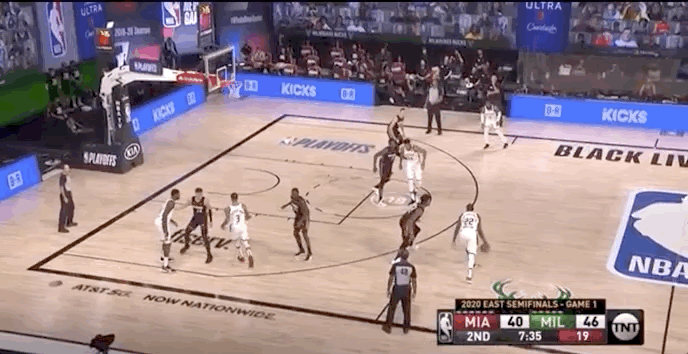 Adebayo gets the tip and the Heat are off to the races. There are two more things to notice in the clip above.
First, watch how Butler immediately goes to the right shoulder of Giannis as he trails him. He knows that Middleton wants to fit the pass there for two reasons. Giannis' momentum is obviously taking him to the right. Beyond that, he knows that Kendrick Nunn is dropping down to help as well. The odds of Giannis catching, gathering and flinging a pass to the opposite corner are pretty slim.
On top of that, Nunn has help behind him as well. As he drops down to help Butler, he instructs Herro to "split the difference," in this case playing the passing lane between George Hill and Marvin Williams. Basically, Middleton couldn't even look off Giannis and swing a dart to the corner if he wanted to - or if he even saw it - because that pass was covered.
You can't ask for a better start to the series if you're the Heat. They didn't allow Giannis to get rolling in transition. They showed multiple bodies in the half-court and covered for each other on the back end.
The fact that Giannis finished with 18-10-9 is a testament to how good he is. Of course, if he isn't able to raise his level beyond that, the Bucks will be in major trouble moving forward.