On April 7, 2003, the Syracuse Orange men's basketball team won the NCAA championship, defeating the Kansas Jayhawks 81-78 at the Superdome in New Orleans.
While Carmelo Anthony received the majority of the praise following that title, two key factors on that championship team were Hakim Warrick and Billy Edelin.
BasketballNews.com's Etan Thomas caught up with them to discuss the current Syracuse team, how they compare to their championship squad, playing for Jim Boeheim and more:
Hakim Warrick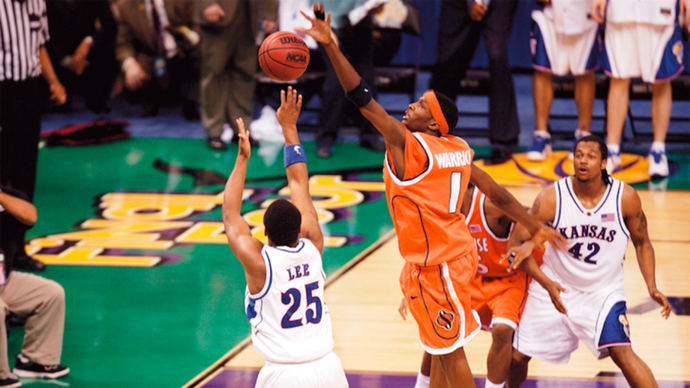 Etan Thomas: One of the most glaring differences between your championship team and a lot of the Syracuse teams post-2003 is the way Coach Boeheim utilized your bench. You all really went eight-or-nine deep.
Hakim Warrick: Coach did a really good job of using our bench. Guys like Billy Edelin, Josh Pace, Jeremy McNeil, we just had a really nice rotation and everyone knew their roles. And all of the guys I mentioned were good enough to be starters, we just had a deep team. We trusted each other and everyone was ready when their number was called. If 'Melo was struggling or I was struggling or G-Mac (Gerry McNamara) was struggling, guys would come in and do what we weren't doing well. Or we would simply utilize their attributes that differed from the starters. And again, Coach did a great job of strategizing and using us as a complete team.
Etan: But it seems like you're the only — or one of the only — groups he did that with, and you're the only group that won the championship. So after you all left, the philosophy switched to five iron men and people who would come in for a few spot minutes, but that's really it. I'm watching the team now, and I'm seeing the starters get tired, start slowing down, shooting tired three-pointers, making tired mistakes, and guys on the bench who could help are sitting on the bench. So what was different about y'all that made him utilize the bench the way he did?
Hakim: That's a good question. I know we all trusted the guys coming off the bench, just as much as we trusted the starters. But you're right, there is definitely a different strategy he took with us. We wouldn't have won without our bench. We wouldn't have beaten Oklahoma State if Jeremy McNeil didn't take over that game. Josh was the glue guy all year. And Billy was the floor general when he came in. We wouldn't have won without them.
Etan: Here in the DMV, we all know what an incredible talent Benny Williams is and everyone is scratching their heads about why he's not playing and not part of the rotation, especially when athleticism is something that we lack. What advice would you give to Benny Williams?
Hakim: I would say: I've definitely been there. My freshman year was rough. But he just has to keep working and always be ready when your number is called, and never lose confidence because lack of talent is definitely not the reason why you're not playing. I worked out with him prior to him going to Cuse. I am very well aware of what he can do. But just stay ready. Coach is going to have no choice but to play you eventually, just be ready.
Etan: This team has had some tough stretches. The game against Duke was ugly — there's no other way to say it. Do you see the team being able to come together, restructure and turn this thing around? What are some adjustments that need to be made?
Hakim: They've been playing games pretty tough, other than the last game against Duke. Like you've said before, they live by the three and die by the three. This is probably one of the best all-around shooting teams that Syracuse has ever had, but it's also probably one of the [least] athletic teams as far as perimeter guys as well. And you're right, we need the athleticism off the bench. We do. But we gotta execute down the stretch; we've seen that be an issue. We've shown that we can play with anybody in the ACC, and I think with a few adjustments that we've mentioned, we'll definitely be able to turn things around. And it's happened with Syracuse teams [before] when everyone thought we were out, and next thing you know, we go on a run in the tournament and make it to the Elite Eight or Final Four. It can happen.
Billy Edelin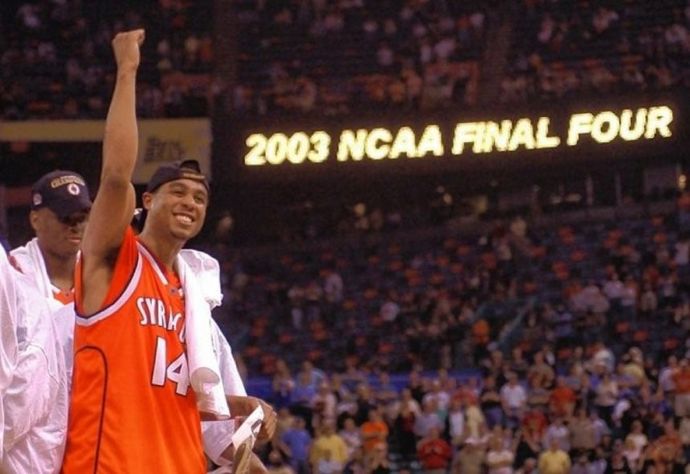 Etan Thomas: I didn't know that you trained Buddy Boeheim, Symir Torrence and Joseph Girard III. Tell me about that.
Billy Edelin: Since 2007, I've been doing skill development — mostly working with guys from the DMV area. So when I got up here, I saw the tremendous talent in this area: Mika Adams-Woods (he's at Cincinnati), Buddy, Frankie, Paul Gacetti, and a few other guys.
Joe Girard was with the City Rocks and we beat them as freshmen, so I actually got to coach him one time with the City Rocks. We had Mika on point and him off the ball and he looked really good, so that's kind of what I always thought he was best at. I thought Symir was always good at facilitating, perimeter defense, quick to the ball, great lateral movement and being more of a natural point.
Etan: It's interesting because a lot of people around Syracuse have the same observation watching them this year. I think when Symir checks in the game, the entire flow is different on both ends of the court. And that's not a knock on Girard; I think his shooting is absolutely elite, but they have different attributes they bring to the table.
Billy: I was watching Chad Ford and another commentator a few days ago and they were saying that from an analytics standpoint, having three shooters on the floor would be better for us scoring wise. Then he said, "But the thing that makes Syracuse good is the same thing that makes them bad," and it's difficult to disagree with his assessment. Yes, we'll have more outside shooting than some teams and the numbers can look a certain way, but I'm old school and my question is: what's the best way for us to win? And I think you have to find some type of balance and play to your strength regardless of what the "analytics" suggest.
Etan: Very well said. And I don't want to bring up old stuff, but I'm still not happy that Kadary Richmond isn't with us because I really felt he could've helped us tremendously. I mean, he's a pass-first point guard who can break any press by himself and run the team. Look what he's doing with Seton Hall now! Imagine how we would look with him running the point and having all those shooters spotted up?
Billy: I was trying to avoid that topic, but yes, you're 100% correct. That's such a tough pill for me — and I think everyone in Syracuse — to swallow, seeing how well he is playing and thinking what could've been and what should've been.