The following article first appeared on BasketballNetwork.net:
Gary Payton II's father needs no introduction. The OG Payton is part of the NBA's 75th Anniversary Team, which speaks to his impact and contribution to the game. With Gary Payton II's recent performances for the Golden State Warriors, it looks like the apple does not fall from the tree.
(Editor's Note: Kelsea O'Brien spoke with Gary Payton II last season about his unconventional path, time in the G League and being a legend's son. Read the exclusive feature here.)
GP on GP II's Recent Performances
Payton II's success right now is a feel-good story. The Golden State Warriors decided to sign him to a non-guaranteed contract, and it looks like the gamble is paying off. So far, GP II is averaging a career-best 5.9 points, 2.2 rebounds, an assist, and 1.3 steals per game. His energy on the floor rubs off on his teammates, and his plays excite the crowd.
RISE UP, GARY PAYTON II 💥💥💥@warriors and Hornets head into Q2 on ESPN! pic.twitter.com/ey6rq5ahBF

— NBA (@NBA) November 4, 2021
Payton II is providing his best to contribute while the Warriors await Klay Thompson's return. He knows his role and sticks to it. The ability to knock down shots and attack the rim brings the fans in.
His Hall-of-Fame father, Gary Payton, couldn't be prouder either.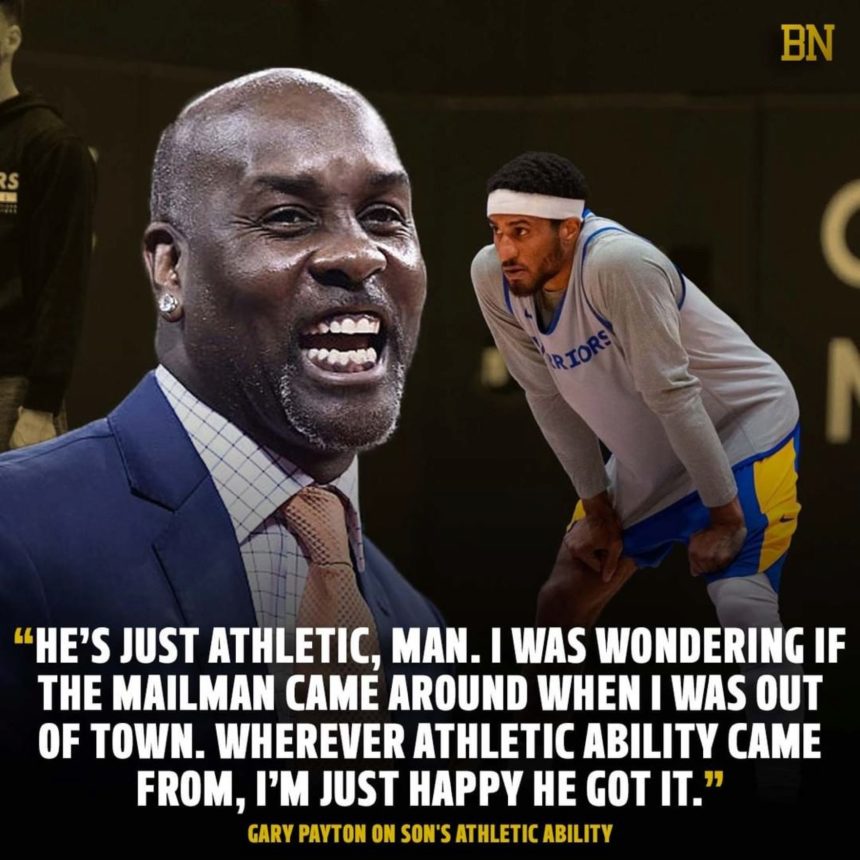 Payton II started his NBA journey in 2016, but now he has the chance to show what he's made of. It's easy for the sons of former basketball players to expect favors handed to them given their famous surnames, but this is not one of those cases. GP II bounced off teams and played with multiple G League affiliates. Even so, "The Glove" he knew what his son could do.
"I'm happy that it's in the Bay Area, it's with a good Golden State team and they really found a place for him," Payton said via Monte Poole of NBC Sports Bay Area. "They gave him the opportunity he needed. Those other teams wouldn't let him. I knew he could play in the league. He just had to have the right opportunity, and now he does."
(Editor's Note: Gary Payton guested with Kenyon Martin on Neat & Unfiltered last season to talk about being their sons playing professional basketball. Watch below or read what was discussed via Moke Hamilton's article on NBA dads.)
Payton II: The Gift That Keeps on Giving
Having experienced the harder route in the NBA, "The Mitten" wastes no time in proving his worth. Naturally, a father throws support to his son, but Payton II puts the work in, which shows in his recent performances. This season, he is top-five on his team in plus/minus (+9.2). In this past four games, he's averaged 10.8 points, 4.5 rebounds, 2.0 assists, and 2.8 steals while only playing 19 minutes a night.
With Payton II's electrifying performances as of late — and that Steph Curry fellow — it looks like Golden State is on the right track of returning to its former glory. It also looks like the Warriors may have another hidden gem on their hands.
But only time will tell.
Check out more articles from BasketballNetwork.net here.