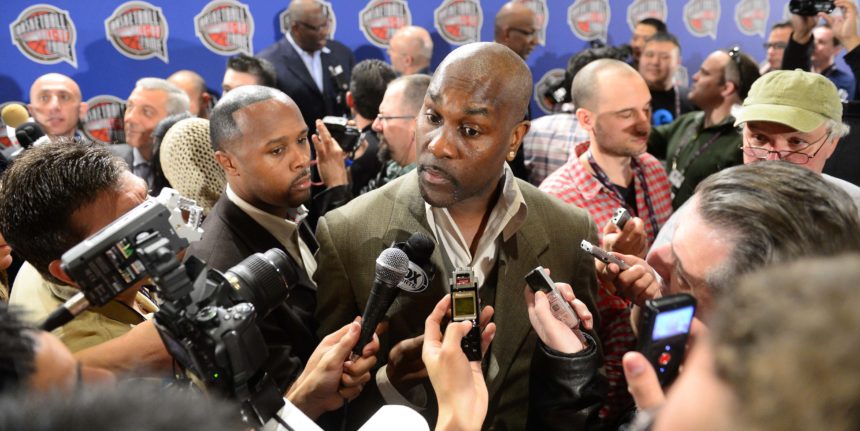 Legacy: Gary Payton discusses being an 'NBA Dad' with Kenyon Martin
LeBron James is arguably the greatest basketball player of all-time, and his son, LeBron James Jr., has some big shoes to fill.
But should he?
Commonly referred to as "Bronny," the younger James seems next in line to join a special fraternity of second-generation NBA players that includes the likes of Stephen Curry, Klay Thompson, Domantas Sabonis and Jerami Grant.
Those players have mostly managed to live up to the expectations that come with being the son of an NBA player, but there are many others who weren't able (or never even attempted) to fill those size-20 shoes.
Basketball Hall-of-Famer Gary Payton recently joined former No. 1 overall pick and NBA All-Star Kenyon Martin on his podcast ("Neat & Unfiltered") to discuss his son, Gary Payton II.
Payton and Martin, aside from being each enjoying fruitful careers in the NBA, are both NBA dads. After going undrafted in the 2016 NBA Draft, Gary Payton II had to take the long road to the NBA — he started out in the summer league before taking his talents to the G League. He is currently on his second 10-day contract with the Golden State Warriors.
Martin's son, Kenyon Martin Jr. (who goes by KJ), was selected by the Sacramento Kings with the No. 52 pick in the 2020 NBA Draft and is currently playing under a two-way contract for the Houston Rockets.
As one might imagine, just as being the son of an NBA player has its challenges, so does being the father of a youngster who attempts to follow in your footsteps.
"With you having a son, too, and you going to the games and being very involved in games, you want your son to be just like you," Payton admitted to Martin after acknowledging that Martin's son is also trying to find his way as a pro.
"But sometimes, you have to step back and say, 'He's not me.' This is a different generation and things like that, but as you see this and you get to feel this and then say, 'He got it a little bit, he been hanging around me, man!' it makes you feel real good because you know how these kids make you feel sometimes."
More so than many others, Martin went public with his feelings for his son realizing his dream of playing in the NBA. Prior to the 2020 NBA Draft, Martin penned an open letter to KJ. Perhaps by design, Martin's message was simple: it's your time, son, now go do your thing.
To this point, the younger Martin has been able to heed his father's advice, garnering attention for a few standout performances in both the G League and NBA.
Like Payton II, the younger Martin's road to this point wasn't easy.
"They get tired of you," Payton admitted when discussing his son, but being the only point guard in NBA history to win Defensive Player of the Year, Payton couldn't deny the fact that he took special pride in seeing his son win the G League Defensive Player of the Year Award on March 19.
"You think they don't really be listening to you sometimes because they're in their era, but me seeing my son win this recently and [him] understanding that the defense was there and that's what he watched as a young kid growing up with me, it makes you feel real good," Payton said.
"You're like, 'Yo, he was listening a little bit and he does have a little talent!' And, 'He does have something to get down with like that,' and that's what it is about it. I felt great about my son and I just hope he keeps continuing to get better and better, so he can get on that next level and try to do that same thing for a basketball team."
Payton II spoke with BasketballNews.com in March about the road he's traveled. And it seems that, long ago, he came to terms with the fact that he'd be somewhat the shadow of his father. But his solution was rather simple.
Stop caring. Do you.
"You're probably going to be compared throughout your life," Payton II said to BasketballNews.com's Kelsea O'Brien. "Growing up, it was a problem for me, I just didn't know how to deal with it, but as I got older and wiser, I matured and I realized that he had his route and I have mine. And don't worry about what people are going to try to compare you to, because we have two different routes in two different eras. So I stopped caring about that some time ago."
There's a lot to be said when it comes to second-generation NBA players. Although we tend to look at pro athletes as somehow being superhuman, every so often, we get reminders that they're people, just like us.
Basketball dads like Dell Curry, Mychal Thompson, Arvydas Sabonis and Harvey Grant are among the fortunate dads who have seen their sons reach higher heights than they were able to accomplish.
Without question, Kenyon Martin Sr. and Gary Payton are pulling for their sons to continue to chart their own courses. Legacy is great, but building one's own, obviously, is even better.