Through training camp and two weeks into preseason, Ben Simmons was standing firm on his decision to hold out and not report to the Philadelphia 76ers.
His agent, Rich Paul, had communicated that the All-Star point guard would no longer like to play in Philly, wasn't budging on his trade demand and was willing to sit out for as long as it took for that trade to happen— regardless of fines or wages loss.
(Editor's Note: That changed on Monday morning, when ESPN reported that Paul wanted to work on a resolution with the 76ers to bring Simmons back to the team.)
Then, out of the blue Monday night, the Sixers got a very unexpected surprise. Simmons showed up unannounced to the Wells Fargo Center, took a COVID test, and started the process of his return. Prior to this, there had been no communication between Simmons and the organization, or the players, so how they move forward from here remains unclear.
But to delve into this topic deeper, I asked former 76ers Theo Ratliff, George Lynch and Larry Hughes what it would take for this reunion to actually work.
Theo Ratliff
"To be honest, I always thought he was going to be back. I didn't think there was a team that had enough value to be able to make a trade that would equal Ben Simmons. People kept saying that [Sixers president Daryl] Morey was asking for too much, but they know how good he is despite what he showed in the playoffs last season. So I always thought he would be back. Guys get into their feelings a little bit. Sometimes, especially when you are a 'star' or one of the franchise players on a team, you can be a little sensitive, and anyone who has been in the NBA has seen that before. But Joel [Embiid] and Doc [Rivers] not stepping up and giving him that support that they should have known that he needed — being that they had been around him for so long and should've known who he was — that definitely didn't help things at all. Couple that with the fact that nowadays, with the advent of social media and how much coverage there is when something doesn't go right or there is friction or anything, and it's just a completely different basketball world than the one me and you played in.
"But that being said, this could easily be fixed. When you have a Doc Rivers, who is a seasoned veteran coach and Joel Embiid, one of the best players in the league right now... If they can come together and publicly embrace him, what they should've done after their playoff loss last year, everything should be okay. And they can get right back to being one of the top teams in the Eastern Conference like they were last season.
"The real hurdle will be the fans, because Philly does not let up and he has to win the fans over, and that is going to be a very tall task for him. If he thought it took a lot of work for his jump shot, wait until he sees how much work it is going to take to win over Philly fans. Because that city, when you have mishaps or you don't live up to what their expectations are for you, they will give you the blues. Now, they will embrace you if you show them you care, that you are pushing yourself to grow as a player and you are willing to give it your all for the city and the team. You'll win them back [that way]. But you gotta convince them and show them. It's a show-and-prove city. So with that, he definitely has a long road ahead of him, but I feel it can be done."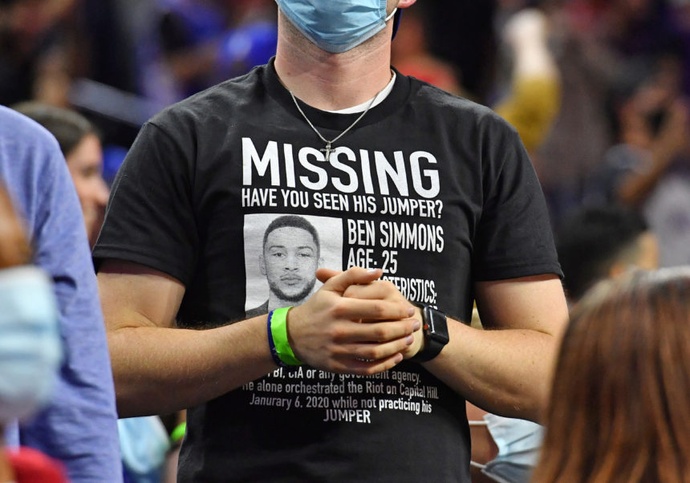 George Lynch
"Ben has to ask himself if his skin is thick enough to play in Philly. I am speaking from experience here. When I first got to Philly, they had run three Carolina guys out of town. So knowing the Philly fans like I do, I know that they are incredibly passionate about their team. And if they feel that Ben Simmons isn't giving his all, you will be able to feel the disdain and disgust pouring onto the court from all around the arena. And the microscope is, of course, going to be on him now because of everything that has transpired, so they are going to be looking for any glimpse of anything that will add to what they already feel — which is that he gave up on the team. And they took that personal. I guarantee they took it personal. Because their passion leads them to feel like he gave up on them personally. So if Ben's skin isn't thick enough to play through that until he has earned back their respect, their trust and their full embrace, then he should go ahead and move on. He is going to have to earn back their love, and prove to them that he is worthy of their love. And if he isn't prepared to go through that process, don't even waste your time and just move on.
"I wouldn't say he has to win over the Philly fans more than he has to win over his teammates, because if I was on his team and he had expressed that he didn't want to be there and held out and all that, it would take a lot of convincing for me to want to go to war with him too.
"I think he needs to start with a public apology to everyone. It's gotta be heartfelt. The fans gotta feel it. And when he gets on the court, he has to play to win. There's gonna be some fans who, when he passes up a shot for an extra pass — even if that was the play or he wasn't really open at the time — are going to immediately boo. He just has to be mentally strong to not let them affect him, and that's going to be difficult. But if he is able to push through that period of time and win them over, it may in fact make him a much better player. The Philly fans are some of the greatest fans in the league when you have their support and their appreciation. They'll go to back for you like no other fans in the league. But he's going to have to weather this storm first, and if he's not willing or strong enough to do that, it's not going to work — period."