The Los Angeles Lakers are coming off a disappointing first-round exit after winning the NBA championship in 2020. Injuries derailed the defending champions, who now enter the 2021 offseason with little cap flexibility and some big decisions to make on key players who are up for new contracts.
LeBron James and Anthony Davis combined will take up roughly $76.5 million of the Lakers' salary cap space. The overall total with current contracts on the books (including player options, qualifying offers, and non-guaranteed salary) could be as high as roughly $127 million next season. Along with LeBron and Davis, Kentavious Caldwell-Pope, Kyle Kuzma and Marc Gasol are set to be wearing purple and gold next season.
Some key players who are free agents include: Dennis Schroder, Andre Drummond, Alex Caruso, Markieff Morris, Wesley Matthews, Ben McLemore and Talen Horton-Tucker (who will likely pass on the Lakers' qualifying offer and become a restricted free agent). Also, Montrezl Harrell has a $9.7 million player option for next season.
While the Lakers can never be counted out as candidates to trade for a superstar, the likelihood is that L.A. will not be able to swing a deal for someone like Damian Lillard this offseason. The Lakers do not have a core of young players to throw in a trade or a stash of draft picks to barter with. With little cap flexibility, the simplest path towards filling out the roster this offseason is through re-signing the free agents from last season's squad. While that will not make for the most exciting offseason in Lakers' history, it would ensure the Lakers have a baseline of talent to put around LeBron and Davis.
Perhaps the most important player for the Lakers to focus on at the beginning of free agency is Schroder. Schroder reportedly turned down a four-year, $84 million extension during the season, which indicates that he believed he could get even more from the Lakers in the offseason -- when they could offer him significantly more money.
The Lakers are in a tough spot with Schroder. The 27-year-old is reportedly looking to sign a new deal with the Lakers in the $100-$120 million range. While that may seem like an absurdly high number for Schroder, the fact is that the Lakers are the only team able to pay him this much money because he has Bird Rights. The Lakers cannot pass on Schroder and try to pay another free agent with that kind of money since that player would not have Bird Rights, leaving L.A. with little cap flexibility. This gives Schroder tremendous leverage in these negotiations. With LeBron nearing the end of his career and Davis on the roster, the Lakers need to maximize their roster and compete for a championship this upcoming season, which means Schroder may in fact get his massive payday.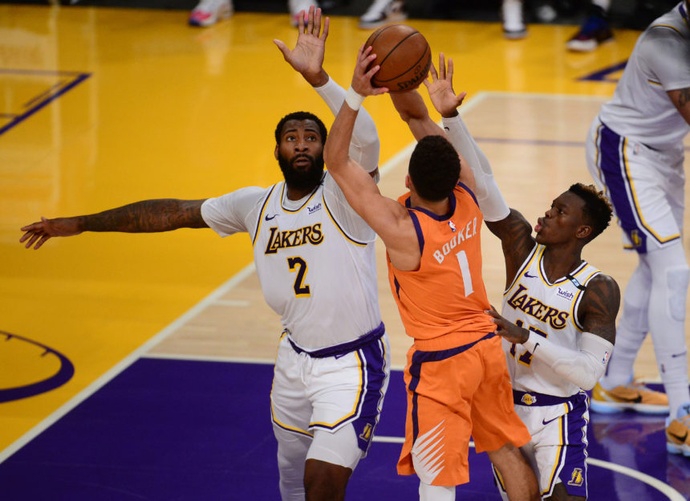 Another tough question for the Lakers is what to do with Drummond. Drummond averaged 11.9 points, 10.2 rebounds, 1.1 assists and 1 block in 24.8 minutes per game with the team last season (21 total games). It is difficult to say whether Drummond would be a good fit alongside a healthy LeBron and AD since the three did not play in a lot of games together this season. Drummond is still relatively young (he is turning 28 in less than a month) and can produce big box score numbers. He is certainly worth bringing back for another season, but at what price?
The Lakers can only offer him 120 percent of his salary from this season, or they could offer him more money using their mid-level exception. However, considering that Drummond will be looking for more money in free agency than the Lakers can offer and that he didn't seem to fit particularly well on the roster, it is possible that Drummond will not be returning to Los Angeles next season.
The next big question for the Lakers is what will happen with Horton-Tucker. Horton-Tucker is only 20 years old (he turns 21 later this year), and has already developed into a quality player with a good amount of upside. The young wing will certainly pass on the Lakers' qualifying offer to become a restricted free agent.
Horton-Tucker's situation is somewhat unique, as he only has two years of NBA experience under his belt, meaning the Lakers will have Early Bird Rights instead of full Bird Rights. This is important because it means that another team can offer Horton-Tucker a poison-pill type of contract that would boost his salary significantly in the third and fourth years of that deal; the Lakers would have a difficult decision to make on whether to match this type of offer sheet. Notably, the third year of that possible deal would fall in the 2023-24 season, which is when LeBron's current contract expires. It is unclear whether the Lakers want to invest a big portion of their future cap space in Horton-Tucker two years from now when James may no longer be wearing a Lakers jersey and the team may be looking to transition.
The next free agent priority for the Lakers is Caruso, a fan favorite who has developed into a quality backup guard and a particularly stingy defensive player. The Lakers want to bring Caruso back on a new deal, but Caruso has performed well enough that other teams are going to at least consider offering him a contract large enough to lure him away from Los Angeles. However, Caruso has expressed his desire to return to the Lakers, who have Bird Rights on Caruso and can offer him a significant raise over the $2.75 million he made last season.
If the Lakers manage to bring Caruso back on a new deal, it's possible they will look to expand his role and give him more playing time. With Caruso on a relatively small salary over the last few seasons, it was not critical for Caruso to produce big numbers with heavy minutes. But with a bloated cap sheet and a bigger salary, the Lakers may look to get more production out of Caruso if he signs a new contract with the team this offseason.