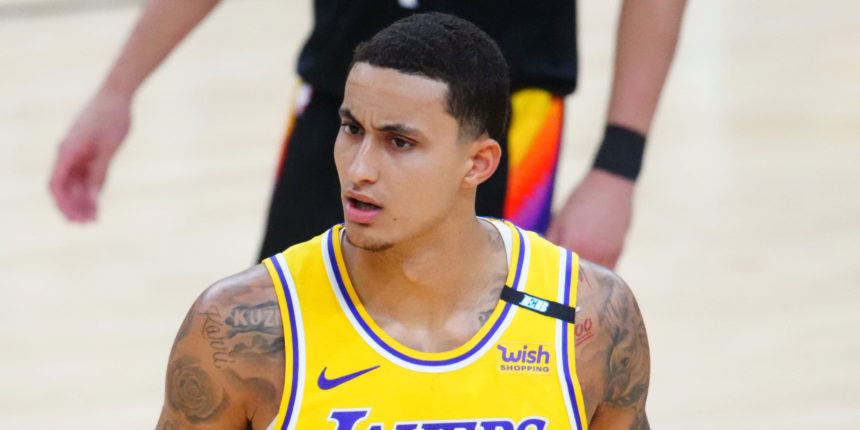 Kyle Kuzma sounds off on inconsistent role with Lakers
It's safe to say that Kyle Kuzma and the Los Angeles Lakers did not expect to be sitting at home at this time of the year. Due to a number of factors – including injuries, a shortened season and tough luck – things just didn't shake LA's way.
In an interview with Bleacher Report's Tyler Conway, Kuzma opened up about how he felt this past year, ranging from his inconsistent role, to the Lakers being eliminated in round one, to what he feels he's capable of going forward.
Prior to this season, Kuzma had found the perfect niche in the Bubble as the guy to make the big-time, team-first plays and provide second chances. He scrapped for loose balls, played solid defense and sacrificed for his teammates. Those responsibilities were much different than his first two years in LA, when he was depended on for his aggressiveness as a scorer and facilitator; in his second season with the team, Kuzma averaged 18.7 points and 5.5 rebounds per game with the most field goal attempts on the team aside from LeBron James.
Afterwards, he'd struggled when his field goal attempts decreased, as his role within the offense scaled back and his rhythm as a shooter was interrupted. But in 2019-20, he helped win games outside of the box score, especially as a key cog in the postseason en route to a title.
With a different roster, plenty of setbacks and changes on the team, the 2020-21 playoffs were much different. Putting it nicely, Kuzma's postseason numbers – 6.3 points and 3.8 rebounds on 29.2% from the field and 17.4% from deep – were dreadful, and not nearly reflective of his capabilities.
"A little bit of everything," Kuzma said of what went wrong. "Injuries throughout the season, changing roles, certain guys in the lineup, certain guys not in the lineup. The NBA season is already mentally draining, and when you have a lot of that, it just adds to it...
"...If you look at all the teams that were in the Bubble and played long, they had a lot of injuries," Kuzma continued. "Look at Denver with [Jamal] Murray, even looking at the Heat this year how many injuries they had, along with us, too. Having [Anthony Davis] out, Bron out, [Kentavious Caldwell-Pope] out a few games, [Alex] Caruso out a few games, a lot of people missed games, and I contribute that to the Bubble. If you think about the injuries from a player's perspective, it wasn't enough time for players to get their bodies ready. But at the same time, you gotta go out and compete and take care of your body. I'm definitely not complaining; they pay us a lot of money to go out there and compete."
As the reigning and defending NBA Champions, a first-round exit was not exactly what the Lakers had in mind when it came to this season and playoffs. Kuzma admits that the inconsistency of his role wasn't what he had in mind, either.
"My biggest thing is I just want to play within a consistent role. If I have that ability, I'll be able to showcase what I can really do," Kuzma said. "There were parts of this year — and even anywhere else in my career — when I'm in a consistent space, I'm out there handling the ball, making teammates better, scoring, shooting, defending, rebounding. I think if I'm in that space, I'll be good."
In the interview, Kuzma said that he'll be focused on working on his ball-handling this offseason in order to be on the court "more efficiently" instead of only being a corner catch-shooter. Also, he insisted that he's capable of being a 25-point-per-game scorer and an All-Star.
"I definitely can. I definitely believe that, too," Kuzma said. "I don't really care what nobody thinks or says. I know myself, and I know my ability. It's hard to be consistent in an inconsistent role. I'm excited for a more consistent space next year.
"I've done a great job every offseason of trying to build something and add something to my game. I've turned myself into a great defender. My rookie year, I was a stop sign on defense. I didn't really stop anybody. Now, whether it's elite wings, 4 men, even point guards and shooting guards, I have the ability to guard four positions now and really affect the game on that end of the court."