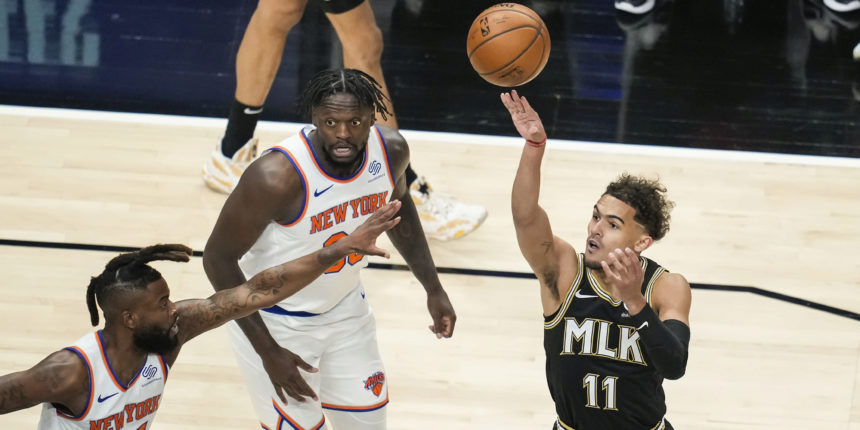 Examining adjustments the Knicks can make to save their season
The first two games of the Knicks-Hawks first-round series were tense and tight. Games 1 and 2 were within five points in the final five minutes, just like all three regular-season matchups. And, it could be argued, if R.J. Barrett collects the loose ball that bounced off his shoulder at the end of Game 1 -- instead of Bogdan Bogdanović scooping it up and promptly nailing a back-breaking three-pointer -- the Knicks might have grabbed a 2-0 series lead.
However, in the two contests in Atlanta over the weekend, the Knicks were simply outclassed, with the Hawks outscoring New York by a combined 28 points.
Heading into Game 5 on Wednesday night, the Knicks face a massive challenge. The Hawks' 3-1 stranglehold on the series seems insurmountable. But if New York can win on Wednesday, they'd put plenty of pressure on a young Atlanta team, as the Hawks would need to beat the Knicks in Game 6 to avoid heading back to a rowdy and raucous Madison Square Garden for Game 7.
The 2020-21 season has been a wildly enjoyable ride for this team and its fans, but ending the campaign with a whimper would be disheartening.
So, how can New York flip the momentum and get back on track? Well, it starts with stopping Atlanta's diminutive but dominant point guard.
Trae Young has eviscerated the Knicks (as our Nekias Duncan detailed here). In the Hawks' Game 1 victory, Young racked up 32 points, 10 assists, and seven rebounds -- incredibly impressive numbers for a player making his postseason debut. In fact, only one player in NBA history has matched or exceeded those totals in those categories in his first career playoff game: LeBron James in 2006.
Young is currently averaging a series-high 27.5 points and 10.0 assists. To put those stats in historical context, he is just the third player in league history to average at least 27 points and 10 dimes over his first four career playoff appearances, according to Basketball-Reference. The other two members of this exclusive club are Oscar Roberston and Stephen Curry.
It's obvious, but the direct correlation between Young's performance and the Hawks' success is indisputable. Including the playoffs, Young has scored at least 32 points on 18 different occasions this season, and Atlanta is 17-1 in those games. Conversely, there have been 18 games in which Young scored fewer than 20 points, and the Hawks are 8-10 in those contests.
When looking to limit Young's scoring opportunities, there are undoubtedly defensive adjustments that should be explored, such as forcing him to his left more frequently. New York should also look to blitz Atlanta's pick-and-rolls, making Young pass to open teammates, thus forcing other Hawks to beat them. During the regular season, the Hawks were below .500 (13-15) in games in which Young dished out double-digit assists, while Atlanta went 13-5 when he handed out fewer than eight helpers.
Considering Young has skewered everyone the Knicks have thrown at him, Coach Tom Thibodeau should consider letting Frank Ntilikina, arguably the team's best perimeter defender, take a crack at pressing and hounding Young 94 feet for an extended stretch.
New York may also want to experiment with occasionally going under screens and allowing Young to fire away from a few feet from behind the arc. Yes, Young can drain long-distance daggers, but his forays into the paint have absolutely crippled the Knicks. While he is talented enough to catch fire at any time, Young shot just 34.4% from three-point territory (below the league average) during the regular season and has converted a modest 36.7% of his attempts from deep in this series.
Ultimately, however, the key to slowing Young down offensively may be compelling him to expend a great deal of energy on the other end of the floor. Far too often throughout this series, the Knicks have allowed Young to hang out in the corner, hide and rest on the defensive end.
Young attempted 43 shots over the first two games of this series, yet the player(s) Young was guarding attempted only 12 shots while he was the primary defender.
Running high-pick-and-rolls to force Young into mismatches should have been a staple of the New York offense right from the opening tip of Game 1. Instead of allowing him to shadow Reggie Bullock, Young should have been forced to try and guard Derrick Rose or Barrett, at least occasionally.
Heading into this series, in the seven regular-season games Barrett had played against the Hawks in his career, he was guarded by Young on 27 offensive possessions and scored 19 points on 8-of-9 shooting (88.8%).
Even if Young were able to switch out of unfavorable matchups, forcing him into pick-and-roll action would allow the Knicks bigs such as Julius Randle or Taj Gibson to put a shoulder into Young while he attempted to fight over screens.
The Knicks' unwillingness to attack Young has infuriated fans. Over the first three games of the series, according to Second Spectrum tracking, the Knick that Young was guarding set a grand total of just 14 ball-screens.
Not only would making Young work defensively sap some of his energy, but it might also lead to foul trouble for the Hawks' top gun. That's precisely what happened in the first half of Game 4.
New York made more of a concerted effort to have Young navigate screens, and it resulted in the young point guard picking up his third foul before the end of the second quarter, sending him to the bench.
This is what happens when Bullock sets a solid screen, forcing Young to guard D Rose.

Easy buckets. Not complicated.

Now that Young will start the 3rd quarter with three fouls, literally no excuse not to run high pick and rolls almost every time down the floor to start the half pic.twitter.com/gnjzo9QOAH

— Tommy Beer (@TommyBeer) May 30, 2021
However, New York didn't press the issue enough in the third quarter, and the Hawks ran the Knicks out of the gym. Even when New York incorporated action targeting Young (including via some well-designed Horns sets), they didn't make him pay, due to either indecisiveness by the ball-handler or ineffectiveness by the shot taker.
Still, make no mistake, if the Knicks have a prayer of getting back in this series, they'll need to wear Young down by making him labor on both ends of the court.
In non-Young-related news, the Knicks need to make shots. Sometimes, it's that simple. New York knocked down 39.2% of their three-point attempts during the regular season, tying them with the Brooklyn Nets for the second-highest percentage in the league. And, over the final month of the season (a 17-game stretch), New York converted over 44% of their three-ball attempts. In the postseason, that number has dropped all the way down to 32.8%.
Of the 15 teams still alive in the playoffs, the Knicks rank dead last in Offensive Efficiency, averaging just 103.1 points per 100 possessions.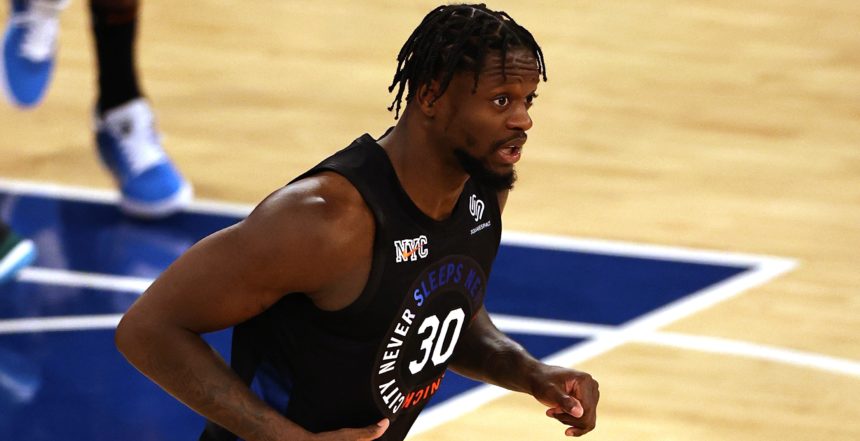 The main culprit, of course, has been Julius Randle. The recipient of the league's Most Improved Player award, Randle has crumbled under the pressure of the postseason and the Hawks' trapping defensive schemes. One of the reasons Randle's regression has been so surprising is the remarkable success he had enjoyed vs. Atlanta.
During the three games he played against the Hawks during the regular season, Randle scored 112 points on 36-of-62 shooting (58.1%).
During the first four games of the Knicks-Hawks playoff series, Randle has scored 67 points on 20-of-73 shooting (27.4%).
According to Basketball-Reference, Randle is the first player in nearly 50 years to attempt more than 70 shots and make 20 or fewer over the first four games of a postseason series.
Part of his struggles can be attributed to Atlanta's adjustments, but Randle has also missed shots he made throughout the year. According to NBA.com's player-tracking data, he is just 1-of-7 (14.3%) on "wide-open" jumpers (no defender within six feet) in this series, and 8-of-29 (27.6%) on "open" field-goal attempts (closest defender within four-to-six feet). Randle shot 45% and 44.4%, respectively, on those types of shots during the regular season.
In hopes of unleashing the MIP version of Randle, Thibodeau should experiment by pairing him with Obi Toppin. The rookie forward has been one of the team's few bright spots, and shifting Randle to a small-ball 5 could potentially help space the floor, enabling him to attack the basket via straight-line drives.
"Right now, we're at the point where everything is on the table," Thibodeau said after Game 4.
Barrett played relatively well in Game 4, but his struggles have hampered the Knicks as well. Barrett is shooting below 40% from the floor and just 27% from downtown for the series.
Like Randle, Barrett has missed makeable shots. Against Atlanta, Barrett is 5-for-22 (22.7%) on open or wide-open jumpers. During the regular season, he converted those attempts at a 40% clip. Defensively, the Knicks are allowing more than 113 points per 100 possessions with Barrett on the floor.
Reggie Bullock has been an essential piece for New York all season, but it's hard to imagine a player having a worse performance than he had in Game 4. Bullock was abused defensively by Young all afternoon, missed all the field goals he attempted (0-for-4), set weak, ineffective screens, and had a killer turnover on a fastbreak in the third quarter. For the series, Bullock is shooting below 38% from the field and below 29% from three-point range.
Immanuel Quickley provided a spark for the Knicks in Game 1, just as he has all season, but the rookie has been missing in action since. Over the past three contests, IQ is 4-of-20 from the floor, including 0-of-7 from three-point range.
In addition to their team-wide accuracy from downtown, another secret to New York's success during the regular season was their ability to defend the three-point line. The Knicks held opponents to a league-low 33.7% from downtown. However, the Hawks are shooting over 38% from behind the arc in this series.
Following the Knicks' Game 4 defeat, Taj Gibson told reporters: "Guys are optimistic. We've been counted out the whole year, so this is really nothing new."
On Wednesday night, we'll see what kind of adjustments Thibodeau (who has been outcoached all series) incorporates in an effort to stave off elimination and keep the Knicks' season alive.