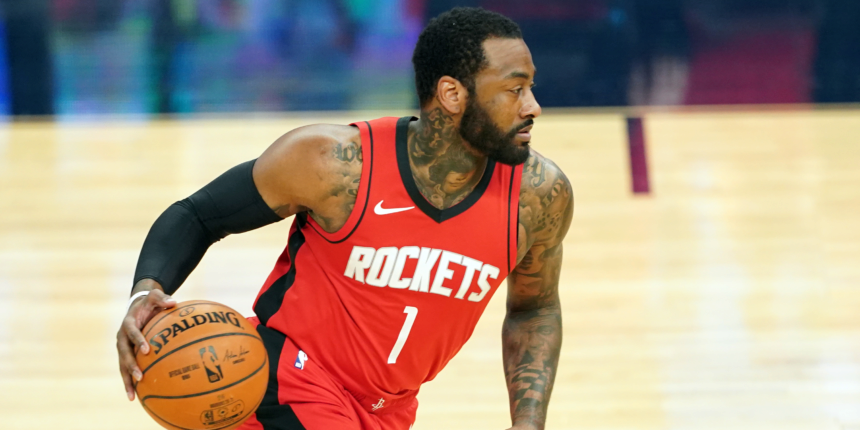 Examining potential trade destinations for John Wall
The career arc of John Wall has made yet another turn. After being traded to the Houston Rockets last offseason for Russell Westbrook, Wall is now set to join his third team in as many seasons. According to The Athletic's Shams Charania, Wall and the Rockets' front office have agreed upon him being active in training camp, but sitting out games as they try to move him. It's the logical next step in a massive tear-down rebuild, which was put into motion with the James Harden blockbuster eight months ago to this day.
Wall was the salary-filler needed to move Westbrook — who was a part of another star backcourt combination that didn't work out alongside Harden — but the former has also has served a pivotal role to the current version of Houston's roster. As the veteran on a tanking team, Wall embraced his leadership role to its full extent, being a guiding voice for young prospects. Wall averaged 20.6 points, 6.9 assists, 3.2 rebounds and 1.1 steals last season in Houston.
However, following unfortunate injury luck related to a torn Achilles tendon, Wall simply doesn't look the same as he did in his prime years being the face of the Washington Wizards franchise. For years, Wall was the most electric point guard in the Association thanks to his quickness and explosiveness towards the basket. At 31 years old, Wall's performances have taken a dip from an average efficiency mark to an abysmal one. Wall shot a career-low 40.4%, including a 50.3% True Shooting percentage clip — the worst since his rookie campaign in 2010-11.
Wall just doesn't fit the timeline for the Rockets, who are ready to embrace their youth movement head-on. No. 2 overall pick Jalen Green headlines an enticing core of prospects in Houston. Alongside Green, Kevin Porter Jr. will help form an entertaining backcourt filled to the brim with hot creation ability. Rookies Alperen Sengun and Usman Garuba will join Jae'Sean Tate to make up a promising trio of bigs. First-year swingman Josh Christopher and Kenyon Martin Jr. also add their fun mix to the wing rotation.
Wall will still be around the team until a deal happens (if that ever comes to pass with the negative value associated with his remaining $91.7 million through 2022-23). Being a valuable mentor for Green and Porter will only be a positive for Houston's long-term outcome, and learning from a dynamic point guard like Wall certainly helps the future outlook for not only Green, but also Porter.
This could become a new trend for players on good terms with their organizations, only when it's apparently obvious a deal is best for both sides. Kevin Love's situation in Cleveland could be the next Wall-like story to surface in the NBA rumor mill soon enough.
But who would be interested in taking on Wall's contract? Houston would have to surrender some draft capital, being the immediate "losers" of the trade. When canvassing the landscape, very few fits bubble to the surface. However, there's a small possibility for the following three organizations.
OKLAHOMA CITY THUNDER
Any time a player with a bad contract becomes available, Oklahoma City is No. 1 on any potential destination. The Thunder are not being shy about their intentions over the next few years — stockpile as many draft picks as possible to take swings on high upside prospects to build around Shai Gilgeous-Alexander.
Acquiring Wall would be an interesting move for a Thunder team who just invested heavy draft capital in the backcourt (Josh Giddey, Tre Mann), but we can never rule them out in a scenario like this. If Houston offers any future draft compensation to general manager Sam Presti, he would bite.
Wall would form a fun backcourt alongside SGA while also serving in the mentor role he just exited in Houston. If Wall were to rebuild his value for a year with the Thunder, Presti would be able to potentially receive some positive value in return next offseason.
Oklahoma City Thunder receive: John Wall, future draft compensation
Houston Rockets receive: Derrick Favors, Isaiah Roby or Gabriel Deck
DALLAS MAVERICKS
Dallas has been in the market for a point guard. Whether it be Kemba Walker, Kyle Lowry or Spencer Dinwiddie, the Mavs have sniffed around adding another ball-handler who could take pressure off Luka Doncic. Wall isn't the perfect fit next to Dallas' young phenom — who's an MVP favorite entering his fourth season — but they could make it work. Wall allows Doncic to play more off-ball, and the veteran can cut to the basket and attack off signature Luka dimes.
In order to make the salaries work, Kristaps Porzingis would be heading to Houston or another team who gets involved. Porzingis hasn't been the No. 2 option Dallas had hoped for when they went all-in on him a few years ago. This would certainly be one way to shake things up entirely for the Mavs. A potential starting lineup of Doncic, Wall, Tim Hardaway Jr., Maxi Kleber and Dwight Powell with Reggie Bullock as the sixth man is a fun thought.
Dallas Mavericks receive: John Wall, Usman Garuba or Alperen Sengun, future draft compensation
Houston Rockets receive: Kristaps Porzingis, Moses Brown, Willie Cauley-Stein
SAN ANTONIO SPURS
This is where it gets super wacky in terms of hypothetical Wall trades. Currently, Wall's fit with the Spurs makes no sense. However, what about a convoluted four-team trade featuring the Philadelphia 76ers and Phoenix Suns as well?
Here's the entire framework of a crazy four-teamer I spitballed in my head:
Houston Rockets receive: Ben Simmons, Isaiah Joe, Daquan Jeffries
Philadelphia 76ers receive: Dejounte Murray, Lonnie Walker IV, Jakob Poetl, Al-Farouq Aminu, multiple future first-round picks
Phoenix Suns receive: Thaddeus Young, Drew Eubanks
San Antonio Spurs receive: John Wall, Dario Saric, Jalen Smith, Paul Reed
That's the only way I could ever fathom Wall entering San Antonio's odd attempt of trying to thread the needle with competing and tanking simultaneously. With a young combination of guards spearheading their core, the Spurs are on pace to be a top-five team in lottery odds at the end of next season. Also, Simmons landing in Houston to lead its young core is a somewhat unrealistic, insane thought to have as well.
As you can see, there will likely not be many takers on Wall. It will be very interesting to see how this all unfolds for Wall and the Rockets.
Are we looking at an imminent deal for Wall, or one that lasts all the way until the NBA trade deadline in February?