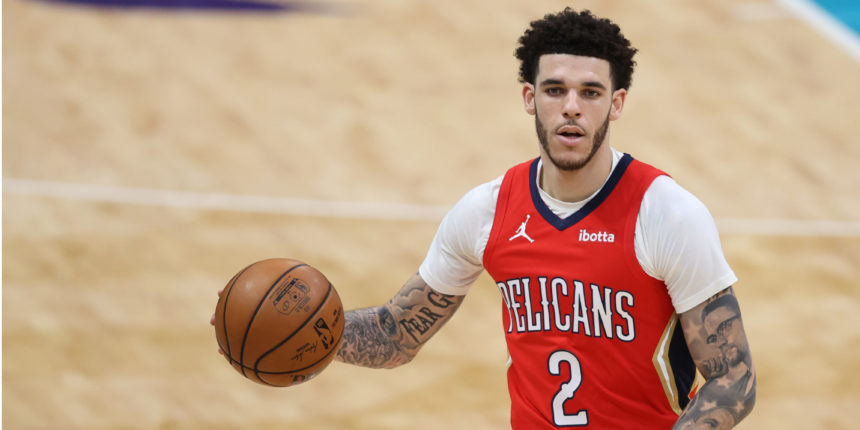 Examining possible free-agent destinations for Lonzo Ball
It's not how you start, it's how you finish. Lonzo Ball himself will probably attest to that fact.
Well-timed, after being traded by his hometown Los Angeles Lakers in the trade package that saw Anthony Davis routed to Tinseltown to team up with LeBron James, Ball has grown appreciably. As a result, the 23-year-old Angeleno will enter restricted free agency on August 2 as a highly-regarded prospect who has shown an ability to impact multiple facets of a basketball game.
Aside from his marked improvement from the three-point line, Ball is a strong rebounder with excellent court vision – a rare combination that allows him to create easy fastbreak opportunities for teammates. He's also a solid defender who can guard multiple positions.
Coming off of a career-year in which he averaged 14.6 points, 5.7 assists, 4.8 rebounds and 1.5 steals, there's plenty of reason to believe that the oldest Ball brother will continue to grow as a professional.
Where will he be as he attempts to further his development? That's the question.
Rather versatile, Ball could probably find a way to positively impact most teams around the NBA, but in this instance, we identify five potential suitors. It's worth noting that the New Orleans Pelicans can match any offer sheet that Ball signs, unless they renounce him.
BOSTON CELTICS
It seems that Brad Stevens hadn't even finished unpacking the boxes in his new office before he found a taker for Kemba Walker, happily welcoming Al Horford back to the club. Horford provides the Celtics with a steady and reliable hand on the interior, but his re-acquisition came at the expense of the team's starting point guard.
Walker struggled mightily to find his rhythm last season, but he still managed to give Boston 19.3 points, 4.9 assists and 4.0 rebounds per game. He also indirectly allowed Jayson Tatum to blossom and put to rest any lingering doubts as to whether he possessed the talent needed to be an alpha-scorer and go-to guy for a winning club.
While the Celtics agreed to trade Tristan Thompson in a three-team deal with Sacramento and Atlanta that landed Kris Dunn to Boston, neither Dunn nor Marcus Smart should be entrusted to serve as the primary playmaker for Ime Udoka's offense.
Ball would give Boston a reliable perimeter defender who, at least in theory, would help the team improve their mediocre defense (which allowed 110.0 points per 100 possessions, ranking 15th in the NBA). Again, in theory, with Jaylen Brown and Robert Williams among those who would be sharing the floor with Ball, Boston would have two defensive pluses on the wing and one on the interior. A five-man unit also featuring Smart and Tatum would help the club compete against all comers out East.
According to The Athletic's Shams Charania, Boston is among the teams interested in potentially acquiring Ball this offseason. The problem for the Celtics, however, is that it's unclear how they would find a way to compensate Ball anywhere near the $20 million he is expected to command on the open market. With an expected salary cap of $112 million, Boston has about $94 million already committed to just the four of Tatum, Brown, Horford and Smart. The Celtics would need to make some moves to free up space, as the Pelicans would match any middling offer.
With the Walker trade, the fit for Ball is there, even if the route is much less clear.
CHICAGO BULLS
Despite Zach LaVine's 27.4 points per game and the team bringing in Nikola Vucevic in a deadline-day deal, how the Bulls ended last season was a mighty disappointment. Between LaVine and Lauri Markkanen missing a respective 14 and 21 games, it was difficult for Chicago for find a rhythm and build chemistry, particularly after a deadline day that also saw the club acquire Daniel Theis and Troy Brown Jr.
Speaking of the trade deadline, though, let's not forget that Chicago was one of the teams reportedly interested in trading for Ball. Although Coby White is coming off of an individually productive sophomore season, Chicago is rather thin at the point-guard spot.
Clearing the necessary cap room to make a run at Ball would require the Bulls' front office to move on from several of its pieces, including Thaddeus Young and Tomas Satoransky — both of whom have partial guarantees for next season. They also wouldn't be able to re-sign Theis (who is being linked to the Houston Rockets).
In the midst of it all is Markkanen's status. On Friday night, Chicago extended a $9 million qualifying offer to the young big man, officially making him a restricted free agent. However, the problem for Chicago is that until his free agency is resolved, the team won't be able to otherwise allocate those dollars. The Bulls could rescind its qualifying offer, but that would undoubtedly cost them Markkanen (whom they drafted No. 7 overall in 2017).
From a basketball standpoint, Ball could be a part of the solution for Chicago. He could make the game easier for both LaVine and Vucevic, but he would take minutes and on-ball opportunities away from White and also cost a number of last season's rotation players. It's an iffy proposition for general manager Marc Eversley, but considering Chicago tried trading for Ball prior to last season's deadline and the fact that he'd fit nicely alongside the team's All-Star duo, they are certainly a suitor worth watching.
Interestingly, Ball reportedly has his eyes on Chicago as well.
"For the Bulls, there's believed to be mutual interest with Lonzo Ball on a four-year deal worth over $80 million," reports Bleacher Report's Jake Fischer. In a podcast interview with our Alex Kennedy, Fischer predicted that Ball will "get a big offer sheet from Chicago."
NEW YORK KNICKS
After a surprising season that saw Julius Randle earned the NBA's Most Improved Player Award and head coach Tom Thibodeau be named the NBA's Coach of the Year, New York Knicks President of Basketball Operations Leon Rose is heavily expected to court an upgrade at point guard for the club.
Elfrid Payton started all 63 of his appearances as the team's point guard, but by the time the Knicks' season ended in a five-game series loss to the Atlanta Hawks, Payton had logged just 13 total postseason minutes, including three consecutive DNP-CDs in Games 3-5 of that series.
It seems clear that New York is planning to move on, and whether Derrick Rose is re-signed or not, at 33 years old, counting on Rose to be an everyday starter wouldn't be wise.
It seems for as long as we can remember, the Knicks have been desperate to find a young, dependable, in-prime option at point guard, with Ball finally presenting that opportunity. With respect to Randle and RJ Barrett, the Knicks have two gifted offensive players who struggled to create high-efficiency offense in the postseason. In short, what they need is a floor general who can relieve Randle and Barrett of major playmaking responsibilities while being efficient enough to operate as a scorer in spots too.
If nothing else, Ball is unflappable, and he seems to have the laid-back temperament necessary to succeed under the bright lights of New York City. Armed with the ability to create upwards of $50 million in cap space this offseason, and in desperate need of many of the things that Ball would provide, the Knicks would appear to be a prime candidate to attempt to poach the young Angeleno from New Orleans.
DALLAS MAVERICKS
Perhaps a dark-horse contender for Ball, the Mavericks just barely beat out the Miami Heat to make our list. In order for Miami to clear the necessary cap space to sign Ball, the Heat would have to walk away from at least a few rotation pieces, such as Victor Oladipo, Andre Iguodala, Goran Dragic, Kendrick Nunn and Duncan Robinson — the latter two of whom will be restricted free agents.
It's hard to see Miami effectively resetting its entire rotation one year after winning the Eastern Conference.
Dallas on the other hand? That's a destination that makes sense.
The Mavericks have a generational basketball talent in Luka Doncic, and by virtue of his rookie contract, he will be earning just north of $10 million for the 2021-22 season. That gives Dallas a window this offseason to clear as much cap space as possible to sign an impact player before a maximum extension for Doncic kicks in next season.
Point guard has been targeted as an area of need for the team, and with Friday's reported trade that will send Josh Richardson and his $11 million salary to Boston, the Mavericks have enough cap space to offer a maximum contract. According to The Athletic's John Hollinger, the team may have made the move with veteran point guard Kyle Lowry in mind.
Hollinger also mentioned that Dallas is "the team to watch" in the Mike Conely sweepstakes, pointing out that the Mavs have aggressively pursued him in the past. "I would definitely keep an eye on Dallas," he added.
Lowry or Conley would provide more offensive production, leadership and experience, but both players will be hot commodities. If Dallas isn't able to acquire one of those All-Star options, Ball would give the team a reliable distributor who could spell Doncic as the team's primary on-ball playmaker and effectively knock down the open shots that the Slovenian phenom would create.
Dallas is obviously looking to make a splash this offseason; don't be surprised if it ends up being with Ball.
NEW ORLEANS PELICANS
With Willie Green assuming the helm in New Orleans, no matter where he signs, Ball will be playing for his fourth head coach in four years. The instability is certain to have a gnawing effect, especially for a young player who has had to adjust to different expectations and systems implemented by various head coaches.
Nonetheless, with Zion Williamson and Brandon Ingram each developing into superstars in their own right, New Orleans will need a point guard with a fairly specific skill set. They'll need one who can excel off the ball since Ingram has proven effective with it. At the same time, the point guard in New Orleans needs to be capable in catch-and-shoot situations.
In short, Ball fits the mold. And after trading Steven Adams and Eric Bledsoe to Memphis, the Pelicans have the flexibility to create upwards of $35 million in cap space. Obviously, some of those funds could be earmarked for Ball, who is expected to command a hefty salary on the restricted-free-agent market.
By virtue of the aforementioned trade, New Orleans could effectively replace Ball with another point guard on the free-agent market if it deems an offer sheet to be too rich, so if nothing else, general manager David Griffin has provided his team with options.
Either way, as one of the prizes of the Davis trade and as a point guard who seems to be an ideal fit for Williamson and Ingram, the incumbent Pelicans make a lot of sense as a potential destination.
****
NBA free agency begins on Aug. 2, which means that we won't have to speculate on where some of the league's big-name free agents will land.
It's still a fun exercise, though, and with respect to Lonzo Ball specifically, it's easy to see that there are a number of situations in which he could excel in the future.