It was the upset that ruined the majority of March Madness brackets.
On Thursday night, 15-seeded Saint Peter's shocked the world by slaying Goliath, the 2-seeded Kentucky Wildcats, in the first round of the NCAA Tournament. Many publications had Kentucky as 20-point favorites against the Peacocks, but as the Wildcats found out, seeds and favorites mean nothing once it's gametime.
Daryl Banks III led the way with 27 points, while Doug Edert poured in 20 off the bench to overcome a 30-point, 16-rebound explosion by Kentucky star Oscar Tshiebwe.
It's important to note that Kentucky had never lost to a team lower than an 11-seed in the history of the program. And they hadn't lost in the first round since 2008, when they were the No. 11 seed and were defeated 74-66 by 6-seeded Marquette.
In fact, the last time they lost in the first-round as a higher seed was back in 1987, when they came up short in a 8-seed vs. 9-seed game against Ohio State.
So yes, for Kentucky faithful, this upset was disastrous, cataclysmic, devastating, catastrophic and every other adjective fans have used since Thursday night.
I caught up with Derek Anderson — who helped lead Kentucky to a national championship in 1996 before becoming a lottery pick and 11-year NBA veteran — to get his thoughts on the upset.
Etan Thomas: "Okay, DA, the dust has settled a bit after the shocking loss. What was your reaction?"
Derek Anderson: "Well, as a fan, you're definitely disappointed. As a former player, you're hurt for various reasons — bragging rights being one of them. I had us going to the championship. But just watching the game, a lot of these young guys are just not being trained to make in-game adjustments and some of the decision-making was just frustrating. I mean, fans are upset, and they have good reason to be upset.
"As a former player, we would've known to make certain adjustments because they were guarding [Sahvir] Wheeler differently. I don't know if you remember but with the San Antonio Spurs, when Avery Johnson couldn't shoot, they put him on the baseline. So when they were trying to match-up, they kept him down there, and that's where he hit his open shots. It was just frustrating. But the team played hard, no doubt about that. There was no quit in them. I love Oscar's work ethic. [Keion] Brooks did well. They gave it their all, so that wasn't the issue. But the adjustments just weren't there and that's unfortunate."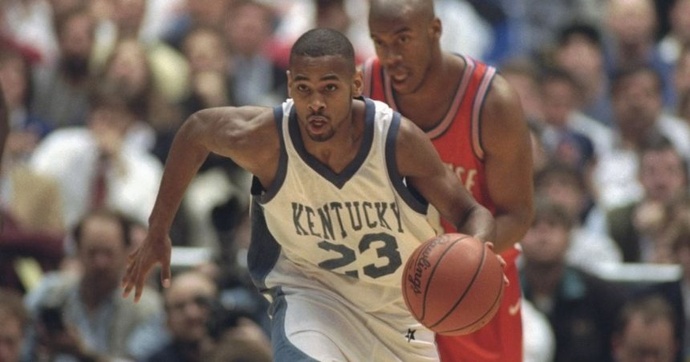 Thomas: "In the postgame press conference, Coach Calipari pointed out that ya'll were up by six with three minutes to go. What do you think went wrong?"
Anderson: "Well, the team took a timeout and went zone. So they made the adjustment and to be quite honest, we didn't adjust. We were fortunate to send it to overtime. But if we would've adjusted, had Oscar set some screens up and then hit the glass, had two guys up top and Oscar could've filled the baseline and had Brooks or someone catch in that free-throw-line area and had those two guys crash and get in that lane, I think we would've had a better chance. But we simply didn't adjust."
Thomas: "How impressed were you with Shaheen Holloway? I played against him for four years while he was at Seton Hall, and he used to always give us fits. He's been doing a phenomenal job coaching. I'm happy for him."
Anderson: "I was super impressed. I'm watching a lot of these young coaches do really well. He's a former player and he actually gets adjusting. He said, 'Hey, we gotta adjust. We can't guard Oscar one-on-one, so we gotta change it up.' And unfortunately, we didn't adjust to his adjustment. And that was the game. Shaheen did a great job. Even the body language; he never got down, so they never got down. His head was up, so their heads were up. He never panicked, so they never panicked. He did a tremendous job."