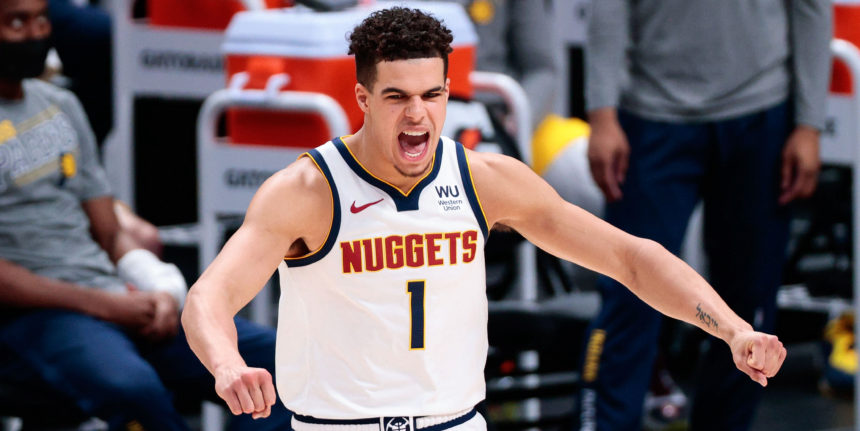 Can Michael Porter Jr. beat the odds and win Most Improved Player?
Michael Porter Jr. of the Denver Nuggets had another double-double last night as the Denver won their eighth in a row. He is averaging 21.0 points and 8.6 rebounds this month, and almost nobody is mentioning him in the Most Improved Player debate.
It's time for that to change.
The sportsbooks in the legalized U.S. gambling market are convinced that Julius Randle of the New York Knicks is going to win the award, and that Jerami Grant of the Detroit Pistons and Christian Wood of the Houston Rockets are his main competition.
But here is the thing: Randle was already a very good player. Yes, he became an All-Star with the Knicks, but that is in large part because they have one great player and were outperforming expectations prior to the All-Star break. Randle's scoring average is up 3.3 points, his assists have nearly doubled from 3.1 to 6.1, and his three-point percentage has increased from 27.7% to 40.8%.
So that is discernable improvement, but does it stand up to what Porter Jr. has done?
The 22-year-old, who was the 14th pick of the 2018 NBA Draft, has increased his scoring from 9.3 points per game to 17.1, his field goal percentage from 50.9 to 54.0, and his rebounding from 4.7 to 7.6. After starting only eight games last season, he has started 35 this season. He's averaging more than 20 points this month, same as he did in March.
Not bad for a guy who was sidelined for the entirety of his first NBA season following spinal surgery (a microdiscectomy of his L3-L4 spinal discs), an injury that forced him to miss almost his entire college season at Missouri in 2017-18 too.
Porter is on the board in the legalized U.S. sports gambling market at varying odds. He is 50-1 to win the Most Improved Player award at PointsBet, where spokesman Patrick Eichner said he has drawn 9% of bets placed and 8% of money wagered, both of which rank fourth among players.
He is 130-1 at FanDuel, and 150-1 at both DraftKings and BetMGM.com. At the latter book, Porter Jr. has gotten 10.7% of tickets and 4.8% of the handle (total money), spokesman John Ewing said.
Randle is a heavy favorite at all four of those sportsbooks, with the odds at PointsBet (-220) the shortest. (For those unfamiliar with gambling lingo, that means you need to wager $220 to win $100.)
Heck, Randle crushed the competition in this Twitter poll that drew more than 3,000 votes.
Who is truly most improved out of these four #NBA players: Julius Randle of #Knicks, Michael Porter Jr. of #Nuggets, Christian Wood of #Rockets or Jerami Grant of #Pistons?

— Chris Sheridan (@sheridanhoops) April 8, 2021
But the season is far from over, and the Nuggets finish off a five-game homestand against Boston on Sunday afternoon. After that, they are at Golden State, home for Miami and at Houston before returning home to play Memphis a week from Monday. Win 'em all, and that winning streak goes to 13. And they probably make up more ground on the Los Angeles Clippers, who are only one game ahead of Denver in the Western Conference standings.
Earlier this week, Nuggets spokesman Cody Wise said the team plans to initiate a "Vote For Porter" campaign with the writers and broadcasters who vote on the award, which could help his case.
The Nuggets already have the leading Most Valuable Player candidate in Jokic, and he is doing nothing to dissuade voters from leaning even more strongly in his direction. Meanwhile, Porter has scored at least 20 points in five of the last six games. He has shot 50% or above in 17 straight.
In this story from Nick Kosmider of The Athletic, Clippers coach Ty Lue said it was a poorly kept secret around the league that Porter, while sitting out his first NBA season in 2018-19 to rehab from back surgery, was routinely winning post-practice shooting competitions with Nuggets teammates.
"They said he was the best shooter on the team, and guys [around the league] didn't believe it," Lue said.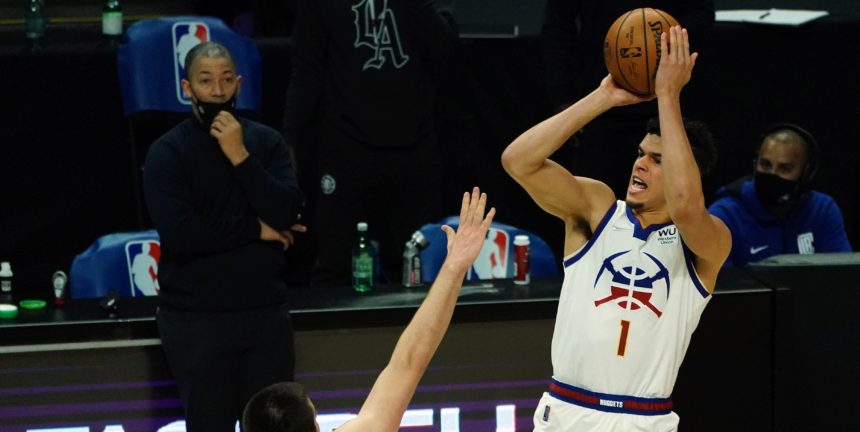 Kosmider also noted that no player in NBA history has made 45% of their threes for the duration of their age-22 season. Porter is at 44.7% after going 2-for-7 against the San Antonio Spurs last night.
There was a narrative early in the season that Grant and Wood were in the conversation for Most Improved. But Grant plays for the worst team in the East and was a big part of teams in Denver and Oklahoma City that went to the playoffs the past two seasons, and Wood plays for the second-worst team in the West. Voters do not like to reward failure, which is why those two players have the wrong prices attached to them. Neither has a realistic chance of actually winning the award.
Randle is another story, because some voters will want to check a Knicks box somewhere on their ballot given that they should end a seven-year playoff drought. But again, Randle has been in the league for seven seasons and is shooting 46.2%, which isn't all that great for a guy who is the focal point of New York's offense and averages nearly 18 shots per game.
You can make a case for De'Aaron Fox of the Sacramento Kings (50-1) and Chris Boucher of the Toronto Raptors (80-1). But this award, it says here, will be won or lost over the final few weeks of the season. There is a reason why ballots are not due back until the morning after the final night of the regular season. Let's see where the Nuggets and Knicks finish in their respective divisions, and go from there.
Our body clocks tell us we should be one week away from the postseason, but that is not the case this season because of the delayed start. The Nuggets still have 20 games remaining, only two of which (May 1 against the Clippers and May 7 against the Jazz) are against teams ahead of them in the standings.
That is an awful lot of basketball left, so there's plenty of time for Porter Jr. (and a bunch of other candidates) to get themselves into the conversation for Most Improved Player, which may be the liveliest postseason award debate.
Maybe this one gets decided May 5? On that night, the Nuggets play the Knicks. Barring injury, one thing is certain: There will be two terrific forwards in action.