We have a 2-2 series, friends.
The Atlanta Hawks grabbed a crucial win on Tuesday night, defeating the Milwaukee Bucks 110-88. The Hawks were without star guard Trae Young due to a deep bone bruise in his foot. Young was originally listed as questionable, upgraded to a game-time decision, then ultimately ruled out due to a lack of mobility and discomfort.
The Hawks were in control from the opening tip, but really pulled away in the third quarter following a knee injury to Bucks star Giannis Antetokounmpo. Suffice to say, his status could swing the rest of this series.
But about these Hawks: they got a little something from everyone.
Lou Williams, starting in place of Young, led all scorers with 21 points while also chipping in eight assists. Bogdan Bogdanovic, working through his own knee issue in this series, added 20 points behind a strong three-point shooting night (6-of-14).
Kevin Huerter (15-6-7) filled the gaps. Clint Capela (15 and 7) gave Atlanta a strong interior presence on both ends, and made a circus shot to boot.
Not to be lost in the sauce are the Hawks' young(er) guys. Getting anything from first- or second-year players in the postseason setting is a win. Doing so after pushing through injuries add another layer of excitement.
Cam Reddish, the secondary piece in the famous Young-for-Luka-Doncic draft-night deal, has been all over the place in his short NBA career. He was a strong defender from the jump. However, he still graded as one of the most destructive players in the sport during the first two months of his 2019-20 rookie campaign, mostly due to his poor shooting and finishing. From that January onward, Reddish completely flipped the script.
| | | | | |
| --- | --- | --- | --- | --- |
| Date range | MPG | PPG | Rim % | 3PT % |
| Pre-January 1 | 25.9 | 8.1 | 47.8 (2.2 attempts) | 26.1 (3.8 attempts) |
| Post-January 1 | 27.7 | 13.3 | 56.2 (2.7 attempts) | 39.7 (4.9 attempts) |
Reddish followed that up with an injury-riddled campaign, appearing in just 26 games this season. The finishing has improved (62.2% on 2.8 attempts), though his three-point shooting (26.2% on 4.8 attempts) has been more miss than hit.
The Game 4 performance from Reddish, however, was a showcase of his upside. It goes beyond his numbers, though a 12-5-2-2-1 line off the bench is nothing to sneeze at.
Reddish had the shot going, drilling two of his three attempts from deep. He flashed the improved finishing early, his first bucket coming off of a drive against resident Strong Man PJ Tucker.
It's hard not to be more impressed with his defense, though. Young players are typically bad at it for a multitude of reasons. Lack of strength. Lack of know-how. Unfamiliarity with schemes. Learning player tendencies on the fly; the scouting report can only take you so far.
Reddish is a rare blend of strong and slithery; he's able to attach to ball-handlers and trail them over screens, but also has the ability to absorb contact and stay connected at the end of possessions. His work on Khris Middleton in this game was superb.
He even does the "boring" stuff. Showing timely help on drives. Toggling rotation responsibilities on the fly. Closing out without fouling. The little things, if you will. Take this possession, for example.
The Bucks set up some inverted action for Giannis and Bryn Forbes. Forbes gives the illusion of setting a flat screen, but scurries up above the break to receive a handoff.
The Hawks obviously don't want to switch this; Kris Dunn is a dogged defender, but he's still 6-foot-3 at the end of the day. As Forbes receives the ball, Reddish shifts toward the action ever-so-slightly. Dunn is able to recover, but Reddish digs to force Forbes to pick up, and ultimately get rid of the ball.
From there, the Bucks flow into an empty corner ball screen with Pat Connaughton and Giannis. Danilo Gallinari pulls over early, which means Reddish is tasked with "splitting the difference" -- playing between two offensive players -- on the weak side.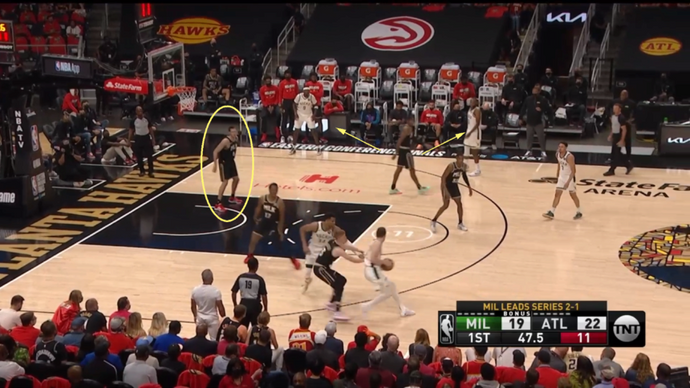 Reddish reads the kickout to Bobby Portis, rotates over, and contests the shot. I'd quibble over which hand he closes out with, but being able to do the little things in help without being blasted is a win for a second-year wing.
The return of Reddish is key for the Hawks, especially after losing De'Andre Hunter to season-ending surgery on his meniscus. If Reddish is able to continue knocking down shots at a high clip, there will be more incentive to have him out there. That means more of the defense, and that would mean a more difficult time for the Bucks on offense.
And in light of the Giannis injury, that could spell trouble in this series.