Team USA's first game is against France; the first battle is against the clock.
Too much time and too few games – six in 17 days. That leaves an awful lot of downtime for Team USA later this summer at the Tokyo Olympics, and team director Jerry Colangelo is going to have to get creative to keep his players sane halfway around the world.
"We need to keep ourselves staying busy. You don't want them sitting around and twiddling their thumbs. That's just not going to work," Colangelo said Monday while formally announcing the 12-man roster that will represent the United States.
It is one of the best rosters Team USA has ever put together. Alphabetically, it is Bam Adebayo (Miami Heat), Bradley Beal (Washington Wizards), Devin Booker (Phoenix Suns), Kevin Durant (Brooklyn Nets), Jerami Grant (Detroit Pistons), Draymond Green (Golden State Warriors), Jrue Holiday (Milwaukee Bucks), Zach LaVine (Chicago Bulls), Damian Lillard (Portland Trail Blazers), Kevin Love (Cleveland Cavaliers), Khris Middleton (Milwaukee Bucks) and Jayson Tatum (Boston Celtics).
The coaching staff is led by Gregg Popovich (San Antonio Spurs) with assistant coaches Steve Kerr (Golden State Warriors), Jay Wright (Villanova University) and Lloyd Pierce.
Nobody will be able to compete with these guys, correct?
Well, they say that every time Team USA puts a squad together, and then strange things happen in the unlikeliest of places. It was a mere two years ago that the Americans finished seventh at the 2019 World Cup in China, defeating Poland for that honor. Their prior game was a loss to Serbia, which was preceded by a loss to France.
And of all the places for Colangelo to bring his final version of Team USA (he is stepping down after the Olympics and handing over the reins to Grant Hill), the Olympic tournament will be held in Saitama, Japan, where Colangelo's first team -- which included LeBron James, Dwyane Wade, Chris Paul, Dwight Howard, Carmelo Anthony and Chris Bosh -- was unceremoniously upended by Greece in the semifinals of the 2006 World Championship.
"The loss to Greece stuck with us, both myself and Coach K (Mike Krzyzewski) for a long time, but we can't think that way," Colangelo said of returning to the site of that debacle. "An arena is an arena. It's still 94 feet by 50 feet. So I have no problem with going back to the same arena."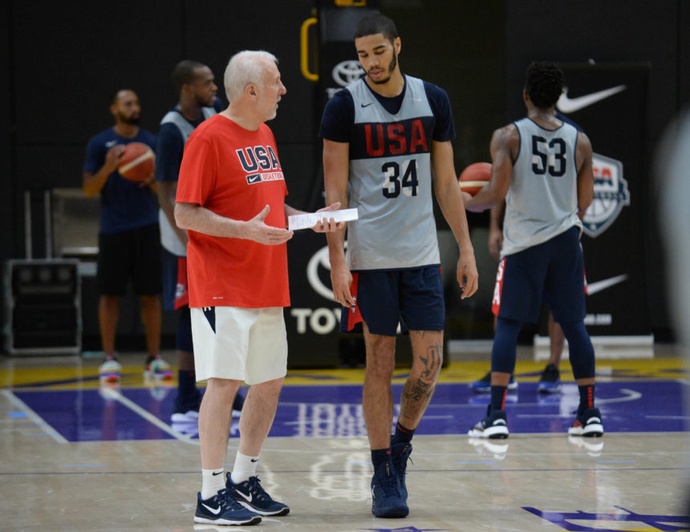 Booker, Holiday and Middleton face the possibility of participating in a seven-game NBA Finals while the rest of the team is holding mini-camp in Las Vegas. The last possible date for the NBA Finals is July 22, and the opening ceremony in Tokyo is July 23. Colangelo said the U.S. federation is already putting plans in place to get those players overseas quickly.
"They're young. They can sleep on the plane," Colangelo said.
"Booker called me maybe a month ago to express his great desire to be a part of the Olympics, and I knew that just because of the relationship, I didn't have to say a word," he added. "He said, 'If we get to the Finals and we go all the way, I'll be on the plane the next day and I'll be there. It doesn't matter.' When you're young, you can think that way."
As mentioned before, the Americans will play only six games over the course of their 17 days in Japan after FIBA cut down the number of Olympic games from eight. Only the first two opponents, France and Iran, are known. The third opening-round opponent will be whoever wins the qualifying tournament in Victoria, British Columbia that begins Tuesday. The six teams competing are Canada, China, the Czech Republic, Greece, Turkey and Uruguay.
What concerns Colangelo the most at this present time is finding ways to stay active and entertained once the team lands in Japan. The Olympics will be contested under a highly restrictive set of rules that continue to evolve, with organizers currently prohibiting foreigners from using public transportation, interacting with Japanese citizens and straying from pre-planned activity schedules.
Colangelo said "it is not really a bubble," which is somewhat true. But as a practical matter, finding things to do away from the Tokyo Hilton while also staying within the rules will be a challenge.
As loaded as the U.S. roster is, there is always a learning curve when it comes to playing in FIBA competitions, where the referees typically let things get very physical. NBA players are not going to get favorable whistles if a defender crowds their landing area when attempting a three-point shot. The games sometimes resemble another Olympic sport, Greco-Roman wrestling, and the physicality will come as a surprise to viewers in the United States who have not watched an Olympics basketball game since the Games were held in Rio in 2016.
The American roster is also somewhat devoid of size, with Adebayo being the only true center. Rudy Gobert of France and Hamed Haddadi of Iran will be the first two centers the Americans will have to contain. Teams from other nations will also keep a close eye on how the Americans are defending the pick-and-roll, because history has shown that if the Americans are not fighting over picks, then the opposition can easily find open three-pointers.