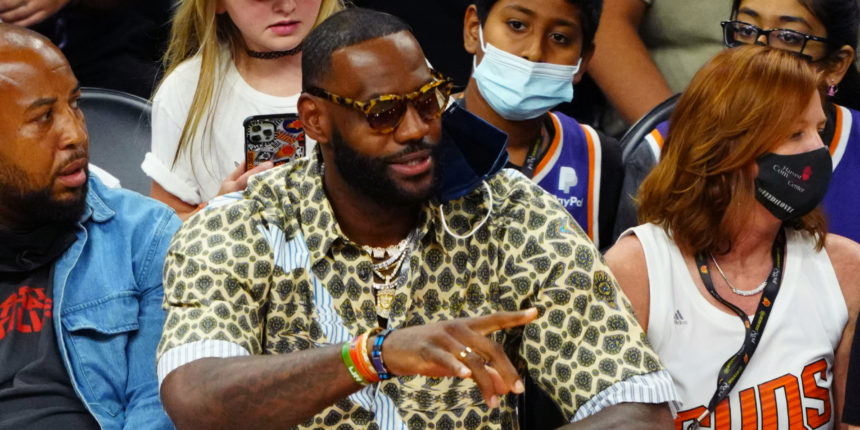 LeBron put himself in the history books with 'Space Jam: A New Legacy'
If there's one thing I can definitively say about LeBron James' latest foray into the box office, it's that the sincerity in his performance as LeBron James is endearing. It's not convincing, but it is endearing.
From beginning to end, James is engaged and invested into the script of "Space Jam: A New Legacy," which made the irregular-heartbeat-inducing pace of its editing tolerable for the length of the film. Yes, the wacky cartoon sound effects awakened a conditioned sense of peace that I'm sure my inner child experiences every Saturday morning, so that's something Warner Bros. nailed.
Between the erratic scenes held together by a surprisingly sound storyline and awkwardly integrated special effects, there were a couple of spectacles that I found fun – magic robot Damian Lillard being one of them. As an NBA writer that embraces the entertainment aspect of basketball on the court to satisfy my past as an art kid, I didn't know that Dame Time personified would be so satisfying to see on the big screen. Had "Space Jam 2" explored the more captivating moments as a storyline instead of saving it as the film's dazzling peak, there would've been some fun possibilities... However, that may have been a little too ambitious for the target audience.
Instead, James and the supporting cast give us a simpler, classic journey of how parents should nurture their children and allow them to become whoever they wish to be – whether that is a basketball superstar or a computer savant (apparently, that's the opposite of hooper). The film is full of choppy scenes meant to keep us captivated, and the final cut felt like it was broken up into a couple of hours of TikTok scrolling – the kind where you come out of the binge confused and craving Warner Bros. studio films. Some minute-long clips will be worth a second watch, while others will need to be eliminated from your "for you" page. A very effective approach.
The commercial-like vibe didn't end there. The frenzied Warner Bros. cross-promotion in "A New Legacy" has become a running meme from the movie on social media. The famed studio used quite a bit of the production to boost brand recognition without any of the meta humor present in the first movie. At times, these ad placements can take away from the awesome design in "A New Legacy." There was a successful effort to keep the Looney Tunes true to their original characters, so perhaps WB believed this genuine effort to keep Bugs Bunny and the gang allowed for them to sprinkle in references to a host of Warner backdrops.
Famed film critic Robert Ebert once said, "You will find something profound, no matter how silly the film may seem," and it rings especially true with the "Space Jam" series. Instead of panning "A New Legacy" to flex knowledge in cinematic excellence (which I don't have since I frequently watch and enjoy garbage), or even protect it from any criticism as a film for children, not grown ups, let us appreciate these films for what they've become — a chance for a kid from Akron and another raised in North Carolina to leave their fingerprints on popular American culture.
Alongside the Looney Tunes, a staple of TVs in every household, both Michael Jordan and James have put exclamation marks on the mountaintops of their careers. Both have used "Space Jam" as an opportunity to place their name next to everything from the legendary cartoons themselves, and in the case of James: "Harry Potter," "Casablanca," "A Clockwork Orange," DC comics and more.
The strength of familiar faces carrying the cameo-packed climax was obvious; every time a character we all know popped onto the screen, the theater burst into whispers. This film was made to appeal to everyone. Every line is written to be quotable. Every scene is shimmering and over-the-top and gaudy. Every highlight is made worthy. From the NBA's most talented player to the cheesy storyline imploring us all to let people be themselves, LeBron James' passion project makes for an easy, glitzy watch.
Much to the dismay of the veteran's "'haters," he shared a Deadline link via Twitter that stated, "Warner Bros.' long awaited sequel to the 25-year-old family classic 'Space Jam' -- 'Space Jam: A New Legacy' -- had a four-point shot at the box office yesterday, with $13.1M at 3,965 theaters, for what will be a $32M opening weekend."
And that's mission accomplished for James. He sees himself immortalized for a little bit longer toward the twilight years of his NBA career. We get an original, post-pandemic feature that brings on some welcomed nostalgia for preferable times.