Being from Chicago, it was "kill or be killed" on the court for Will Bynum since the very beginning.
He gravitated toward basketball early in life, often joining rugged pickup games with grown men when he was only 6 years old. The outdoor courts were in between the surrounding buildings of the Chicago Housing Authority, where Bynum resided during his childhood.
"I would be out there playing with them, falling on the floor, getting scratches and bruises," Bynum told BasketballNews.com in an exclusive phone interview.
As he got older and into his pre-teens, Bynum learned how to finish, adding a floater and sharpening his mid-range game, all the while getting faster and using his athleticism to one-up those who were bigger than him.
"With size, I never really had a problem," Bynum said. "It was all of these other things that were actually advantages for me rather than it being a disadvantage for my height."
The first time Bynum dunked on somebody was the summer after his freshman year at Crane High School. It wasn't out of the ordinary to him, though, since he'd been dunking on shorter rims from a young age while playing organized ball in a league called Small Fry.
"The rims were eight-and-a-half feet, and I would be able to dunk back then," Bynum said. "When I was like 8 or 9, I was dunking on the rim. We would make courts in the backyard and be dunking so I was already like that, and then I actually started to train my legs to enhance my vertical. I didn't start that until I was like 14.
"Once I knew my body was getting stronger, I just started doing toe raises, like a thousand of them a day. And my legs would be hurting, so I picked up some Jumpsoles, and then after a while, I went from maybe a 30-inch vertical to a 45-inch vertical in like six months. But I was obsessively training with the toe raises and Jumpsoles."
There wasn't any situation that kept him from competing with fire. That same summer, Bynum joined a pro-am league with his high school coach Anthony Longstreet. The Chicago Pro-Am featured notable NBA talents such as Antoine Walker and Jamal Crawford, who would work out with Tim Grover prior to playing in the games themselves. It didn't take long for Bynum to make his mark in this league.
"When I started playing in it, I was killing it," Bynum said. "I was having like 50-[point performances] and 60s, way better than high school. So that's how my name kind of blew up, so at that time frame, I knew that I could play with pros. I knew that I was better with pros than I was with my own age level, because my entire life I was playing with older people.
"So when that happened in high school, every year I would dominate, getting 60s and 70s, and it would be a packed house. It was like what everybody in the city was [doing on] the weekends in Chicago, but they were coming to see a high school kid, and it was me. So at that time frame, when I was going through that, I wasn't even [ranked in the] top-100 in the country at that time. But I knew that I was because I was playing against pros. So going into my senior year when I finally got a chance to play AAU, I shot up in the rankings to like top-30 in the country in a few months. It was because I already knew how good I was, but I had the chip on my shoulder to continue to keep working because I wasn't getting the credit that I felt that I deserved, so I just constantly kept at it instead of worrying about the things that I can't control."
All it took was one local television station, WGN-TV, to air his highlights, and "The Thrill" was born.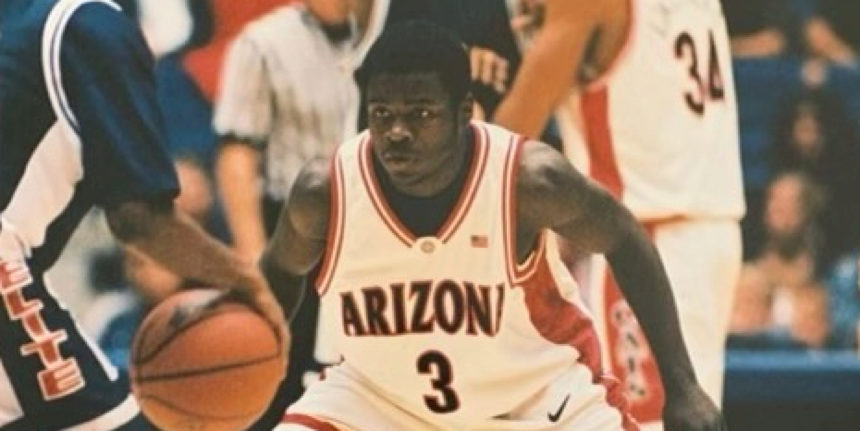 Following a successful career at Crane, Bynum announced his commitment to the University of Arizona to play under the legendary Lute Olson. In his one-and-a-half year stint with the Wildcats, he had to learn the terminology of college basketball. He "woke up" to the details of the game thanks to Olson's teachings, falling in love with the process of studying film and finding the little things he could use to his advantage.
Bynum's time with Arizona came to an end in January 2003, as he elected to transfer to Georgia Tech in order to be closer to home. Looking back, Bynum recalls the waiting period in between those stints as a memory that's stuck with him forever.
"The year I sat out, we were No. 1 in the country when I transferred from Arizona. I started the last game before I left. It was a difficult time for me, sitting out and being at Georgia Tech," Bynum said. "And we were losing during that time frame at Georgia Tech, and leaving a situation like that where [Arizona was] No. 1 in the country and seeing them play against Kansas in Elite Eight that year to go to the Final Four, it was heartbreaking. It was heartbreaking because I felt like that was our year, for Arizona to win the championship that year."
When he got to Georgia Tech, the environment was completely different. The loose nature that he had previously experienced in Tucson changed into a heavily-disciplined, strictly-scheduled regimen that Yellow Jackets head coach Paul Hewitt put together. Bynum remembers the 4:30 a.m. to 9 p.m. grind. This is when he realized what it would take to make it at the next level and how dedicated he'd have to be in order to outwork everybody.
The Yellow Jackets made it to the NCAA Tournament twice, including a national-championship appearance in Bynum's first season there (courtesy of his game-winning layup in the Final Four against Oklahoma State).
"That's pretty much what everybody remembers, so I mean that was good, but it would have been a much better memory if we had won the championship, you know what I mean? Just getting to go to the championship, it kind of hurt a little bit," Bynum said. "It was a great moment, but I kind of like to stay away from that because we didn't finish the job."
When his time was up at Georgia Tech, Bynum declared for the 2005 NBA Draft. He did not hear his name called that night.
"Yeah I was hurt, but I already knew. I had been there before, so I knew the vision," Bynum said. "I knew that everybody was going to be against me. I knew that I would have to do the impossible. I knew that I would have to do things that weren't normal to everybody. I'm putting 16, 18 hours [a day] into basketball over a five-year period, obviously it has to pay off. I don't put my disappointments in humans' hands. Those decisions, me not getting drafted, those came from human beings, but people make mistakes. So it happens. Things happen all the time, so I shouldn't take that and be so crushed that I don't allow myself to grow."
Bynum's path was unconventional. He suited up for the Boston Celtics in Summer League and then had a stint in the NBDL (now the G League), where he won Rookie of the Year. This earned him a rest-of-season contract with the Roanoke Dazzle's parent club, the Golden State Warriors, in 2006. However, after 15 games with the Warriors, he was ultimately waived. At this point, he ventured over to Israel to play for Maccabi Tel Aviv.
"It was different because I just didn't know; it was the uncertainty of not knowing," Bynum said. "I'm thinking I'm going to go somewhere with sand and camels. Like, I had no idea that it was going to be a beautiful, amazing city to grow and learn from. It wasn't tough, it was a great place! Israel is one of the best places I've ever been to in my life. It's a beautiful place, the people were accepting and warming of me. It was a family type of atmosphere from day one to the last day I was there."
It wasn't the setting that gave him issues. It was the rules. Bynum couldn't use his pivot foot or operate from the triple-threat position without being whistled for a travel. While reminiscing about getting called for four turnovers per game and getting grilled by the coaching staff, Bynum can't help but laugh. Once he figured that out, it was smooth sailing. He ended up helping Tel Aviv win the Israeli League Championship and secured IBL Finals MVP in 2007.