The NBA's on-court advancements never sit still.
In 2022, the three-point revolution is old news, and offenses are humming at some of their most energetic paces in league history. Today's floor spacing has opened up the court for new player archetypes and new coaching tactics.
But according to the numbers, individual shot creation has actually climbed up over the last nine years.
According to PBP Stats, NBA teams generated about 47.2% of their shots from "self-created" attempts last regular season — attempts that took two or more seconds for the shooter to create. That's a little over 4% more than their self-creation attempt rate from 2013-14, when the league first introduced this type of tracking data.
That figure of 4% may not seem like much, but the totals paint a better picture. Players in the NBA put up 82,558 self-created attempts in 2013-14 and 101,551 last season. It's an 18,993-shot difference, meaning the audience is watching about 15.4 more self-created shots per contest throughout an NBA game.
How has NBA self-creation changed in the league across recent years?

Here's a quick lil chart comparing the percentage of leaguewide shots that were self-created over the last 9 seasons.

I'll be dropping some of my takeaways and further observations in this thread 🀠pic.twitter.com/9gkKCYfLzb

— Ethan Fuller (@ethman43) July 30, 2022
The above chart illustrates how the NBA's self-creation frequency steadily rose to a high of 48.42% in 2019-20 (more than 42.5 self-created attempts per team, per game) before shrinking back slightly. It also affirms the public's belief that, in the postseason, individual creation has a higher premium as the game slows down and teams battle over the course of a series. It's not necessarily iso-ball — two seconds isn't that long — but it encompasses all the settings where a player has to beat some level of defense to shoot.
Why has self-creation trended up? What is changing about the NBA that could cause such a rise? Here are some of the potential contributors.
The Athletic's Seth Partnow dropped one variable on Twitter that I didn't think of: Offensive rebound rates. The NBA is grabbing offensive rebounds at some of its lowest rates in league history. If fewer players are grabbing offensive rebounds and tossing up quick putbacks, there are fewer quick shots that take under two seconds to generate.
But according to Basketball-Reference and Cleaning the Glass, despite decreasing offensive rebound rates, putback rates have not followed a general trend:
| | | |
| --- | --- | --- |
| Year | League Avg. OREB% | Putback Plays per 100 Misses |
| 2013-14 | 25.5% | 16.9 |
| 2014-15 | 25.1% | 16.7 |
| 2015-16 | 23.8% | 15.9 |
| 2016-17 | 23.3% | 15.9 |
| 2017-18 | 22.3% | 16.1 |
| 2018-19 | 22.5% | 17.0 |
| 2019-20 | 22.9% | 16.9 |
| 2020-21 | 22.2% | 16.8 |
| 2021-22 | 23.2% | 17.5 |
(Mobile users: Scroll right to view full table, with data via PBP Stats)
Putback frequency might be a small factor in the change, but I'm unsure that it's a chief cause.
Instead, one talking point might be the dissemination of drives across the NBA.
| | | | |
| --- | --- | --- | --- |
| Year | Avg. Team Drives/Game | Avg. Team Driving FGA/Game | League Driving FG% |
| 2013-14 | 33.7 | 13.8 | 43.4% |
| 2014-15 | 35.5 | 14.5 | 43.6% |
| 2015-16 | 37.6 | 15.5 | 44.0% |
| 2016-17 | 38.7 | 16.2 | 45.4% |
| 2017-18 | 41.2 | 17.9 | 46.0% |
| 2018-19 | 43.9 | 19.8 | 47.2% |
| 2019-20 | 45.8 | 20.5 | 47.0% |
| 2020-21 | 46.8 | 20.56 | 48.0% |
| 2021-22 | 44.8 | 19.8 | 48.2% |
(Mobile users: Scroll right to view full table, with data via PBP Stats)
NBA teams are driving to the basket more than ever in recorded history. Mark Schindler covered the philosophical importance of drives and driving lanes in today's NBA for Basketball News earlier this spring; this data backs his claims up. Perhaps most interesting is that as drives have increased, field goal percentages have also gone up almost every single year. It appears NBA offenses have hit on a pressure point that defenses have not caught up to yet.
Not every drive takes two or more seconds to complete, but many do, which could help boost the overall self-creation frequency.
Meanwhile, NBA players are also self-creating threes at record rates.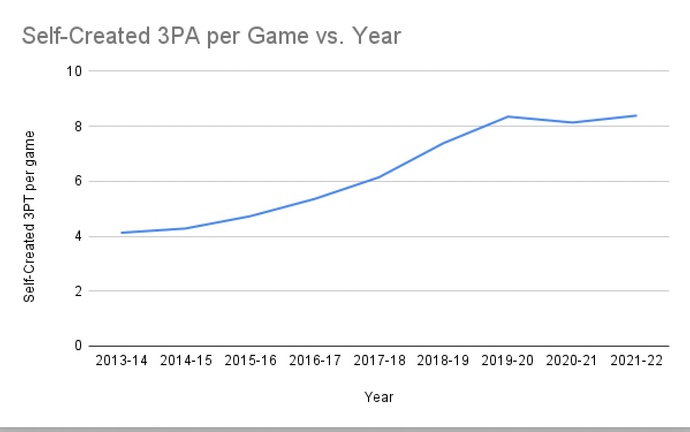 In 2013-14, teams shot about 4.1 threes per game after holding the ball for two or more seconds. That volume more than doubled to 8.4 self-created three-point attempts per game by last season.
Interestingly, success rates on these shots have not significantly changed in that span, ebbing and flowing between 31.5% and 33.9% without a clear pattern. In fact, the league hasn't become more efficient with self-creation in general: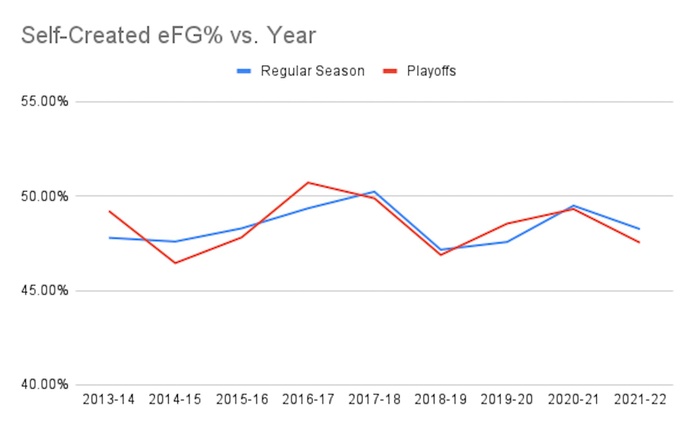 This is an interesting visual on two fronts. Firstly, it shows that even with that aforementioned rise in efficiency on drives, the NBA on the whole hasn't been as successful in its self-creation rise. There's also little discernible difference between the regular season and the playoffs, even though the postseason has a reputation for tightening the screws on defense.
What does this all mean? Basketball players who can create advantages off the dribble are more valuable in today's NBA ecosystem than ever before. Modern spacing has opened up room for the elite burst players and crafty individual shooters to thrive. However, that does not mean the NBA is becoming increasingly iso-heavy.
I'll be adding a Part II later this week to showcase how different teams and players are evolving in the world of self-created shots. But I'd like to end this with one crazy note on the Golden State Warriors that encapsulates a facet of their dynasty.
Since Steve Kerr took over, the Warriors have ranked in the bottom-3 in self-created shot frequency in every season except the injury-marred 2019-20 year. The renowned ball movement that typifies this dynasty shows up again in the data: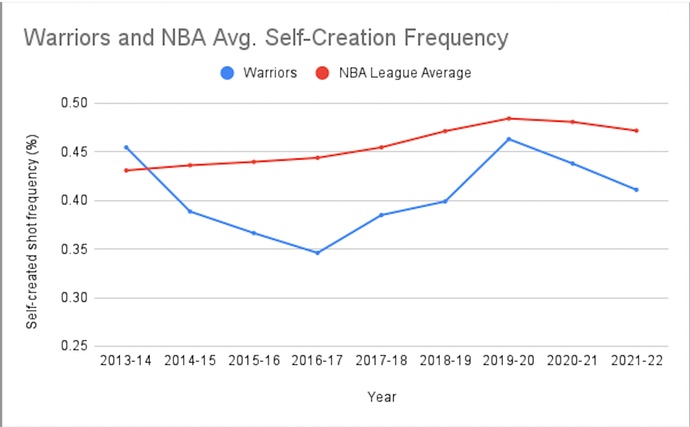 Mark Jackson coached his last season in 2013-14. It was also the last time Golden State had an above-average diet of self-created shots. Since then, the Warriors have practically lived on another planet. They set the NBA tracking record in 2016-17 by having just 34.6% of their shots come via self-creation.
The NBA league average frequency for self-created shots was 43.08% in 2013-14. Golden State has surpassed that mark just twice in eight years despite the league trending in a totally different direction.
In eight years under Kerr, the Warriors have certified themselves as the gold standard of offense in basketball.