Last season, Trae Young was a starter on the Eastern Conference All-Star team. He received 2,829,969 fan votes, which was the most of any East backcourt player. League-wide, the only guards who had more fan votes were Luka Doncic (6,111,735) and James Harden (3,751,362).
Young also had the support of his fellow players last year, as he received 65 player votes (the third-most of any East backcourt player). He had the second-most media votes among East guards too.
Now, one year later, Young was left off of the All-Star team altogether. The East's backcourt will instead feature Kyrie Irving and Bradley Beal in the starting lineup, with James Harden, Jaylen Brown, Zach LaVine and Ben Simmons serving as the reserves.
While it was somewhat shocking that Young wasn't selected as a reserve by the East's head coaches, the bigger surprise is just how few votes the 22-year-old received this time around.
This year, Young received just 991,857 fan votes, which was sixth among East backcourt players. That's nearly a third of the votes he received last season. (Young also received the sixth-most media votes).
Also, Young received just 20 player votes, which was 11th among East guards. That means players felt there were 10 East backcourt players more deserving of an All-Star nod than Young. Jaylen Brown (49 player votes), Ben Simmons (38), Fred VanVleet (26), Kyle Lowry (22), Malcolm Brogdon (21) were among the guards who received more player votes than Young. Consider this: Trae received just three more player votes than R.J. Barrett.
Are fans (and even some players) souring on Young a bit?
This season, he's averaging 27.0 points, 9.6 assists, 4.0 rebounds, 2.3 threes and 0.8 steals while shooting 43.4% from the field, 37.0% from three and 87.7% from the free-throw line.
Last year, he was selected as an All-Star starter despite Atlanta being at the bottom of the standings. But after making a number of win-now moves over the offseason, the Hawks were expected to win more games and make the playoffs. Instead, they haven't lived up to those heightened expectations (in part due to injuries) and they currently sit at 13-18, which is 11th in the East. Perhaps that hurt Trae's All-Star case.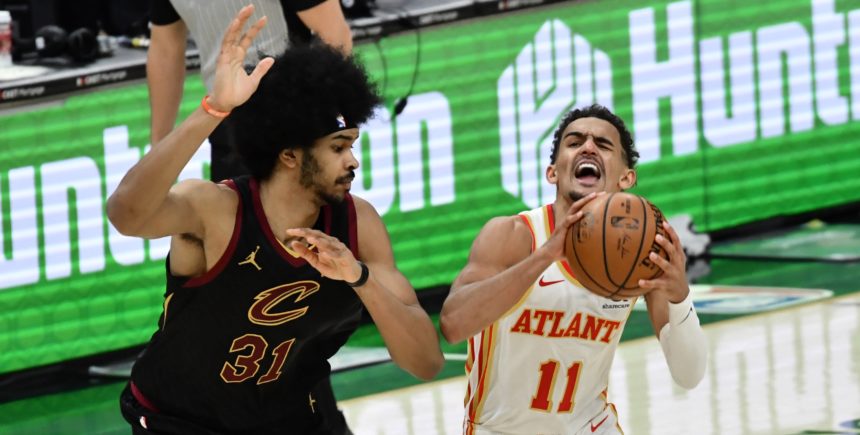 It's possible that Young's style of play rubs some people the wrong way too. Young draws a lot of contact and gets to the free-throw line often. This season, he's attempting 10.3 free throws per game, which is the third-most in the NBA (behind only Joel Embiid and Giannis Antetokounmpo). By comparison, Harden shoots 7.1 free throws per game.
Earlier this season, Young kept drawing fouls against the Brooklyn Nets and a frustrated Steve Nash told the refs, "That's not basketball!" (Nash was Young's favorite player as a kid, and the comment seemed to bother him a bit).