Every year, there are NCAA freshmen who step into college basketball and dazzle right off of the bat, subsequently earning opportunities to be selected in the NBA Draft following their lone season at the college level. This year will be no different.
Here is a list of incoming freshmen that we currently have included in our 2022 NBA Draft Big Board:
1. Chet Holmgren | Gonzaga | Forward/Center
2. Paolo Banchero | Duke | Forward
4. Jalen Duren | Memphis | Center
6. Jabari Smith | Auburn | Forward
7. Patrick Baldwin Jr. | UW-Milwaukee | Forward
8. Caleb Houstan | Michigan | Forward
9. AJ Griffin | Duke | Guard/Forward
12. TyTy Washington | Kentucky | Guard
13. Kennedy Chandler | Tennessee | Guard
14. JD Davison | Alabama | Guard

16. Peyton Watson | UCLA | Guard/Forward
23. Daimion Collins | Kentucky | Forward
24. Kendall Brown | Baylor | Forward
25. Matthew Cleveland | Florida State | Guard/Forward
While the players listed above are currently included on our Big Board, here is a list of other freshmen prospects (in alphabetical order) who our scouting staff will be keeping close tabs on:
Nate Bittle
Forward/Center | Oregon
Height: 7-0 Wingspan: 7-5
Weight: 215 Draft Day Age: 19.1
Nate Bittle is a long and lanky stretch big who can really open up the floor as a shooter. On the offensive end, he's an adequate passer, and has shown great promise as a scorer on all three levels. He can get bumped off his line with contact and needs to fill out his frame, but his combination of length and touch is impressive at his age. On defense, Bittle utilizes his length really well as a rim-protector, but it's yet to be seen how his lateral mobility and movement skills translate to tougher competition. The Oregon native will suit up for his home-state Oregon Ducks this season as one of four centers listed at 6-foot-11 or taller. He will likely be utilized as a floor-stretcher, but I'm curious to see how he fits in their lineup construction.
Max Christie

Guard | Michigan State
Height: 6-6 Wingspan: 6-9
Weight: 190 Draft Day Age: 19.8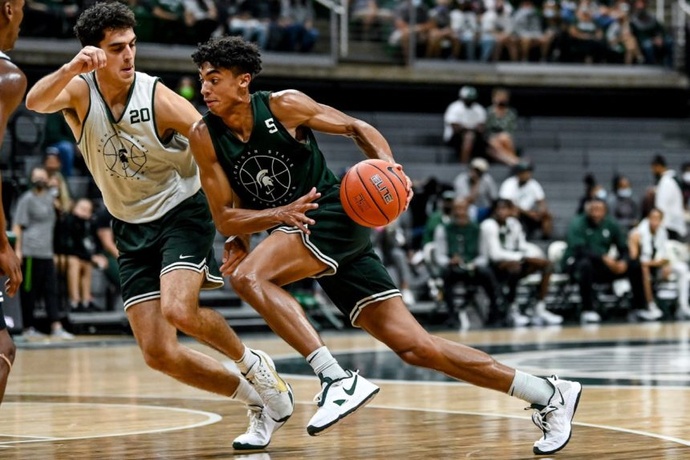 Max Christie is a sharpshooter who has the potential to be one of the best 3-and-D prospects in the 2022 draft class. He averaged 24.0 points, 10.1 rebounds, 3.9 assists, 3.1 steals and 2.0 blocks per contest as a high-school senior, and was named Illinois Gatorade Player of the Year. His combination of shot-making and finishing craft should allow him to provide value offensively quickly for the Michigan State Spartans, as they will likely rely on him to carry a heavy load. Christie is an active rebounder and defender who uses his hands well to contest shots and deflect passes when engaged. He's a skilled playmaking wing who has the tools to produce at a high level, which could potentially propel him into the 2022 draft.
Moussa Diabate

Forward/Center | Michigan
Height: 6-11 Wingspan: 7-3
Weight: 210 Draft Day Age: 20.4
Born in Paris, France, Moussa Diabate comes to Michigan after two years at IMG Academy. He is a long, athletic, high-energy big with the ability to impact the game on both ends of the floor. Due to his aggressive nature, he excels on the offensive end by finishing through contact and being a high-level rebounder. He also has the ability to block shots and impact plays around the rim on the defensive end. With improvement as a ball-handler and shot-maker, Diabate can make a great case for himself as a one-and-done option next summer.
Cerebro Sports note: Per their 2021 Geico Nationals data, he was one of only six players to post a Defensive Statistical Impact rating of > 90 and > 60 in the Big Man Strengths metric.
Nolan Hickman
Guard | Gonzaga
Height: 6-2 Wingspan: 6-6
Weight: 185 Draft Day Age: 19.1
Nolan Hickman comes to Spokane, Washington as Gonzaga's fifth-highest rated recruit of all-time. The 6-foot-2 point guard is an impressive athlete who can get to his spots and create scoring opportunities at will. His tight handles and skills as a facilitator only make him that much more lethal when paired with his shooting. He is routinely found at the top of Cerebro Sports' Floor General Skills and Pure-Scoring Prowess metrics, regardless of the event and competition. Hickman is a fiery competitor in all facets of the game, and could be poised for a strong year for the Bulldogs.
Brandon Huntley-Hatfield

Forward/Center | Tennessee
Height: 6-10 Wingspan: 7-1
Weight: 246 Draft Day Age: 18.9
After graduating from Scotland Campus Prep in Pennsylvania, Brandon Huntley-Hatfield returns to his home state of Tennessee to play for the Volunteers. Standing 6-foot-10 and 246 pounds, he has the tools to be an ideal power forward in today's game. He's a powerful athlete with strength, length and an ability to score from anywhere on the floor. He is already a tremendous rebounder who has also shown promise as a ball-handler and defender. He will still be only 18 years old on draft night, and has plenty of room to develop into an elite prospect.
Harrison Ingram

Forward | Stanford
Height: 6-8 Wingspan: 7-0
Weight: 230 Draft Day Age: 19.6
Harrison Ingram is one of the most intelligent and competitive prospects in this year's freshman class. At 6-foot-7 with a 7-foot wingspan, he is savvy on both ends of the floor, and is capable of playing both on and off the ball. Even though he's not an elite athlete, he has shown flashes as a shooter and projects well as a high-level defender. Another aspect of his game that stands out is his poise, as he rarely gets sped up and plays under control. As a skilled point-forward who can make plays, score and also be effective on the glass, Ingram has a great opportunity to shine for the Cardinal.
Cerebro Sports note: Per their database, Ingram was one of only four players in the 2021 FIBA U19 World Cup with a Defensive Statistical Impact rating > 92 and a Three-Point Efficiency rating > 58.
Trevor Keels

Guard | Duke
Height: 6-4 Wingspan: 6-7
Weight: 221 Draft Day Age: 18.8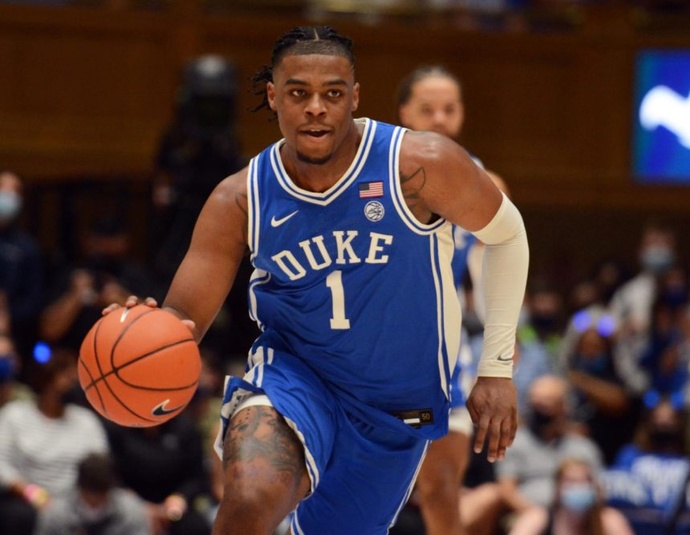 The Clinton, Maryland native comes to Duke after finishing high school as a consensus top-25 prospect. At 6-foot-4 and 221 pounds, Trevor Keels has phenomenal physical strength for his age and position. He excels in attack mode on the offensive end, using his combination of strength and skill to score on all three levels. He possesses a unique ability to finish through contact in the lane, and also knock down shots by spotting up or as his own creator. At the Iverson Roundball Classic in May, Keels' footwork and smooth shooting stroke impressed me, a swing skill he'll look to maintain as a freshman. With continued improvement as a passer, shooter and on-ball defender, Keels has a chance to be a solid one-and-done option.
Bryce McGowens
Guard | Nebraska
Height: 6-7 Wingspan: 6-9
Weight: 179 Draft Day Age: 19.6
Possessing positional size and length, Bryce McGowens has a chance to be one of the best shot makers in college basketball. He's flashed space creation as a shooter with pull-up craft, ball-handling and the ability to elevate over defenders. Although he can be a bit streaky, the mechanics and fluidity with his shooting are special. He is also a solid defender due to his length, athleticism and instinctual play. With his combination of great athleticism, shot-making and finishing craft at the rim, McGowens should be a go-to scorer for the Huskers, and will look to make a strong case as a potential draft pick in 2022.
Hunter Sallis
Guard | Gonzaga
Height: 6-5 Wingspan: 6-8
Weight: 175 Draft Day Age: 19.2
Hunter Sallis stands 6-foot-5, giving him solid positional size as a scoring guard who also excels as a facilitator. The McDonald's All-American averaged 22.2 points, 5.6 rebounds, and 3.8 assists per game as a high-school senior. Gonzaga will have a handful of capable ball-handlers on the roster this season, but Sallis' ability to control the game and be a scoring floor general should create a solid role for him. He will need to add physical strength, but the size, skill set and scoring prowess give promise to him as a likely high-level prospect. Sallis is currently included on the 2022 Jerry West Award preseason watchlist, and has the potential to be one of the leaders of the Zags' offense.