The Michigan State Spartans are one of the premier college basketball programs in the country, but shocked many last season with the trouble they had in the Big Ten, sputtering into a 15-13 season and First Four NCAA Tournament exit in the 2020-21 campaign.
The takeaway from last season was that it was a rebuilding year, as the Spartans were left finding answers after the departures of Cassius Winston and Xavier Tillman Sr. to the 2020 NBA Draft. This season, head coach Tom Izzo and Co. are looking to bounce-back, as they're led by key upperclassmen like Gabe Brown, Marcus Bingham Jr. and Joey Hauser.
However, newcomer Max Christie could be the piece to spearhead Michigan State's rise back to the top of the Big Ten.
"That boy gets buckets" - Gabe Brown
Christie, a 5-star recruit out of Rolling Meadows High School in Illinois, chose Michigan State after an unusual recruiting process that was mostly virtual due to the COVID-19 pandemic in early 2020. But it was the connection he made with Coach Izzo, the staff, and players that led him to choose the highly successful program.
I had the opportunity to watch Christie in his first two games of exhibition collegiate action versus Ferris State and Grand Valley State, two Division II programs in Michigan. It's clear Christie brings skilled and versatile elements to Michigan State's perimeter play, as his potentially elite shooting could be a major asset to the Spartans this season. His shooting ability can open driving lanes that allow him to get to the rim or find open looks for teammates, as his IQ and unselfishness showed on the court. While he still has a slim frame, Izzo noted that he had a great offseason in the weight room, and plans to utilize his length to be effective on the defensive end.
NBA Outlook
Coming into East Lansing as No. 12 on ESPN's Top 100 out of high school, Christie will receive his fair share of eyes from the next level. Our Senior NBA Draft Analyst, Matt Babcock, recently watched Christie as the Spartans took on Kansas at the State Farm Champions Classic in New York to open the season.
Here are Babcock's initial thoughts after seeing Christie play in-person:
"My first thoughts when watching Max Christie for the first time last week was, 'He's very thin, he has a baby face and he looks like a young freshman.' Furthermore, his stat line and production wouldn't blow away anyone either, as he only scored 9 points on 3-of-10 shooting. I could easily see someone thinking he blended into the game and was underwhelming, and subequently drawing a quick conclusion of 'he's not ready.'
"Christie certainly didn't dominate in that game by any means. However, one of my favorite things about evaluating young NBA prospects is reading between the lines. With Christie, I saw a 6-foot-6 guard with a sweet stroke that has a great feel for the game. I also find it to be interesting that Tom Izzo — a great, but demanding and tough coach — trusted Christie, a true freshman, to start and play 31 minutes in his first career college game. A huge one at that.
"There's a reasonable argument that a player like Christie would benefit from staying in school to get stronger, mature as a player and get his game polished to a point where he could produce at a high level in college before entering the pros. However, the same exact thing could have been said about Josh Primo at Alabama, who only averaged 8.1 points in 22 minutes per game last season. Primo was selected No. 11 by the San Antonio Spurs in the 2021 NBA Draft. That leaves me thinking: Could Max Christie be this year's Josh Primo?"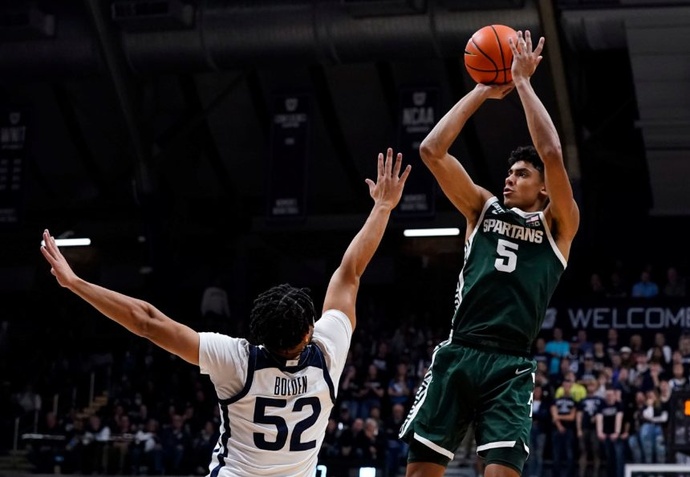 Silent Killer
When asked about what Christie brings to this Michigan State team, Bingham immediately responded, "Max is a killer, man." What's unique is that isn't the first thought you get when you see his youthful face and thin frame walk onto the court. However, Christie holds a calmness and confident demeanor that doesn't appear to get shaken easily.
Christie is certainly impressing scouts, teammates and, most importantly, his coach in the early season. Izzo has praised his 5-star freshman's mentality and approach to college basketball so far. The Spartans are coming into this season with their eyes set on the top of the Big Ten once again, and we can expect Izzo to find ways to utilize Christie to his fullest potential along the way.
"He's coachable, he has no ego, he has great understanding," Izzo said. "...(He's) every bit as good as the billing."
Max Christie is currently ranked No. 18 on the BasketballNews.com 2022 NBA Draft Big Board.