The college basketball season is underway, which means BasketballNews.com's scouting coverage has been kicked into full gear. The bulk of my travel and scouting schedule is set through the entire season, and let me tell you — I have some terrific basketball to see! As I scour the map evaluating prospects at various levels, I'll be sharing my takeaways every step of the way. I hope you enjoy it!
Here's where I was last week:
State Farm Champions Classic — New York, New York
Last Tuesday, Nov. 9, the college basketball season officially began, and I didn't waste any time getting out into the scouting trenches. I traveled to New York City for the State Farm Champions Classic to see a star-studded doubleheader that pitted Michigan State against Kansas and Kentucky against Duke. Here are a few of my thoughts and takeaways on some of the top prospects:
Paolo Banchero, Duke
MIN: 31 | PTS: 22 | REB: 7 | AST: 0 | STL: 2 | FG: 7-11 | 3PT: 0-3 | FT: 8-9 | TO: 1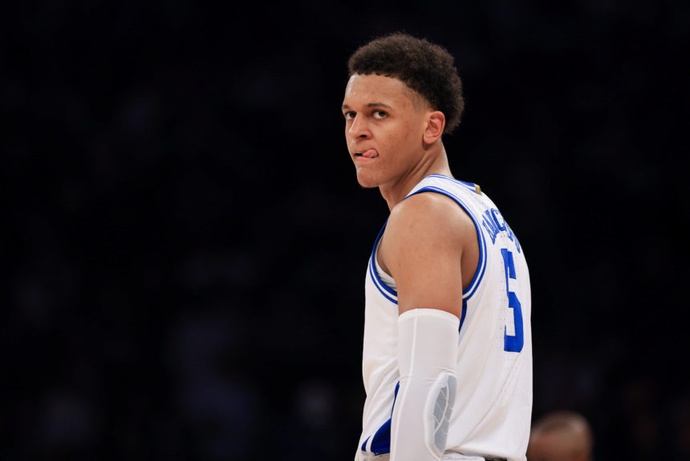 I was already very familiar with Banchero prior to this trip. We had already discussed with our staff internally that Chet Holmgren and Banchero are likely in a category of their own in regards to the 2022 NBA Draft. We started the season with Holmgren at No. 1 and Banchero right behind him at No. 2.
After seeing Banchero in a Duke uniform — under the bright lights of Madison Square Garden, dominating a talented Kentucky team — it's hard not to get even more excited about him as a prospect. At 6-foot-10 and 250 pounds, Banchero possesses a unique combination of traits, as he is so strong and powerful, but also skilled. He does a little bit of everything, but what intrigues me the most about Banchero is his ability to create on his own versus essentially anyone that's matched up against him, big or small. There are not many players on the NBA level that you can run your offense through, and I think Banchero is going to be one of those guys. I'm starting to think it could be the separating piece between Banchero and Holmgren. However, there's a lot more to watch in order to figure things out. But the good thing is we won't have to wait long to see them square off, and the next time I'll see Banchero in-person will be Nov. 26 in Las Vegas — facing off against none other than Holmgren's Gonzaga Bulldogs.
In the meantime, we've moved Banchero into the No. 1 spot on our 2022 NBA Draft Big Board.
Ochai Agbaji, Kansas
MIN: 36 | PTS: 29 | REB: 2 | AST: 1 | STL: 2 | FG: 9-17 | 3PT: 3-7 | FT: 8-8 | TO: 0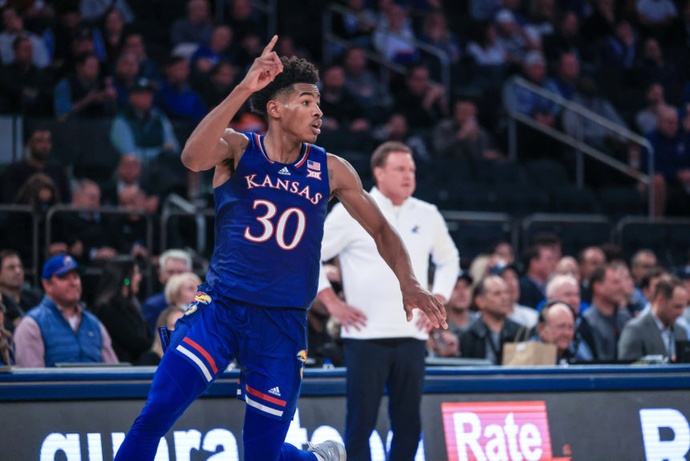 It seems like it was just yesterday that my friend and former colleague, Luca Desta, called me after he scouted Kansas at Baylor for us while we worked for Babcock Hoops during the 2018-19 college season. A lot has changed since then: I've transitioned our scouting coverage from Babcock Hoops to BasketballNews.com, Luca is now Vice President of Global Scouting for the Utah Jazz and Ochai Agbaji is now in his senior season for the Jayhawks. I'm happy to say that we've all been moving up, including Agbaji.
In New York, Agbaji showed me everything that I wanted to see from him. His athleticism and physical tools were never in question; however, he has always seemed a little bit mechanical and inconsistent on the offensive end. That was not the case at the State Farm Champions Classic. In 29 minutes, Agbaji played with such fluidity and confidence, knocking down shots from all over the place, and he seemed to be everywhere with lob finishes and slashing plays. He played with such great energy, and had a major presence. Naturally, some will be turned off since Agbaji is a bit older for an NBA prospect — he will be 22 on draft night — but I'd like to remind those folks that Chris Duarte, who was 24 years old on draft night, is already contributing to the Pacers at a high level as a rookie. Although I've scouted Agbaji for years now, I've never been so excited about him as a prospect. Subsequently, we have moved him up our 2022 NBA Draft Big Board to No. 38.
Trevor Keels, Duke
MIN: 34 | PTS: 25 | REB: 1 | AST: 3 | STL: 3 | FG: 10-18 | 3PT: 1-4 | FT: 4-6 | TO: 2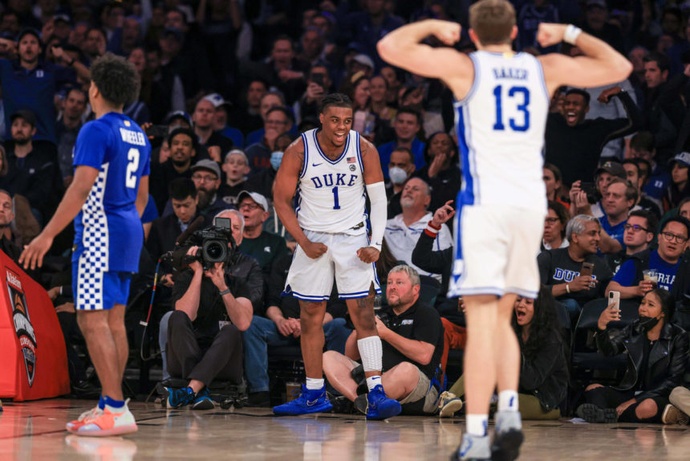 I had watched some film and was familiar with Trevor Keels' status as a top recruit, but last Tuesday was the first opportunity I had to see him play in-person. In these scenarios, I go in with an approach to be a sponge and absorb as much information as possible. I do it in an effort to be able to create my own unique and unbiased evaluation of the player, rather than be influenced by rankings, hype or other people's opinions.
At first glance, I didn't know what to make of Keels' body type. He's listed at 6-foot-4 and 221 pounds. He looks more like a football player rather than a basketball player — he's big and thick, especially for a guard. On the court, he was able to utilize his physicality and ball handling ability to regularly get to the rim and play "bully-ball," effectively overpowering a Kentucky team that tends to play multi-guard lineups including Sahvir Wheeler, TyTy Washington and Davion Mintz. They all struggled to stop Keels. He also showed an ability to shoot the ball from outside. All in all, I'm not sure he could have had a better start to his college career, as he scored 25 points on 10-of-18 shooting in 34 minutes.
I walked away a little torn in my opinion of Keels as a prospect. On one hand, he's a true freshman who lit up a talented Kentucky team in his first college game on a huge stage. You really can't ignore that. On the other hand, I question his body and his lack of athleticism. Also, what role will he fill in the NBA? Despite my questions (it's part of my evaluation process), I am certainly intrigued with Keels and plan to monitor him closely. In the meantime, I have decided to include him on our 2022 NBA Draft Big Board, at No. 29.
TyTy Washington, Kentucky
MIN: 28 | PTS: 9 | REB: 1 | AST: 3 | STL: 1 | FG: 3-14 | 3PT: 0-2 | FT: 3-4 | TO: 0
I've gotten to know TyTy Washington as a player very well over the last year, and I think it would be safe to say that I'm one of his biggest supporters. Unfortunately, opening night was not Washington's best game. Although his decision making was solid, he struggled to make shots, making only 3-of-14 shot attempts. I think he had a hard time finding his rhythm, as Kentucky played him mostly off the ball alongside small point guard, Savhir Wheeler.
Long-term, I see Washington being an on-ball point guard in the NBA who will play with a solid balance of scoring and facilitating. Unless head coach John Calipari makes some dramatic changes, Washington is going to need to adapt to his new role to make the most of this season. However, I believe that he will be able to do so effectively.
He didn't light the world on fire in his first game, but there won't be any knee-jerk reactions from me anytime soon. We currently have TyTy Washington at No. 11 on our 2022 NBA Draft Big Board.
Max Christie, Michigan State
MIN: 31 | PTS: 9 | REB: 3 | AST: 0 | STL: 1 | FG: 3-10 | 3PT: 2-4 | FT: 1-2 | TO: 2
My first thoughts when watching Max Christie for the first time last week was, "He's very thin, he has a baby face and he looks like a young freshman." Furthermore, his stat line and production wouldn't blow away anyone either, as he only scored 9 points on 3-of-10 shooting. I could easily see someone thinking he blended into the game and was underwhelming, and subequently drawing a quick conclusion of "he's not ready."
Christie certainly didn't dominate in that game by any means. However, one of my favorite things about evaluating young NBA prospects is reading between the lines. With Christie, I saw a 6-foot-6 guard with a sweet stroke that has a great feel for the game. I also find it to be interesting that Tom Izzo — a great, but demanding and tough coach — trusted Christie, a true freshman, to start and play 31 minutes in his first career college game. A huge one at that.
There's a reasonable argument that a player like Christie would benefit from staying in school to get stronger, mature as a player and get his game polished to a point where he could produce at a high level in college before entering the pros. However, the same exact thing could have been said about Josh Primo at Alabama, who only averaged 8.1 points in 22 minutes per game last season. Primo was selected No. 11 by the San Antonio Spurs in the 2021 NBA Draft. That leaves me thinking: Could Max Christie be this year's Josh Primo?
Christie is currently No. 18 on our 2022 NBA Draft Big Board.
Oscar Tshiebwe, Kentucky
MIN: 29 | PTS: 17 | REB: 20 | AST: 1 | STL: 1 | BLK: 2 | FG: 8-14 | 3PT: 0-0 | FT: 1-1 | TO: 2
My uncle, Rob Babcock, a former longtime front office executive in the NBA, used to say "playing hard is a skill and it's not discussed enough." Oscar Tshiebwe has his limitations, but he plays so hard. At 6-foot-9 and a rock solid 255 pounds, Tshiebwe is so physical and has "the pedal to the metal" at all times. He was undoubtedly the bright spot for the Kentucky team versus Duke, scoring 17 points and grabbing an incredible 20 rebounds. Actually, he secured 20 rebounds in their second game versus Robert Morris too.
Tshiebwe likely won't be for everyone in the NBA, as bruisers without an ability to stretch the floor are not nearly as valuable as they once were, however, I think Tshiebwe finds a way to stick.
We currently have Tshiebwe at No. 50 in our 2022 NBA Draft Big Board.
Mark Williams, Duke
MIN: 18 | PTS: 5 | REB: 6 | AST: 0 | STL: 2 | BLK: 3 | FG: 2-3 | 3PT: 0-0 | FT: 1-2 | TO: 0
At 7-foot tall with a 7-foot-7 wingspan, Mark Williams is big and long. There will be a place for him in the league as a rim-protector, rebounder and finisher around the rim. I'm still not overly confident as to what his draft range will ultimately look like, but he's a prospect certainly worth tracking.
AJ Griffin, Duke
MIN: 11 | PTS: 2 | REB: 2 | AST: 0 | FG: 1-3 | 3PT: 0-1 | FT: 0-0 | TO: 0
Former 5-star recruit AJ Griffin didn't get a chance to do much in his college debut. He just recently returned from a minor injury and I think he's just getting in the swing of things. He wasn't able to show much, but what I did see, I liked. At 6-foot-6 and a sturdy 222 pounds, Griffin looks to have the tools to be a a very good NBA player. I am certainly excited to keep watching him as his upside is very high.
Daimion Collins, Kentucky
MIN: 2 | PTS: 0 | REB: 0 | AST: 0 | FG: 0-0 | 3PT: 0-0 | FT: 0-0 | TO: 0
I'm sure this was not how Daimion Collins envisioned his college career starting. But although he didn't get much of a chance to play in the season opener, he did have a breakout game this past Friday vs. Robert Morris. He scored 14 points and blocked 4 shots in that contest. He has a lot of room for growth, but considering his length and athleticism, Collins' upside is very high.
Latitude Longitude Classic — Phoenix, Arizona
Following the double-header, I made a cross-country flight out to Phoenix, Arizona to watch some top high-school talent. In doing so, I was able to get another look at top prospects in the Class of 2022: Dior Johnson (committed to Oregon), Adem Bona (committed to UCLA), MJ Rice (committed to Kansas), Chance Westry (committed to Auburn) and Dylan Andrews (committed to UCLA). I was also able to see top prospects in the class of 2023: Baye Fall, Mookie Cook, Kylan Boswell and Assane Diop.
I'm in Phoenix, Arizona, tonight to see top-rated big man Baye Fall of @DenverPrep as they face @PhhPrep in the Latitude Longitude Classic.

Fall, a 6'11" center, is currently a consensus top-6 player in the class of 2023. pic.twitter.com/ebum3SEOxh

— Matt Babcock (@MattBabcock11) November 12, 2021
As an NBA Draft Analyst, for me to be able to get opportunities to see likely future NBA prospects while they're in high school, is invaluable to my evaluation process. Of course, players at that stage are far from finished products, but it is great to be able to start the evaluation process early. I'm not going to provide detailed breakdowns on these players today, but don't be surprised if you start hearing these names more and more. There is a lot of talent coming up!
All in all, my first big trip of the season was a fruitful one. Needless to say, I've started the season off with a bang, but I have no intentions of slowing down anytime soon. I have another big trip set to begin Thursday, when I head to Florida for a number of college games, and they'll be loaded with NBA talent.
Next week's preview: Jabari Smith, Patrick Baldwin, Matthew Cleveland and more.