The Atlanta Dream are close to being sold, a WNBA spokesperson confirmed to ESPN's Ramona Shelburne.
"As it relates to the Atlanta Dream, we understand a sale of the franchise is close to being finalized," the league said in a statement. "Once the sale negotiation is concluded, additional information will be provided."
"The franchise has been at the center of turmoil since Kelly Loeffler wrote a letter to WNBA commissioner Cathy Engelbert objecting to the league's embrace of the Black Lives Matter movement during the 2020 season. Players around the league initially called on Loeffler to sell her share of the team (49%) but when she refused, they instead publicly endorsed her opponent in her senatorial race, Rev. Raphael Warnock. Warnock defeated Loeffler in the Jan. 5 runoff and will be sworn in to Congress this week."
For MLK Day, I put together a panel of WNBA players that included two Atlanta Dream players: Renee Montgomery (who took a year off from playing in the WNBA to focus on activism after the murders of George Floyd and Breonna Taylor) and Elizabeth Williams (who is currently the longest-tenured member of the Dream).
Montgomery and Williams discussed what prompted their revolt against Loeffler and detailed how the team banded together (along with the help of the entire WNBA) to elect Loeffler's opponent, Warnock, who was polling at a lowly 9% before the Atlanta Dream and the WNBA got involved.
"When she made those statements, it was right when we had gotten into the bubble," Elizabeth Williams said. "We were still in our quarantine period and a lot of the team wasn't with us yet, so we got together and had a Zoom call and we were like, 'We have to address this; we have to at least say something.'
"[Loeffler referred to the protests] as 'mob mentality' and said Black Lives Matter was Marxist and to keep politics out of sports and to wear the American flag on our jersey (which, ironically, was all about putting politics into sports). But for us, our team, we wanted to not only make a statement but to have an action behind it. And we didn't really know what that was going to look like, and other players throughout the league supported us and said, 'Hey, we're with you guys, so whatever you want to do.' So while we were brainstorming ideas, we realized that we can't really do anything about her ownership; that's on the league. But she is in the Senate seat, so we can do something about that.
"We had connections with Lisa Borders, who's our former president and heavy into politics, and Stacey Abrams, who's on our union board of advocates, so we had connections with people who understood politics, and they were able to connect us with Rev. Warnock. After vetting him and having conversations with him, we said, 'We can have a call that's open to every player who wants to hear who this guy is.' And then, ultimately, we decided we were going to support him and we knew it was going to be even more powerful having the entire league backing us. So when we, as in Atlanta, had our first nationally televised game, we wore these 'Vote Warnock' shirts along with every other team in the league and it was just this incredible movement. And, ultimately, Warnock ended up winning this runoff in January."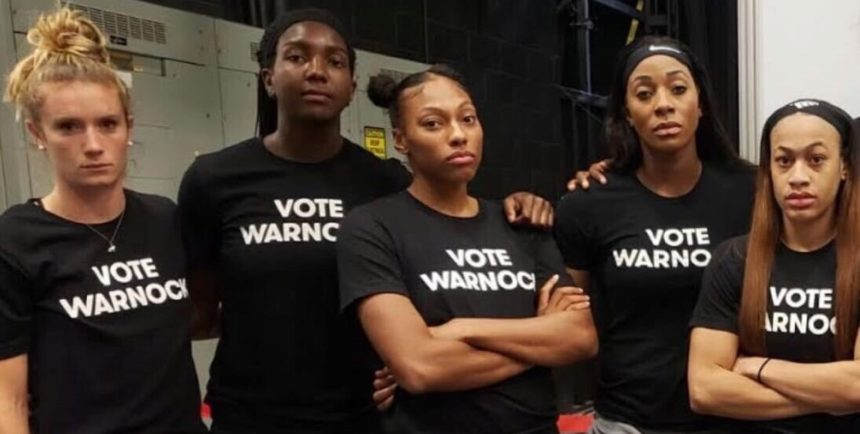 Again, Warnock was polling at just 9% before the WNBA players stepped in. We haven't seen this level of mobilization in any other league -- not in the NBA, the NFL, the NHL, MLB. What these WNBA players have done is unprecedented.
"You have to give it up to the social justice council and the WNBA and the WNBA executive committee because these are groups of women who organized," Renee Montgomery said. "It wasn't just actions all over the place and chaos; this was a very organized movement. They vetted Raphael Warnock, and they wanted to see who he was and they brought in council and advisors to advise them because this isn't necessarily the space we're used to roaming. So all of that was done and then I got a text from Sue Bird saying, 'I just wanted to let you know what's going on from inside the Wubble: we're creating these shirts that say [Vote] Warnock, and this is what we've done,' and she broke it all down for me. [Bird said], 'I wanted you to know because you're boots on the ground here in Atlanta.' And my reaction was, 'Wow, this is crazy! This is lit, because I love when things are planned.'
"This was not a vindictive movement, this was a 'we're-trying-to-get-somewhere' movement and this is who can get us there. So, it was exciting to see just how everyone was banding together."
I just think it's amazing how the WNBA organizes and gets things done. In my previous book, "We Matter: Athletes And Activism," I interviewed WNBA legend Swin Cash and asked her how they were able to organize a league-wide media blackout (after the back-to-back murders of Philando Castile and Alton Sterling) back in 2016, as well as getting league-wide support for Black Lives Matter with all of the players wearing shirts (even after the WNBA initially threatened to fine them).
Cash had a simple response: "Women do it differently."
They support each other. They make sure that they're all informed. Even the players who aren't from the United States are brought up to speed, and they jump on board and show support because they feel their teammates' pain. Now, those efforts have not only caused Kelly Loeffler to lose her Senate race, but may have played a role in her selling the team.
The WNBA players have already etched their names in the history books for athlete activism, and now they are adding additional chapters of accomplishments. They deserve all the praise and accolades for their bravery and courage. Salute!