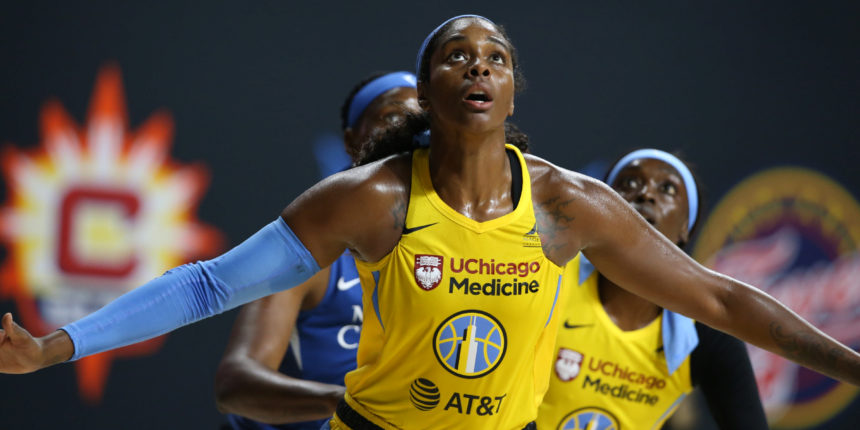 Cheyenne Parker Q&A: 'I gotta go hard now; I gotta keep getting better'
Five numbers stand out when discussing new Atlanta Dream forward Cheyenne Parker.
25: It represents the number of games she started in her six-year tenure with the Chicago Sky.
13.4, 6.4, and 1.3: Her averages in points, rebounds, and steals last season -- all career-highs.
Then there's 77, her current rating in NBA 2K21.
Bring up those first four numbers, and Parker calmly discusses what they mean in relation to the goals she has for herself in Atlanta. Bring up 77? The competitive fire ramps up, an observation made funnier by the fact that she isn't a gamer.
"It's bull! I know that much," Parker told BasketballNews.com in an exclusive interview via Zoom. "It's definitely bull, but it's to be expected because of the rep I had in Chicago. It's crazy. This league is political to begin with, but the rating that I have, that's the kind of stuff that fuels me."
Self-motivation is a prerequisite for any athlete worth their salt. It's especially needed for someone who has grown as rapidly -- on and off the floor -- as Parker has.
The game became hers at 4 years old, following in the footsteps of her father and brothers. She dominated in her youth. The only person that could stop her was, well, herself.
"I actually didn't play a lot in high school because I wasn't really focused," Parker said. "I was kind of a problem child, I kept getting in trouble. I definitely wasn't your typical goodie-goodie. I had to go through some growing pains."
Even in a shorter-than-you'd-think high school career, Parker was a two-year letterman winner at Southwest Guilford High School. Parker would attend High Point University for three years, establishing herself as a double-double machine and prolific shot swatter before transferring to Middle Tennessee State. More growing pains would arise, however, as Parker's senior campaign was cut short due to violations of the athletics department.
Parker was drafted fifth overall by the Chicago Sky in the 2015 WNBA Draft. Her career got off to a slow start, averaging just 3.3 points and 1.8 rebounds in a little over 11 minutes per contest through her first three seasons. Parker has completely flipped the script since then, establishing herself as one of the most versatile frontcourt players in the W.
BasketballNews.com recently talked to Parker about her growth, her fit in Atlanta, her off-court ambitions and more.
Who are some of the players you looked up to or modeled your game after growing up?
Cheyenne Parker: Candace Parker was actually someone I looked up to a lot. I really loved her game. I wanted to build my game off of her game. I loved that she was 6-4 like me, and able to dribble and shoot. She was the main player I looked up to, even when she was at Tennessee. I always liked Tina Thompson, too, because of the lipstick. I like the statement that it made.
What part of Candace's game do you think is best reflected in yours?
CP: I think it's the offensive versatility, being able to get a bucket wherever I am on the floor. I think that's where we're most similar, being able to get a bucket no matter where I am. It doesn't matter if I'm on the perimeter or if I'm on the block; I can still score.
Note: Nearly a quarter of Cheyenne Parker's offensive possessions ended via post-up last season, per Synergy Sports. Roughly 19 percent of her possessions came via spot-ups, where she ranked in the 83rd percentile. The inside-out dynamic is real.
What made you choose Atlanta in free agency?
CP: It was a few reasons I chose Atlanta. Just on the business side, there's a lot more opportunity there for Black-owned businesses. That really attracted me because of the things I'm interested in doing, in terms of building my brand and becoming an influencer, a philanthropist, just someone who can leave a positive impact on the Black community.
I also chose Atlanta on the basketball side because I really loved the conversation I had with the coach [Nicki Collen] and the general manager [Chris Sienko] about what they were looking for. They're looking for a dominant post presence, and I think that's something I can bring. And it's an opportunity for me, for the first time in my career, to be that go-to dominant post presence without it being seen as a risk.
For example, when I got drafted to Chicago, it was a big stamp like: "Oh, Chicago Sky takes huge risk on Cheyenne Parker." I kinda had that over my head in Chicago over my entire career. It was just always...unexpected that I even lasted as long as I did with whatever assumptions people had of me, whether I was going to get kicked off the team or whatever.
I'm just excited to have a new start without that type of headline. Like, it's not a risk. It's more like, "This is a great move.We're excited to have Cheyenne Parker and we're looking forward to what she can bring." That's the kind of approach Atlanta came with, so that's what I'm most excited about on the basketball side. Being able to fully spread my wings.
I'm interested to see what that dynamic in Atlanta is going to be. They have so much perimeter talent like Chennedy Carter, Tiffany Hayes, and Courtney Williams. What was the discussion like with the front office -- how do they plan to balance giving you the touches you deserve and letting their guards dictate the action?
CP: The way it was explained to me, Coach Collen is excited to even have the option to pass the ball to the block. She said that wasn't something they really did in the past. This will definitely be new for everybody, including the guards. It's going to be something new for them to even think to pass the ball inside.
Kinda like in Chicago, I had to demand that respect - it wasn't given. At all. I had to prove that if you give me the ball, I'm going to score. Once I showed them I could, it became second nature. My teammates saw that I could establish position, they saw the numbers I put up and they had to give me the ball.
So here, I think Coach will emphasize, "Hey, you missed CP. She was wide open. You gotta give her that one because that's a layup." I think those are wrinkles that will come out once we start practicing together and working on our plays. There will probably be times where Coach will pause things and say, "Hey, you missed CP on that post-up." And that's normal when you've never had to look inside.
We'll definitely have wrinkles to iron out, but after a while we'll get adjusted. We have such a great perimeter-based team and athletic team that once the ball goes inside, they'll definitely get it back. Defenses have to be honest, but you can't be too honest when you have a great post player to defend. That'll help create openings for our guards to shoot or drive into.
Going off the floor, you said the business opportunities in Atlanta were a major selling point for you. What are some of the things you're working on or plan to work on?
CP: I have my online business where I sell motivational quote gear, I sell my exclusive calendars, and I'm getting ready to launch health supplements consisting of elderberry capsules, soursop capsules, sea moss and bladderwrack and a few other things.
As far as an actual business opening, I definitely plan on partnering and opening a hookah lounge in Atlanta sometime soon. It's not something that I'm going to rush into, but it's definitely something I've been working on. I was going to do it here [in Chicago], but it'll be better in Atlanta because of the rules. It's going to be an easier process and it's going to be a better process with more capital.
You mentioned earlier that Candace Parker was someone you looked up to and based some of your game off of. Have you had younger players tell you that you're someone they looked up, or took bits of your game and put it into yours?
CP: In the league? No, not like that. I've had players give me props -- even Candace, funny enough, for the first time last year. She was just like, "I love your game and how you get better every year." When she said that, I was tripping out. Like I said, I've looked up to her my entire basketball career. So when she said that, I was like, "Candace you don't know what that means to me right now." But it was also motivating to me. The person I looked up to my entire basketball career just gave me props? I gotta go hard now. I gotta keep getting better.
I did have my rookies. Ruthy Hebard, I took Alaina Coates under my wing when she was in Chicago. Even Kalani Brown in Atlanta. Even though we hadn't played on the same team yet, I've talked to her about basketball because we played against each other in China. I'll have those moments where I'll give my wisdom, but that's it forreal.