Rookie of the Year. Two-time MVP. Five-time All-Star (with an All-Star Game MVP). Champion. Finals MVP. Nine-time All-WNBA selection (including six First Team nods). Defensive Player of the Year. Two-time All-Defensive team selection.
The laundry list of Candace Parker's achievements during her 13-year career can only be rivalved by a handful of players in WNBA history. She effectively carried the torch passed on by Lisa Leslie, one of the players in that handful who doubles as the greatest player in Los Angeles Sparks history.
That's why it's so odd that Parker is gone. Not from the league, but from the Sparks. After 13 years, Parker has left her adopted home for her "real" one; she's agreed to terms with the Chicago Sky.
It's going to be straight up weird seeing Parker in a different jersey. But once you get over that initial feeling, it'll likely be replaced with one of two emotions: excitement or fear. That's mostly going to depend on who you root for. The important part here is that Parker's fit in Chicago is a tremendous one.
OPEN COURT SPONTANEITY
The Chicago Sky want to make you pay in the open court. If you miss a shot or commit a live-ball turnover, they want to spread you out and force you into uncomfortable positions. Games can snowball quickly once the Sky get into rhythm in transition.
The numbers speak for themselves in that regard. Per tracking data at Inpredictable, the Sky ranked third in points per possession following a defensive rebound (1.08) or turnover (1.24) last season.
It's easy to do that when you have guards like Courtney Vandersloot and Allie Quigley running the show. The former is the resident #PointGawdess, an elite passer and manipulator in space. The latter is one of the league's best movement shooters, able to flow into quick looks off the bounce or immediately off the catch. Surround those two with athletes who can fill the lane and pressure the rim, and you have yourself a devastating open-floor attack.
Parker's addition is a fun one because not only can she rim-run and finish, but she can grab a board and push things herself, too.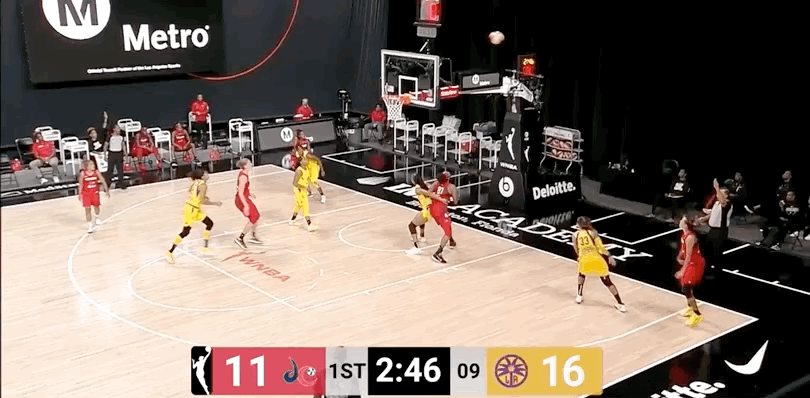 Parker's a dynamic finisher, but she can also make rotating defenses pay with the pass.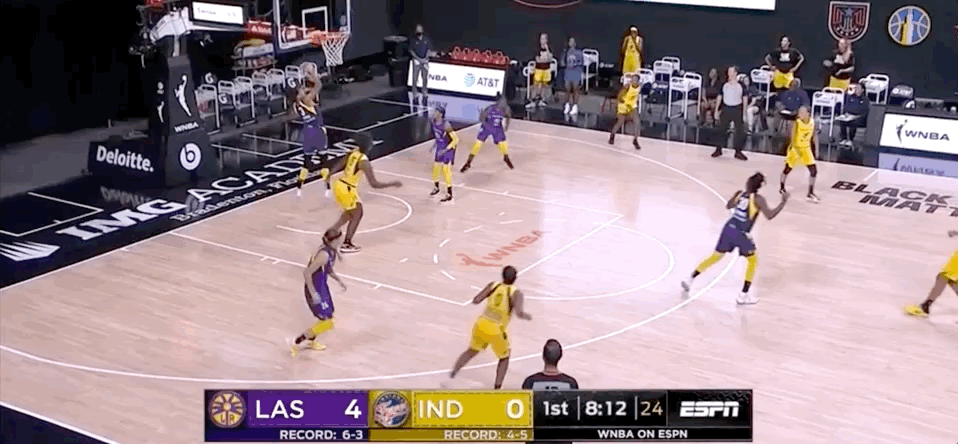 Parker is across half-court and starting to rev up by the time Teaira McCowan gets turned around. Parker throws in a hesi before attacking the basket, forcing a dig-and-recover from the corner and generating an open three in the process.
In short, having that kind of playmaking ability from your 4 (or 5, depending on the lineup) in a live-ball setting makes it nearly impossible to match up. Having that while also being surrounded by great shooters seems unfair for defenses to deal with.
PICK-AND-ROLL VERSATILITY
It's fair to expect the Sky's half-court offense to lead to a perimeter-based attack. They were the third-most efficient pick-and-roll team in the league last season, per Synergy. With Vandersloot running the show, and a dynamic inside-out frontcourt combination with Cheyenne Parker and Azura Stevens, it's easy to see why they were so effective.
With Cheyenne now in Atlanta, Candace should be able to slot in nicely as a roll threat. She wasn't used that often as a roller in Los Angeles last season; she only logged 28 possessions as the screener in pick-and-roll, per Synergy. Or put another way: Cheyenne made more shots as the screener (22) than Candace attempted (21).
The encouraging thing for the Sky? That was mostly a function of the offense running through her rather than a lack of ability to operate in that manner.
The volume was small, but Parker did convert nearly 63 percent of her shots when rolling or slipping a screen. She remains a fluid athlete, exhibiting no real issue in diving into space and finishing at the rim.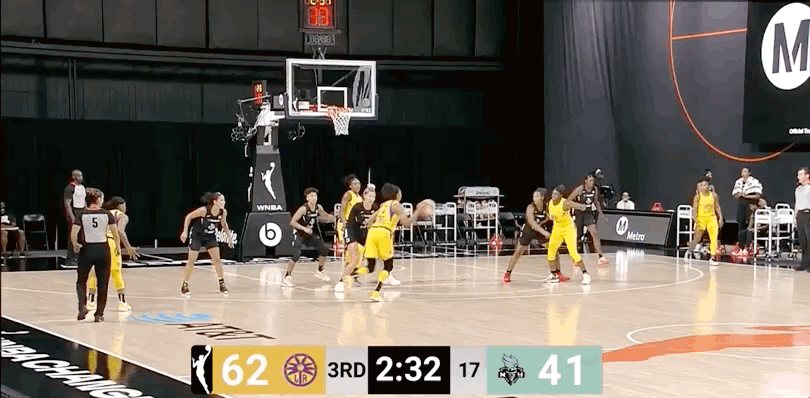 Parker is also comfortable popping and knocking down middies, or stretching it out to three-point land. It's hard to imagine her struggling to develop pick-and-roll chemistry in Chicago.
POST PRESENCE
While Parker will likely fit in just fine as a play finisher, her offensive value really shines through as a post hub. She's an absolute monster on the block, a unique blend of footwork, touch, speed, strength and deception.
My favorite part about her post-ups is how decisive she is. She reads space and the positioning of her defenders exceptionally well, which allows her to seal and set up shop before her defender can blink.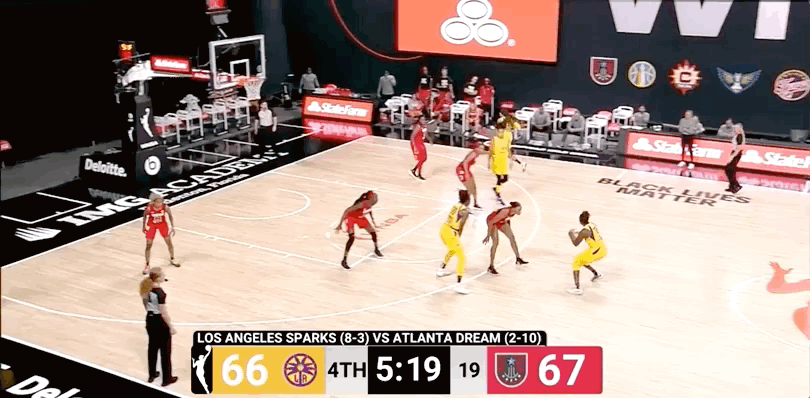 That's Parker flowing out of a pick-and-roll, but the setup translates. She gains inside leverage on the roll, then opens up to her left in anticipation of the entry pass. She makes the quick catch with her inside hand, pounds on the gather, then turns over her right shoulder for the lefty hook when she sees a second defender coming over.
Post her further out, and she's able to face up and get to her spots.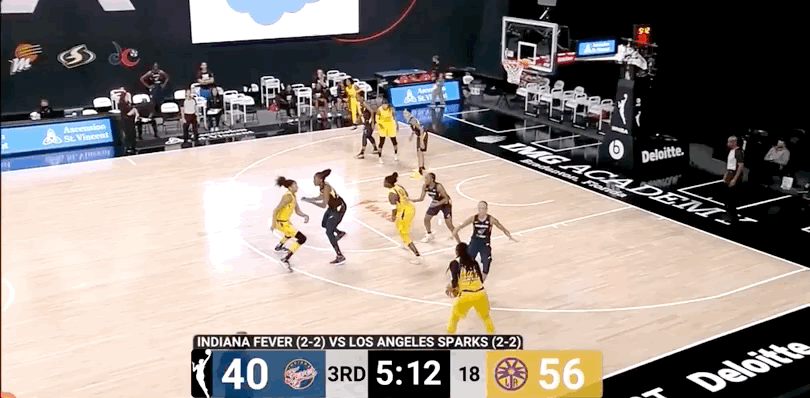 Catch, pass-fake while pivoting, dribble, shield, bucket. All in three seconds.
The pass-fake is so effective because of Parker's rep as a distributor. Sending early help is asking to get picked apart. Being able to dump the ball off to Parker should be a real luxury in half-court situations, particularly in late-game scenarios.
DEFENSIVE IMPACT
Of course, Parker doesn't just bring value to the offensive end. Much like she fills a ton of gaps with her diverse offensive skill set, she's able to plug a ton of holes defensively.
She was one of five players to average at least one steal and one block per contest last season. Steals and blocks aren't always indicative of defensive aptitude, but it does speak to a certain level of energy.
Parker's able to double as a menacing interior presence, while also possessing the mobility to defend on the perimeter in a pinch. The Sparks were able to mix in defensive coverages because of her comfort navigating space.
Put her in a drop, and she's able to protect the rim when attacked head-on. Play her higher up -- to the level of the screen, or a flat-out trap -- and she's able to flash her hands and disrupt passes.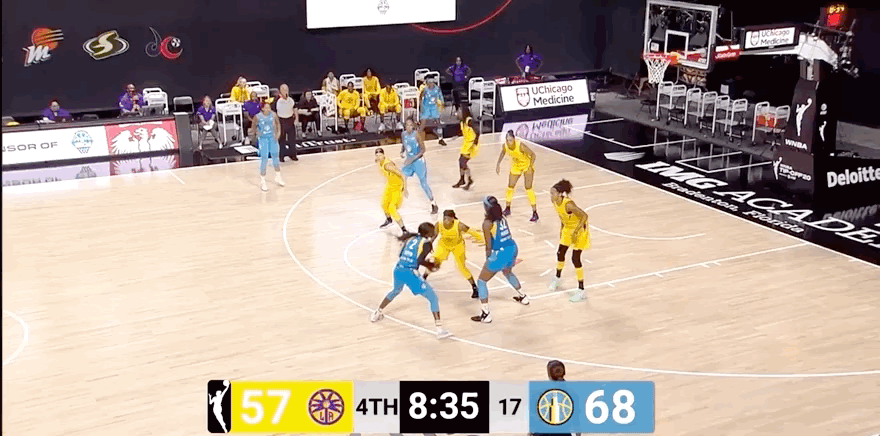 More impressive than her on-ball exploits is the work she does off the ball. She's equal parts savvy and instinctual, able to bait opponents into thinking an opening exists when it actually doesn't. That typically shows itself in deflections and steals, like here: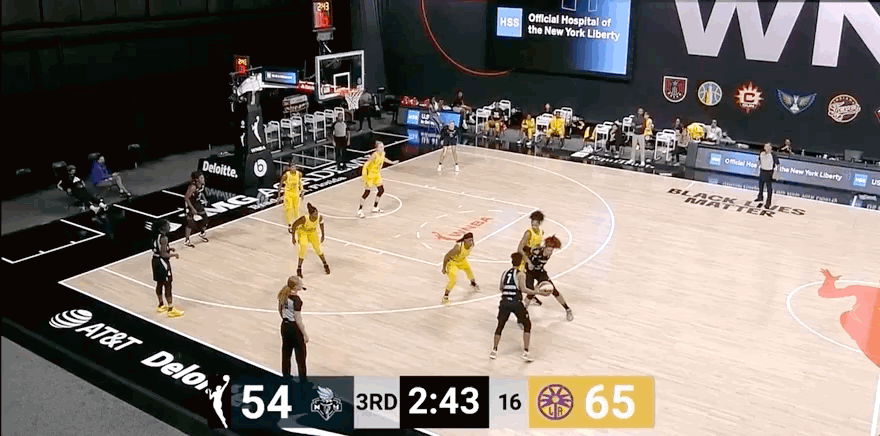 Quality bait on that dig-and-recover sequence. Her ability to rotate also shines through when operating as a weakside rim protector.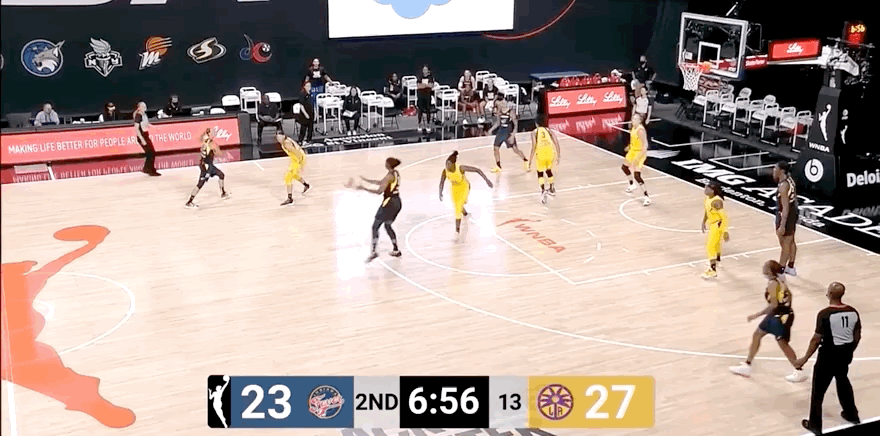 The Sky were a middling defensive team last season, ranking eighth (out of 12) in defensive rating (102.7). The Sparks finished third (98.8), and that number was even lower when Parker was on the floor (96.3).
It's safe to say that Parker -- oh, did I mention she won that Defensive Player of the Year award last season? -- will help the Sky improve.