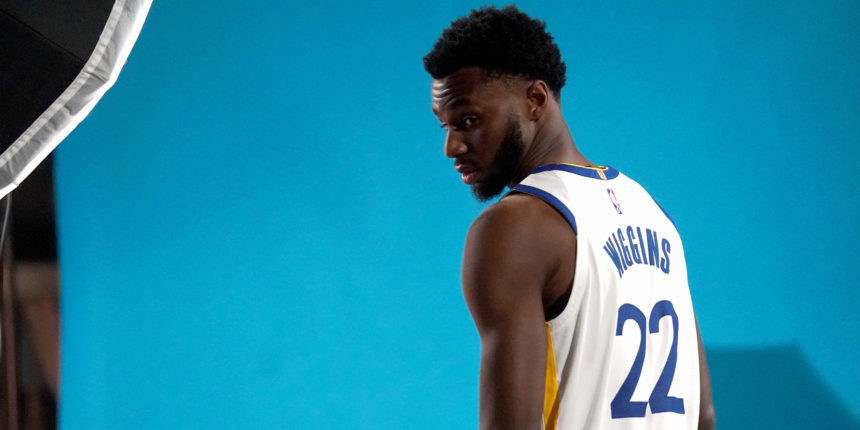 Wigging Out: How losing Andrew Wiggins would impact the Warriors
Media Day became personal for Andrew Wiggins.

The 26-year-old spent his time at the podium on the offensive. He fired back at reporters who asked him about his vaccination status and availability for the upcoming season with the intensity that's been absent for most of his career.
"I'll say something when I'm ready," Wiggins said. "You know, the only thing the media has done is kind of make it bigger than it has to be. So like I said, I will say my side of everything when I'm ready. I don't work on y'all's time. I work on my time."
Wiggins is entitled to his own opinion and feelings, but he isn't entitled to his own facts. And the facts are that the Warriors are 17 days away from their home opener against the Los Angeles Clippers, and the city of San Francisco has a mandate stating that unvaccinated individuals can't enter large indoor gatherings, which includes playing 41 home games at Chase Center.
Draymond Green said that he will not try to persuade or force Wiggins to get the vaccine, and that also seems to be the consensus among the team (at least publicly). However, the longer Wiggins remains unvaccinated, the more it forces the Warriors to "adapt accordingly" in Wiggins' absence, as Stephen Curry described it.
For the Warriors, here is what that adaptation could look like.
Struggle In Filling The Void
When the Warriors acquired Wiggins in exchange for D'Angelo Russell a couple seasons ago, they envisioned a reliable option at small forward who could score, defend and run in transition. And that's exactly what they got. Wiggins is at his best when he is in a complementary role. When there is no pressure to be "the guy," like he dealt with for many years in Minnesota. For the Warriors, defense is where Wiggins truly shines.
At the 25-second mark, notice how solid Wiggins' footwork is. He hounded Bradley Beal at every step during that possession, which resulted in a shot-clock violation. At the 58-second mark, he fights around the screen just enough to recover and make a steal. If Wiggins isn't available, Golden State would lose a solid defensive presence who complements Green.
Offensively, Wiggins thrives when he's not doing too much. With the Warriors, he has the luxury of running in transition and attacking the paint. With Klay Thompson being out until January at the earliest, the Warriors would need someone to alleviate the scoring burden off of Curry and help space the floor a little. Without Wiggins, the Warriors will struggle to consistently replicate what he brings.
Wings By Committee
In the event that Wiggins isn't available, here are some options that the Warriors have at small forward: Andre Iguodala, Otto Porter Jr., Damion Lee and Moses Moody.
On paper, Iguodala would seem like the most likely choice to start. After all, he knows the system and all of its nuances by heart. However, it's been seven seasons since Iguodala's been a full-time starter, and he probably can't provide much in terms of scoring. Ideally, the Warriors could let him play the first seven minutes before substituting him out.
Despite his run of injuries, the Warriors are hoping that Porter can stay healthy and provide productive minutes. Before missing time, Porter was known for being a solid defender and was a career 40.2% shooter from deep. The Warriors could just give Porter the starting job to see what he can do. They may not have a choice.
Another option that the Warriors could consider for home games is Damion Lee. Granted, Lee is considered and used as more of a guard. However, at 6-foot-6, he does have the size of a three and a willingness to defend.
Last season, the Warriors thew James Wiseman into the fire as 19-year-old rookie to mixed results. The Wiggins saga may force the team to do the same with Moody. Moody fits the 3-and-D profile that the Warriors want. At Arkansas, he shot 38% from three while being a disruptor on defense. However, the Warriors would want to develop Moody slowly.
It remains to be seen whether Wiggins will decide. If he chooses to stay unvaccinated, it'll be interesting to see how Golden State fills that void.