The Memphis Grizzlies' future revolves around Ja Morant. Selected second in the 2019 NBA Draft, the springy athlete has quickly become one of the most explosive and entertaining point guards in the entire NBA. However, some who follow the Grizzlies closely consider 25-year-old wing Dillon Brooks to be the heart and soul of the squad.
Echoing old-fashioned imagery of the Grit 'N' Grind era led by Marc Gasol, Mike Conley and Tony Allen, Brooks' tenacious style of play quickly made him a fan favorite on Beale Street. Last season, Brooks established himself as Memphis' top secondary scoring option alongside Morant, putting together a career-best season with averages of 17.2 points, 2.3 assists and 1.2 steals per game.
Brooks is on a bargain contract as well. With two years remaining at $23.6 million, Brooks' value is stellar compared to other score-first starting wings around the league. Due for a raise soon enough, likely to double his annual salary, Memphis has reportedly made Brooks available "for the right price," per Cleveland.com's Chris Fedor.
Although Brooks has established himself as a complementary piece in the Grizzlies' young core that brings 100% effort on each possession, this is a smart move. And no, this isn't a hot take.
Should Memphis really bet on Brooks being potentially their No. 2 scoring option throughout the prime of Morant's career? It's a risky proposition, especially when you realize how inefficient Brooks' offensive profile is.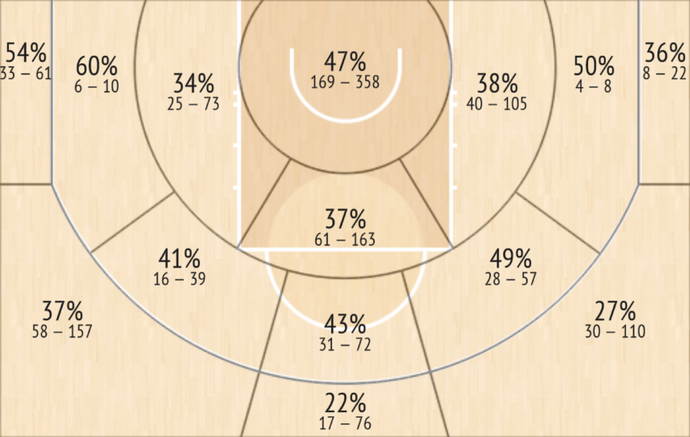 (Brooks' 2020-21 shot chart, courtesy of InStat)
Brooks is a high-volume shot-chucker who rarely finds a good shot within the flow of an offensive system. Carrying a pedestrian 51.5% True Shooting percentage during the 2020-21 campaign, Brooks put himself in interesting company as it relates to scorers carrying a heavy burden of offensive creation. There are six players who notched a TS% below 52% with a usage rate at or above 25% last season: Russell Westbrook, John Wall, Victor Oladipo, Andre Drummond, Josh Jackson and Brooks.
Factoring in that Wall was coming back from two career-altering injuries, plus Oladipo's quad injury continued to linger, it's not a great list to be a part of. Westbrook remains an outlier due to his all-around play, which makes up for a continued lack of efficiency as a primary scoring option. When you also filter it to players who attempted 15 or more shots per game on a sub-52 TS%, the four included are Westbrook, Oladipo, Wall and Brooks.
And when you realize this is Brooks' second time being on that particular list in two seasons under the age of 25, the others who have accomplished that lack of efficiency on multiple occasions should serve as a warning when you're thinking about paying him near $100 million on his next contract. Here are the wings since 2010 who have made multiple appearances on the sub-52 TS% and 25+ USG% list: DeMar DeRozan, Michael Beasley, Tyreke Evans, Dion Waiters, Josh Jackson and Brooks.
DeRozan's evolution throughout his prime years is the lone exception for a success story among those six names mentioned. Honestly, Brooks' scoring does mimic an Evans or Waiters-like profile. All three fit within the score-first inefficient criteria, which should give a team serious pause on wanting to cough up big-time money to Brooks unless he undergoes a DeRozan-esque metamorphosis — and that's very unlikely.
Right now, Brooks' value around the league would be at an all-time high. Coming off a playoff series where he averaged 25.8 points per game, a playoff contender could sell themselves on Brooks being a strong scoring punch to toss into their rotation. For a team like Memphis that isn't close to true contention — potentially another No. 8 seed is its ceiling outcome — selling high on Brooks would be the smart play long-term.
Three young players on the bench need more playing time alongside Morant — De'Anthony Melton, Desmond Bane and No. 10 overall pick Ziaire Williams. When Morant and Melton shared the floor last season over 453 minutes, the duo outscored the opposition by a team-best 12.6 points per 100 possessions (116.7 ORTG, 104.1 DRTG). Bane showed in Las Vegas Summer League action that he's poised for a sophomore leap, continuing to build upon his strong rookie campaign as an above-average floor-spacing wing who can hold his own defensively. Meanwhile, Williams is a lottery ticket with immense upside. If the lanky wing from Stanford pans out, he's an ideal complement alongside Morant and 2018 No. 4 overall pick Jaren Jackson Jr.