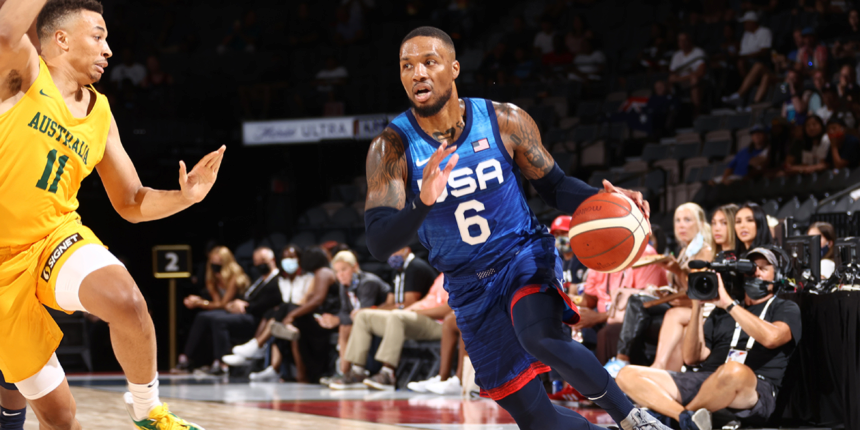 What's going on with the U.S. Men's National Team in exhibition play?
After another loss in exhibition play, this time to Australia following Nigeria's massive upset, USA Men's Basketball is 0-2, sending fans around the United States into a state of confusion. The roster is full of star talent, and dominance in the past has seemed to be the norm, which begs the question: What the heck is going on?
There's probably more than one answer.
For one, the 12 players on the team haven't had all that much practice time. Training camp began less than a week ago in Las Vegas, meaning head coach Gregg Popovich and his staff might not have been able to institute their principles in such a rapid fashion. Remember, the individuals who are a part of the 2021 version of Team USA haven't played together before, while other nations' teammates are more familiar from a togetherness standpoint, as well as a veteran-leadership standpoint.
Also, the majority of this Team USA group is coming off of a grueling 72-game schedule plus the NBA playoffs, meaning their bodies are likely a little more worn down than in the past.
We also can't forget that this is a roster featuring U.S. Select team members at the moment, with Darius Garland and Keldon Johnson seeing action as Devin Booker, Jrue Holiday and Khris Middleton take part in the NBA Finals.
USA players (and staff members) likely won't want to hear that, though, and could consider it an excuse. So, let's get to another point that might explain some things: the FIBA officiating. Referees at this stage thus far have allowed for a tougher, more physical game than a typical contest in the NBA.
There's even a great thread from Cranjis McBasketball on Twitter, who pointed out numerous occasions of foul-hunting that didn't fly with the international officials. Maybe we should keep an eye on that for the rest of exhibition play and the upcoming games that count in Group Play.
These guys are STRUGGLING without NBA refs lol pic.twitter.com/xK6hssOffC

— Cranjis McBasketball (@Tim_NBA) July 13, 2021
On the floor, USA seems to be too content with the three-ball and going one-on-one. It's kind of reflective of the culprit that holds NBA teams back in stretches -- although when guys like Kevin Durant, Damian Lillard, Bradley Beal and Jayson Tatum are on your roster, you're likely going to live with it by default. That has not been the case thus far, however, as international basketball preaches the fundamentals of the game with selflessness being the number-one priority. There's a commitment to making sure everybody touches the ball, and teammates play for one another and communicate on both ends.
In addition, perimeter defense is going to be paramount to keeping opposing countries from getting wide-open lanes to the basket. There are two "bigs" at Popovich's disposal in Bam Adebayo and Kevin Love, and the latter has played a total of four minutes to this point. If the competition is running layup lines and getting by guys like they're turnstiles, chances are things won't go well.
While the trio playing in the NBA Finals offers a ton of pop at both ends of the floor, it's their collective playmaking ability that really could help this squad in terms of setting up their teammates and bringing some grit to the defensive end.
It's been a long time since the USA Men's National Team has lost two games period. But consecutively? That's especially rare. Like, nearly-30-years-rare. Can it be rectified? Absolutely. As much of a fuss as we're making over these games, they are exhibitions.
Don't buy that they're meaningless, though. Nigeria and Australia were not intimidated; they expected to win those matchups and deservedly came out on top in their respective games. As our Etan Thomas put it in his interview with Nigeria-born Obinna Ekezie, we need to give these countries credit for the great job they're doing at developing talent from a young age. There's a reason for all of this international representation in the NBA, and it's for the betterment of the game as a whole.
Team USA is now the one with a target on its back. This isn't the 2020 Tokyo Olympics quite yet, but if anything is clear, it's that the doormat days in global basketball are over -- and that shouldn't surprise anybody.