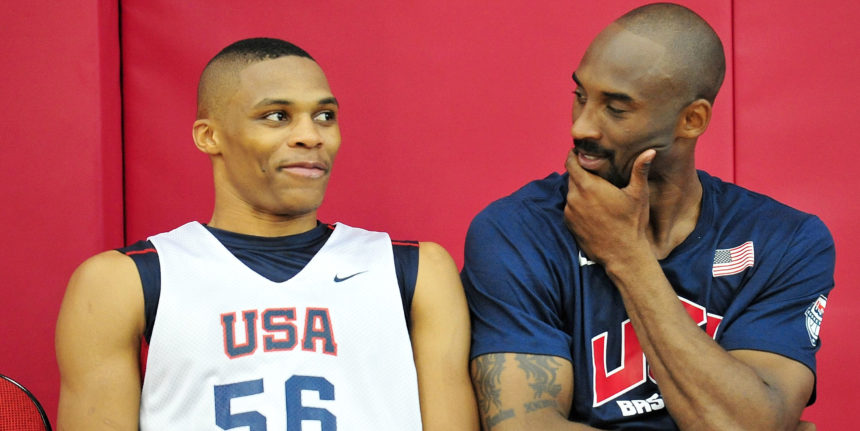 Westbrook reveals what he learned from playing against Kobe at UCLA
The following article first appeared on BasketballNetwork.net:
The Los Angeles Lakers are a franchise that basketball players from all over the world find desirable. But for those growing up in the Los Angeles area, almost every young kid who loves the game is raised as a fan of the team, so wearing a purple and gold jersey is the ultimate dream.
The current generation of players out of L.A. grew up watching Kobe Bryant be the king of town, winning numerous championships and establishing himself as one of the best players in NBA history. His unbelievable work ethic and competitive spirit are what really differentiated Kobe from the other stars, as "Mamba Mentality" became an iconic term in the NBA world.
Kobe really earned his reputation of being an insane competitor; it's hard to find those types of players in the NBA anymore. Players that give it their all night-in and night-out are a rare breed, as the era of load management arguably has seen these types of competitors come fewer and far between. But one of the guys who's never changed and actually displays a mentality comparable to Kobe is Russell Westbrook.
An L.A. native, Westbrook is one of the most electrifying players in the history of the NBA, and one of the most impressive stat-sheet stuffers to ever grace a floor. The only thing left to achieve on his resume is winning a championship, and this season will be a great opportunity. Going back home as a Laker for the first time alongside LeBron James and Anthony Davis will see Westbrook become a part of a Big Three that could storm the league if things click.
Westbrook recently made an appearance on Jimmy Kimmel Live to talk about various topics, but mainly his homecoming to Los Angeles. He also shared a great story about playing versus Kobe Bryant while he was still at UCLA, and learning what it takes to be such an elite player:
"Going into my sophomore season at UCLA — and a lot of pick-up games at UCLA were happening — a lot of superstars would come, but this particular day Kobe came," Westbrook told Jimmy Kimmel. "And I'm now super-hyped and super-juiced... to me Kobe is the best in the world, and I had the opportunity to compete. And me and Kobe, [we were] not going back and forth because he was basically killing me, but it's okay
"But the number one lesson I got in that, watching him — and to this day I think we all know as the 'Mamba Mentality' — but when I was younger and watching him, he was competing like it was the Finals. And to me, it was so inspiring because it allowed me to understand like... this is what you need to be like regardless of where you at, what you doing, however you plan, and I took that attitude and ran with it."
That explains why Westbrook plays every single game like it's his last, as that kind of willpower and energy is unmatched in today's NBA. That attitude is admirable and guaranteed to make you a winner, as Kobe's influence on the rest of the NBA is really impactful. Westbrook also shared his reasoning behind choosing to wear No. 0 on his jersey for his whole career, as Sideline Sources covered that topic.
Check out more articles from BasketballNetwork.net here.