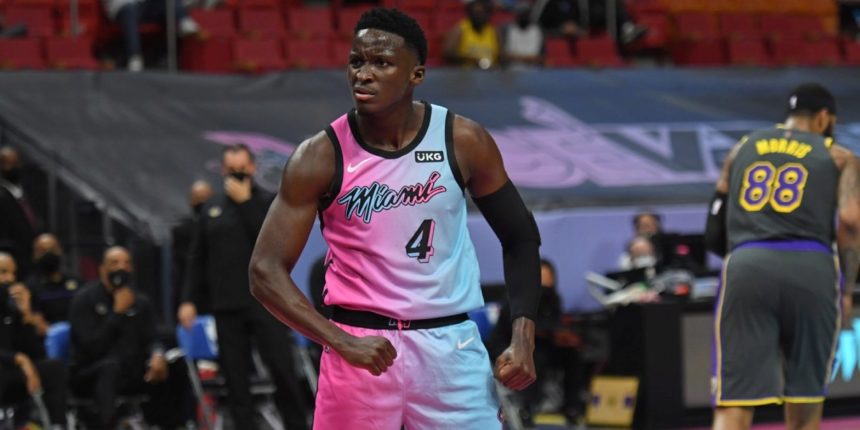 Victor Oladipo's minimum deal may be offseason steal
This offseason, the basketball world couldn't stop talking about how Dennis Schroder's one-year, $5.9 million deal with the Boston Celtics paled in comparison to the $84 million extension he turned down from the Los Angeles Lakers months earlier.
It was an unfortunate outcome for Schroder — and another notable free agent who was available this summer could probably relate to what the point guard was going through.
Victor Oladipo reportedly turned down two lucrative extensions over the past year, then proceeded to sign a veteran-minimum deal (worth $2.4 million) with the Miami Heat once he hit unrestricted free agency this offseason.
Sure, Oladipo's situation is a bit different because a significant quad injury impacted his stock, but it represents another cautionary tale for players.
In late 2020, the Indiana Pacers offered Oladipo a multi-year extension that would've paid him more than $25 million in Year 1 and increased by 8% each season, according to former NBA general manager Ryan McDonough. If it was a four-year extension, that would've been $112,896,000, and McDonough added that the deal was the most that the Pacers could offer under CBA rules. Oladipo reportedly declined the offer because he wanted to hit unrestricted free agency and leave Indiana. (IndyStar.com had a similar report, stating that the Pacers were prepared to offer a four-year, $112 million extension at the end of last season, despite Oladipo's injury history.)
Once Oladipo turned down the extension, Indiana started weighing its options and, several months later, traded him for Caris LeVert (who is signed through 2023 on a relatively team-friendly deal).
Then, Oladipo had another opportunity to get a big payday. This time, it was with the Houston Rockets. After acquiring Oladipo in January as part of the James Harden blockbuster trade, Houston offered Oladipo a two-year, $45.2 million maximum contract extension according to ESPN's Adrian Wojnarowski. It was the most the Rockets could offer at the time, but Oladipo rejected it because he thought he could get a better contract as a free agent in the 2021 offseason.
The Rockets shopped him prior to the trade deadline in late March, but his value had plummeted. There wasn't much of a market for Oladipo, so the Heat were able to acquire him for Avery Bradley, Kelly Olynyk and a 2022 first-round pick swap.
Oladipo played in just four games with Miami before undergoing season-ending surgery due to a ruptured quad — the same quad that required season-ending surgery back in Jan. 2019.
That's how a two-time All-Star ended up on a veteran-minimum deal, just three years after being named to the All-NBA Third Team.
So, what's next for Oladipo?
While he'll be sidelined to start the year, his surgeon has said he's "very optimistic" that Oladipo could be cleared "by November." While it's concerning that he continues to have issues with the same quad, the surgeon who operated on Oladipo this time around had some interesting comments about the guard's 2019 procedure.
"I repaired the quad tendon and did it a little differently than [he had] it done before," Jonathan Glashow told ESPN. "The quad wasn't really hooked up. It was torn, and I reattached it. I was amazed he was playing with what he had... I think he's going to play really well again. [The surgery] went extremely well, and it's healing beautifully. I'm confident he'll play next year."
This puts Oladipo's struggles into context; the surgeon was surprised that he was able to play at all last year. And while he struggled relative to his usual production, he still averaged 20.8 points, 5.0 rebounds, 4.7 assists, 2.6 threes and 1.3 steals in 29 total games with the Rockets and Pacers last year prior to a brief four games with the Heat.

Yes, he was inefficient, shooting 40.8% from the field and 32.6% from the three-point line. Ever since his first quad injury in 2019, his shooting percentages have dipped. (He returned for 19 games in 2019-20, and he shot 39.4% from the field and 31.7% from deep.)
😱 VICTOR OLADIPO OH MY! 😱@MiamiHEAT @NBAonTNT pic.twitter.com/VDaowNfLif

— NBA (@NBA) April 9, 2021
With that said, Oladipo has never been super-efficient; even in his second All-Star campaign, he shot 42.3% from the field and 34.3% from three. Aside from shooting 47.7% from the field during his All-NBA season, he's never shot above 44.2% over the course of a season.
Over the course of his career, he's shot 43.8% from the field and 34.7% from three.
Oladipo looked like a shell of himself last season, but that isn't surprising after hearing his surgeon explain that his "quad wasn't really hooked up." Once he heals, perhaps he'll look more like himself. Oladipo is the ultimate low-risk, high-reward signing for the Heat since he's costing them very little, and they can walk away at any time.
Miami enters the 2021-22 campaign with a very talented core that consists of Jimmy Butler, Bam Adebayo, Kyle Lowry, Duncan Robinson, P.J. Tucker and Tyler Herro among others. The Heat don't need Oladipo to return to his All-NBA form; they're just hoping he can make an impact on both ends and complement their stars come playoff time.
For Oladipo, this is an opportunity to show that he's healthy and capable of contributing to a contender. Then, after his one-year, prove-it deal expires, he'll be able to hit free agency again next summer when he's 30 years old. Also, since Miami won't ask Oladipo to do too much or try to rush him back from injury, it's the perfect environment for the 29-year-old to get right.
One year ago, Oladipo was being mentioned as one of the top free agents available in the class of 2021. Now, he's being treated like a complete afterthought.
If he's able to get healthy, Oladipo seems like a lock to outperform his contract and potentially become one of the biggest steals of this offseason.