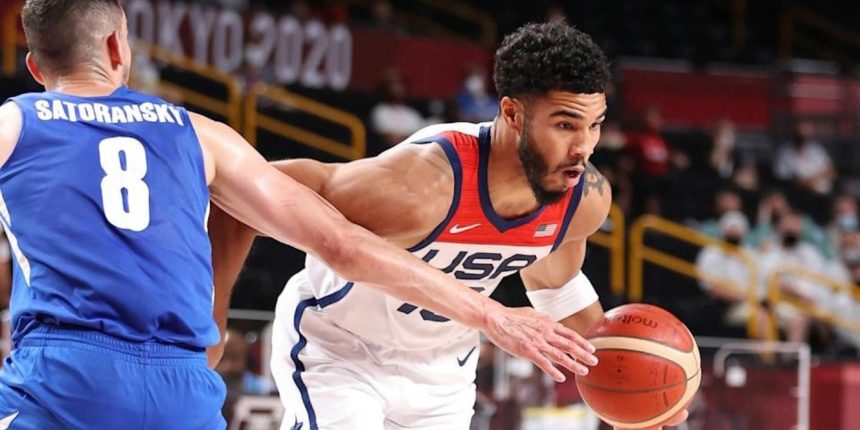 USA advances to knockout phase of Olympics after best performance yet
Remember back when Team USA was in disarray in Las Vegas – with an out-of-shape Kevin Love on the team, a COVID-19 scare causing them to cancel an exhibition game against Australia and everything looking dismal after scrimmage losses to Nigeria and the Aussies?
We told you then that it didn't really matter, because the goal here is not to dominate everyone all the time. The goal is to win the final three games in Saitama.
Well, the Americans have figured a few things out, and they are three victories away from a gold medal (a week from Sunday). It will get more difficult next week, but it was not all that hard on Saturday as Jayson Tatum scored 28 points, Kevin Durant chipped in 23 and the Americans finished the group phase of the Olympics with a 119-84 victory over the Czech Republic.
They finished second in Group A behind France (3-0) and had a point differential of plus-82, which is enough to get them into the knockout phase against an opponent that won't be known until Monday. (It will not be France, but a rematch against Evan Fournier and Rudy Gobert could come as soon as the semifinals).
What's important for American fans and the U.S. federation was the way Team USA shot the ball in recovering from a flat start to win this one going away. Tatum was 10-for-16 (including 5-for-10 on three-pointers), Kevin Durant shot 8-for-11 (including 4-for-7 on threes), and as a team they shot 62% from the field including a 19-for-23 start to the second half. In the last 26 minutes, they were 33-for-44 from the field.
Head coach Gregg Popovich said that he told Tatum to play as though this is a Celtics game and imagine he's facing the Spurs. "Every time we play him, he scores like 90," Popovich said.
Actually, Tatum scored 60 the last time the Celtics played the Spurs.
"I took a couple of long threes in the final minute because guys were telling me to get 30," Tatum said.
For all the talk (false narratives?) that the American players were unhappy with the offense they were running and were tuning out Popovich, Saturday's game provided a rebuke. The Americans started slowly but were unstoppable once they started finding their shooting rhythm.
The fact remains that no nation has a better roster 1-through-12, but if the Americans have an Achilles heel, it will be the one that France exploited in the opener: A lack of size at the center position. (France took over the opener by playing two centers, Gobert and Vincent Poirier, at the same time).
But this game was so much in hand in the second half that JaVale McGee got some extended run in the fourth quarter and finished 4-for-4 in just over four minutes. Draymond Green was also perfect from the field (3-for-3) and has not yet missed a shot in the Olympics (5-for-5). Also, Durant used this game to surpass Carmelo Anthony as Team USA's all-time leading scorer (354 points).
"It's still pretty weird for me to do shit, do stuff, like this," Durant said of the achievement.
And new! @KDTrey5 has passed Carmelo Anthony to become the U.S. Olympic Men's Basketball Team's all-time scoring leader! 🙌 pic.twitter.com/xqSXMfMGrx

— USA Basketball (@usabasketball) July 31, 2021
So, is Team USA really in bad shape, as so many folks thought not too long ago?
Well, the Olympics and other FIBA competitions can turn on a dime, so withhold judgement until we see what next week brings. This tournament goes into best-of-1 mode when the knockout round begins, so there is no reason to get too high off of any single victory, no matter who it is against. The trick is winning three more, and Luka Doncic wants it just as bad for Slovenia as any American wants it for Team USA. Same goes for Ricky Rubio and Marc Gasol and Pau Gasol of Spain, Gobert and Fournier and the rest of the French team, all of the undefeated (3-0) members of the Australian national team, etc.
What happened in Vegas stayed in Vegas. Remember how Nigeria and its squad of eight young NBA players looked so dangerous back when they defeated Team USA in that exhibition opener? Well, they went 0-3 in Tokyo, and head coach Mike Brown is catching the next thing smoking out of Narita.
Iran also finished 0-3, and either Argentina or Japan will finish winless as well after Sunday's games are played.
The knockout phase will include at least one team with a 1-2 record, with the deciding factor being point differential. Under Olympic rules, the three group winners (France, Australia and Slovenia/Spain) and all of the second-place teams (USA, Italy and the Slovenia-Spain loser) advance, along with two third-place teams. The tiebreaker is point differential, and after Saturday's games, Germany was -16, Argentina (with one game left against Japan) was -28, and the Czech Republic was -49.
The quarterfinal matchups will be determined by draw Monday, so there is little the Americans can do from a preparation standpoint except wonder and wait – just like the folks back home are doing as they try to figure out whether any of these games will be on live TV.
The American men attended Friday's U.S. women's hoops game, but they are often confined to their hotel or practice facility because of COVID lockdown rules. Fighting boredom remains a daily task.
"We sit together in the meal room and watch these games on TV," Tatum said. "It for sure is a different experience, especially for guys like myself who are first-time Olympians and would like to have some exposure to other events."
Instead, they sit a half a world away, keeping up with developments in the NBA now that the draft is over and free agency is about begin and continuing to do what they can to get better.
Training camp in Vegas is squarely in the rear-view mirror.
"Our confidence never waned," Tatum said. "We didn't have our full roster until four-to-five days ago, and we knew we would get better with each game, each practice."
That is indeed happening, but the stakes get higher next week. And as any observer should have learned by now, strange things happen in international basketball… and things happen quickly. Saturday's game was in the books in less than two hours (compared to the 2021 NBA Draft, which took four hours and 47 minutes on Thursday night).
That just goes to show that the Olympics and international competitions take place in a different world from the NBA. We are halfway to the finish, and the only thing we know for certain is that the U.S. team is a heck of a lot better than it was when it first came together.