U18 Real Madrid survives!
It took an overall collective effort for Madrid to win the Adidas Next Generation Tournament Final 4 in Valencia. The guard-oriented team faced some adversity and won the tournament without Juan Nunez, who left after their second game, and a limited Matteo Spagnolo, who played with calf pain. But instead of searching for an excuse, Madrid found multiple answers and surprised FC Barcelona in the Final. Here are my takes on some of the best players:
Eli John N'Diaye: 6-foot-8 | U18 Real Madrid | Forward | Age: 16
MVP Eli John N'Diaye played his best basketball, and at the right time! We certainly remember his performance in Istanbul a few months ago, where he averaged 13.3 points and 8.6 rebounds on 55.6% from the field and came up with 28 points and 11 rebounds during the March final vs Stellazzurra.
N'Diaye topped his previous performance by not only showcasing his ability to find scoring opportunities within the offense, but it looks like he is also acquiring the individual skills required to create his offense. He averaged 19.0 points, 13.3 rebounds on 45.2% shooting during the tournament. His touch near the rim, his relentless effort on the glass and his three-point shooting were too much for his direct defender.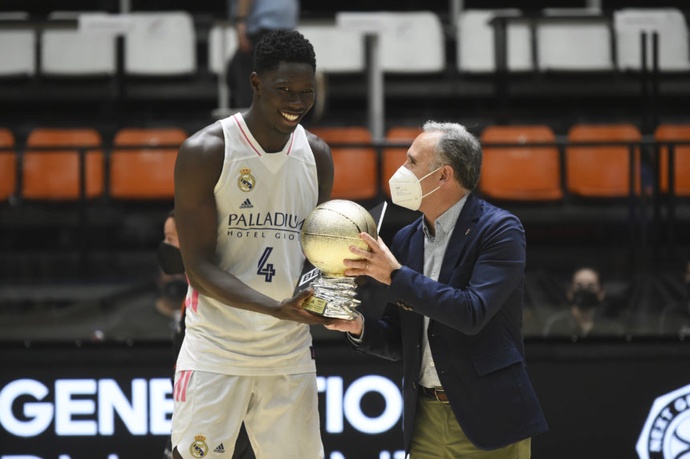 N'Diaye came up with a rock-solid 30 points and 15 rebounds in 38 minutes in a close win vs. U18 ASVEL, reiterated his performance vs, U18 Crvena Zvezda mts Belgrade with 18 points and 16 rebounds in 34 minutes. And finally, he overcame the physicality of FC Barcelona (James Nnaji and Teodor Simic), with another solid performance with 17 points, 9 rebounds, 5 assists and 5 steals.
Without a doubt, N'Diaye was the best player at the tournament, and even if it seems that he doesn't look like a super-high ceiling player due to his height and set of skills as a power forward, N'Diaye certainly looks like a player that has a lot more to offer if he continues to work on expanding his offense and continues controlling the boards as he has been doing.
Henri Veesaar: 6-foot-10 | U18 Real Madrid | Center | Age: 17

It was a solid performance overall for Veesaar! He hasn't gained weight, but he tried to be physical, and I loved the fact that he finished with dunks every time he could. His three-ball is becoming a real threat, and he knows where and when he can pull the trigger. As a finisher, he does a good job, but I'd like to see him work and create his own shot here and there, as he becomes prone to guards needing to create for him.
As usual, Veesaar used his height and length near the rim to rebound, and protect the paint. What I like the most about him was his fire throughout the tournament; he continuously brought a level of energy every time he stepped on the court. He averaged a productive 12.0 points and 7.0 rebounds on 63% from the field, including 40% from beyond the arc during the tournament in 26 minutes per game.
Sediq Garuba: 6-foot-4 | U18 Real Madrid | Wing | Age: 17

The unsung hero! It takes more than stats to be able to portray what he brought to his team. Physically capable to defend four positions on the court, as well as help and recover, Garuba brought his A+ defensive game with him. He's still got hours to spend in the gym as an offensive player (1-for-5 from deep), but his defense kept Madrid in the game when the offense wasn't clicking.
Garuba did a great job of cutting and driving the lanes, contesting jumpers and stopping fastbreaks by utilizing his athleticism. His hustles earned him playing time (32 minutes per game), and he was capable of finishing around the rim when it counted the most. If he can develop a steady perimeter shot in the corner, he'll have some solid tools as a pro.