It's a shame that these NBA playoffs aren't in glitzy cities.
It's a shame that LeBron James isn't fighting for a chance at his fifth career title.
It's a shame that this league is so predictable.
Actually, it's a shame that you're not witnessing the birth of young, rising stars before your very eyes.
There may not be a soul left to question what Trae Young is bringing to the table in his debut playoff run, nor one to tear down Devin Booker with the all-so-familiar-and-overused label of "just a scorer."
Instead, these two now-household names are not only demanding your attention, they're seizing it.
Young played in his in first Eastern Conference Finals game on Wednesday night on the road, and took hold of the game when it mattered most. He had multi-time All-Defensive Team member Jrue Holiday on his heels, as well as anybody who dared guard him on the perimeter.
If the Milwaukee Bucks switched on him, it didn't matter. He'd blow right past his man for a floater, or a lob, or an alley-oop off the backboard. Hell, he's even taking pull-up mid-rangers now. If they had to defend him off a high screen, he'd make one dribble move and fire, or he'd have enough time to do a shimmy and can a triple as the Bucks helplessly stared, too late to contest. And if Milwaukee elected to trap him toward mid-court, he'd pinpoint a teammate on the perimeter and get it to him with a behind-the-back pass.
Since the semifinal round started, in pick-and-roll situations as a ball-handler, Young has scored 1.31 points per possession on floaters and 1.28 points per possession on jumpers. In a more traditional sense, Young has averaged 30.5 points and 10.5 assists on 42.2% from the field. He's getting to the free-throw line over nine times per contest, and is making 87.3% of his attempts. He has not been afraid to shoot, either, taking the fifth-most shots on average (23.3) in the NBA this postseason.
If you're looking for a fun little storyline to follow, try this one on for size. In series openers, Young is averaging 38.3 points per game on 48.5% shooting, to go along with 10.3 assists and 5.3 rebounds. He is 28-for-30 on free throws in total. That is what you call setting the tone, with all three of those matchups coming on the road. We may as well call Trae "Mr. Game 1" at this point. His career's just getting started and he's getting F-bombs hurled his way from opposing audiences left and right. When was the last time that the underdog was also the villain?
In the Western Conference, there's Booker, who has willed the Phoenix Suns to a 2-0 lead over the Los Angeles Clippers without Chris Paul. Another player who's not afraid of the moment, yet is seeing his first postseason action in the sixth season of his career, Booker is turning the corner and making defenders pay probably more than anybody else in the NBA.
Seriously, once he's gotten a pick above the break or a handoff, that man has gotten to his spot every single time. Guys are staying in front of him pretty well, but it has not mattered. The minute that Booker has put the ball on the floor, he's found either corner of the key or the nail; at that point, there's nothing more teams can do besides contest. And even when defenders do get a hand up, he has so much elevation on his jumper to the point where it hasn't fazed him.
From the start of the second round and on, here's Booker's contested jump shot chart, courtesy of InStat: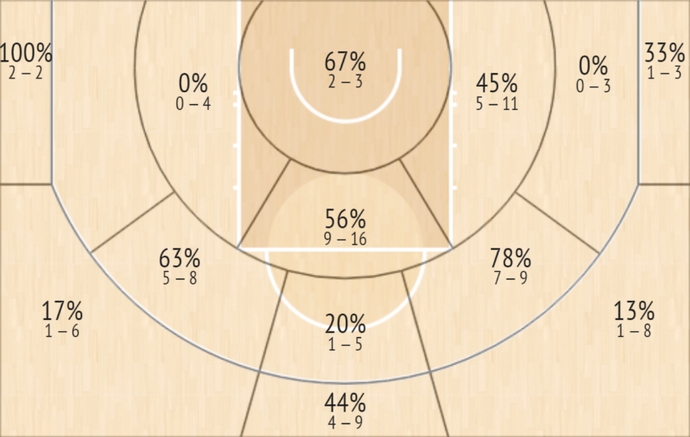 And here's an illustration of how effective Booker's jumpers have been in any playtype.
| | | |
| --- | --- | --- |
| Playtype (Total No. of Poss) | Jumper Possessions | Points Per Possession |
| Pick-and-Roll Handler (42) | 33 | 1.36 |
| Isolation (27) | 19 | 1.05 |
| Catch-and-Drive (13) | 11 | 1.82 |
| Transition (21) | 9 | 1.11 |
| Off Screens (14) | 9 | 1.11 |
Get the picture?
As he's dragging his assignments with him, Booker is opening things up for others to thrive, as well. Maybe the savviest development in his game is his passing; however, it's his patience that has the Suns humming. When he's found himself in a double team or in a crowd, there's no sense of panic whatsoever. Booker is wisely waiting for his teammates to cut, go for a lob or locate themselves for a look on the perimeter. None of this would be possible if he couldn't make the reads as sharply as he has. The thing is, though, he's processing all of this so quickly, while maintaining a solid pace and timely decision-making simultaneously.
Booker's efficiency is at an all-time high, unafraid to take the big shots, yet possessing the balance necessary to be the well-rounded player he has become over the course of his development. His averages in the postseason speak for themselves: 28.3 points, 7.1 rebounds and 5.3 assists on 47.9% shooting. Not to mention that bouncing the defending NBA champions and the league's MVP in the first two rounds of your playoff career is a pretty loud way to say, "I'm here."
But that's how Young and Booker operate. They've got their own styles and ways to dissect and frustrate their opponents, all while putting on a show for the neutral audiences at home to enjoy, and both find themselves in position to make something really special happen for their respective teams.
Forget about the market they play in.
Forget about The King sitting at home.
Forget about a predetermined winner.
We're witnessing the next generation of superstardom blossom in the postseason, and judging by the latest returns on television ratings and social engagement, people are noticing.
As they should.