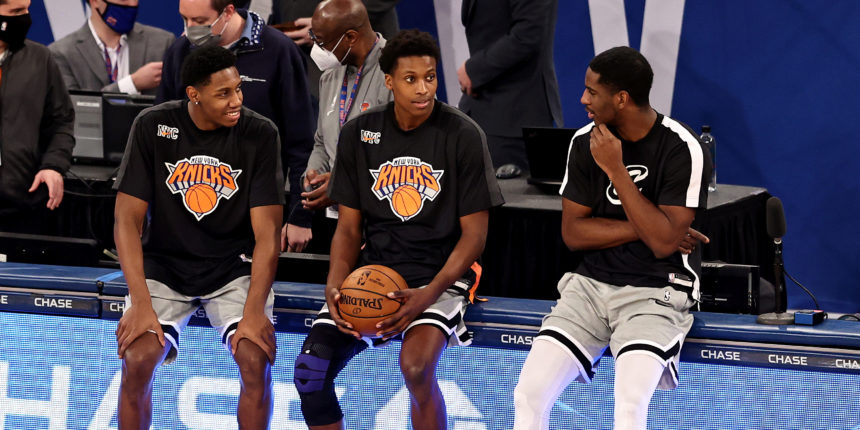 There's plenty of blame to go around for Frank Ntilikina's failure
Phil Jackson sat atop his perch and preached the gospel of Tex Winter.
The triangle offense, Jackson steadfastly declared, was not obsolete.
Truth it may be, in his final act as the chief of the New York Knicks, Jackson ultimately made the decision to cut against the grain from within his own scouting department and opted to select Frank Ntilikina with the eighth overall pick in the 2017 NBA Draft.
Malik Monk — the prospect favored by more than one of the team's front-office members — believed he was bound for New York, but Phil obviously had other ideas.
Today, it's easy to look back at the draft and lament the fact that the Knicks didn't end up with Donovan Mitchell, Bam Adebayo, Kyle Kuzma or even OG Anunoby.
But it's easier to look back at Ntilikina's tenure with the organization and realize that the Knicks, not even under Leon Rose, are yet fully worthy of the benefit of the doubt.
Slowly but surely, over the past 30 years, the only constant in New York has been the lack of the type of developmental culture that the league's more successful organizations seem to have. That didn't begin with Ntilikina; his struggles just further highlighted this weakness.
As his time with the organization has come to an end, the French guard was nowhere near an impact player, and it would be unfair to not lay at least a bit of blame for that fact on the Knicks themselves.
"There was a fair amount of reluctance in making him the pick," one source who was familiar with the Knicks' plans heading into the 2017 NBA Draft told Basketball News.
"[Ntilikina] obviously had the physical gifts to be an impact player in the league, but there were two or three other guys that got support because they seemed much safer."
The operative word there being safe.
At the NBA level, in the majority of instances, impact players are not born, they're developed. Except in the rare and obvious cases — LeBron James, Kyrie Irving and Zion Williamson, for example — players arrive to the league as lumps of clay. Player development personnel, analytics staffers, assistant coaches and members of team scouting departments come together to analyze, critique, tear down and build up the neophyte chasing stardom. Their job isn't only to find the player, their job is to chisel and sculp them.
Lumps of clay. Blobs of potential. Frank Ntilikina came into the league as cake batter. It was the organization's job to whisk him and bake him thoroughly.
But like way too many before him in New York, it didn't happen. So now, the question becomes whether Ntilikina isn't an NBA player simply because the Knicks said he isn't.
Like every other rookie who showed flashes of potential in New York, he built a strong following among Knicks fans, many of whom are disappointed that the team decided it would be better off without him.
"I was honestly surprised," one of Ntilikina's former teammates with the Knicks told Basketball News. "He struggled a bit with his confidence, but most of us thought he would figure it out. But he never really had the chance to make mistakes, and every player needs that."
Said a bit differently, in four years, the young guard had four different coaches. The expectations placed upon him and his place in the rotation varied quite a bit, so it's not a complete surprise that he never found consistency while playing in New York. At the same time, he didn't exactly take advantage of the opportunities he was given, either by David Fizdale or Tom Thibodeau.
There's more than enough blame to go around.
Still, as recently as the beginning of last season, teams were registering interest in the defensive specialist. According to one league source, the Detroit Pistons made more than one attempt to trade for Ntilikina, while the Orlando Magic were believed to have been enamored with his potential.
One former front-office staffer in New York told Basketball News that Ntilikina's name would come up in trade discussions multiple times per season, but that the team never received an offer for him that included a future first-round pick. That was believed to be the asking price from the team's current front office. It obviously never materialized, and somewhere along the way, the Knicks believed that its roster spot and/or the cost of re-signing Ntilikina outweighed the benefit he could provide a roster that suddenly has other talented players competing at his position.
Based on what we've seen and heard, the now-23-year-old seems to have been perceived as having too much potential for him not to find a new home in the NBA.
The question is whether he wants it.
Once upon a time, Danny Green wasn't thought to be an NBA player, neither was P.J. Tucker. Both became lynchpins on championship teams. Teams like San Antonio, Oklahoma City and Miami have had success with reclamation projects and in developing young players, and Ntilikina has at least shown the potential to give a team some meaningful minutes.
As an on-ball defender, his timing and instincts are world-class, and while he received drastically reduced playing time last season, he at least showed the ability to be a respectable shooter from deep (he only took 48 attempts in 33 appearances, but connected on 23 of them — 47.9%).
But he wouldn't be the first player to decide that they'd rather return home to play in Europe rather than continue to pursue their career in the NBA.
Two well-regarded Spanish guards — Sergio Rodriguez and Rudy Fernandez — once made that choice, while the Serbian-born Milos Teodosic and Lithuania legend Sarunas Jasikevicius did as well.
Nobody would have confused any of the four for a perennial NBA All-Star, however, fact is that not every player is happy having to constantly fight to earn his keep in the NBA. Especially when richer paydays, more notoriety and comfort await back home.
While the 2019-20 season was objective evidence of the Leon Rose-Tom Thibodeau marriage being a step in the right direction for the Knicks, the organization will only truly turn the corner and earn the respect of the league at large when it finds a way to develop its players. R.J. Barrett, Immanuel Quickley, Obi Toppin and even Mitchell Robinson will figure into that equation, as will the trio of young players with whom New York walked away from the 2021 NBA Draft.
Like every possession in a basketball game, young prospects have a shot clock. If the buzzer goes off before their perceived potential yields real-life impact, they may end up being squeezed between the margins and on the outside looking in when it's all said and done.
Conveniently, Phil Jackson can be blamed for the Knicks selecting Ntilikina in 2017 in the first place, but not finding a way to at least get a return on his perceived potential falls directly at the feet of those currently at the helm for the Knicks.
Time will tell whether Ntilikina was never fit to be an NBA player in the first place, but even in a sea of otherwise good moves, his departure from the organization — and nothing in return to show for it — is unfortunately reminiscent of the way business has been done in New York for far too long.
Hopefully, for the sake of those who wish to see the Knicks succeed, this kind of outcome becomes ancient history, much in the way that Malik Monk's hopes of hearing his name called eighth by Commissioner Adam Silver have.