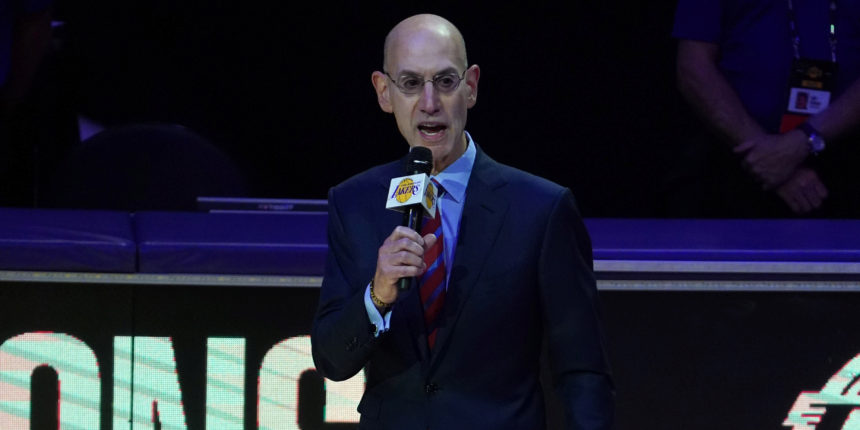 NBA's projected revenue and franchise valuations reach all-time highs
The NBA's 75th season tipped off this week and, based on revenue projections and franchise valuations, the league has never been better financially.
Over the past two seasons, the NBA's revenue took a significant hit. After bringing in $8.8 billion during the 2018-19 campaign, that number dipped to $8.3 billion in 2019-20. Over the last two seasons, the league's revenue decreased by 35%, per NBA Commissioner Adam Silver.
However, the NBA expects to bounce back in a big way entering the 2021-22 campaign. Silver is estimating that the NBA will bring in $10 billion in revenue this season, which would be an all-time high.
"The $10 billion revenue projection is based on full arenas this season," Silver told reporters this week. "I think we won't know until we can look back when this pandemic is truly over how we can grade ourselves relative to how other businesses have done. I'll just say that I'm really thrilled that we're back to something that looks closer to normal this year.
"I won't get into specific numbers in terms of operating losses… We lost significant amounts of money. The good news, I think, is that we're able to take a long-term view of this business and continue to grow in it, continue to invest in it. So we'll try to look at it as an ongoing investment in the business over a long period of time as opposed to a loss of an individual season."
The league brought in a record $1.46 billion in sponsorships last season (in an effort to make up for half-empty arenas and other losses), and the NBA may top that number this year.
Also, the media-rights deal brings in $2.6 billion annually and that number may drastically increase in the near future, with some reports suggesting that the NBA's new TV deal could jump from $24 billion to $75 billion in 2025. There's a precedent for that kind of increase: In 2016, the NBA signed a new TV rights deal that was worth three times as much and it famously caused the cap to spike (leading to some crazy contracts). If the NBA is able to get $75 billion for their next media-rights deal in 2025, the cap is going to skyrocket once again — and it remains to be seen if the NBPA would agree to cap smoothing (which involves increasing it gradually over multiple years rather than a huge spike in a single offseason).
Meanwhile, the average value of an NBA franchise is up to $2.48 billion, which is a 13% increase since February, according to Forbes' estimates.
And for the first time, there are three franchises that are each worth more than $5 billion: the New York Knicks ($5.8 billion), Golden State Warriors ($5.6 billion) and Los Angeles Lakers ($5.5 billion).
Those teams are obviously thriving, but perhaps what is most promising is that they each saw their valuation increase a ton since February. The Knicks increased by 16%, the Warriors increased by 19% and the Lakers increased by 20%.
Other teams that saw a substantial jump from last season's valuation are the Brooklyn Nets (+21%), Los Angeles Clippers (+20%), Philadelphia 76ers (+18%) and Milwaukee Bucks (+17%).
Even the bottom-ranked teams — the Memphis Grizzlies ($1.5 billion), New Orleans Pelicans ($1.53 billion) and Minnesota Timberwolves ($1.55 billion) — have a solid valuation. And, surprisingly, they each saw their valuation increase over the last year too, with Memphis improving by 15%, New Orleans improving by 13% and Minnesota improving by 11%.
The NBA made it through a tough stretch and they should be able to get back to the pre-COVID, year-over-year growth that they have come to expect.