Tyler Herro hasn't had the playoffs that Miami Heat fans were hoping for and that many others were anticipating. Even so, the Heat have gone 7-3 in their 10 playoff games, gentleman-sweeping the Atlanta Hawks with a +60 point differential in Round 1 before going up 3-2 against the Philadelphia 76ers in Round 2.
If you comparison shop, Herro's playoff performance is a distinct upgrade from what he displayed last year. You could say the same for the entire Heat roster given that many of them were fatigued from the year prior, a point I've made repeatedly about the bubble final four. But Herro's production falls short compared to his rookie year postseason.
In the bubble, Herro averaged 16.0 points, 5.1 rebounds and 3.7 assists on 43/38/87 shooting splits in 21 playoff games, logging 33.6 minutes per contest. Currently, he's at 14.2 points, 4.4 rebounds and 3.1 assists per contest, and he's averaging just 28.7 minutes per game in part because the Heat keep blowing teams out. (Six of their seven playoff wins have been by double-digit points, and the one that wasn't was a closeout win over Atlanta, in which Jimmy Butler and Kyle Lowry sat.)
His per-36 production is almost exactly the same: 17.1 points, 5.5 rebounds and 3.9 assists as a rookie, and 17.8 points with the same rebounds and assists now. The difference? His shooting splits are down to 42/28 from the field and from three, and while he's shooting 91.3 percent on free throws, he's only averaging 2.9 attempts per 36 minutes, barely up from 2.8 attempts per game two playoffs ago.
Let's not be overly dramatic and say that Herro is fighting for his f*cking life, but at 22 years old, he is already playing for his future. The 2019 lottery pick is extension eligible this summer, which will again be one of the most significant free agencies in Heat history regardless of how these playoffs turn out. But if Herro doesn't show enough in these playoffs to warrant a long-term extension, he may have to become a casualty for the team to move forward. Windows are hella fragile in #thisleague.
In the NFL, quarterbacks drafted in the early rounds have a quicker trial period than ever before, something that coincides with how little time young NBA players may have to develop while on a contender. Rookie-scale contracts in the NFL, similar to NBA first-round picks, are for up to four years at the team's discretion. If you're good enough, you'll play through all four years and receive an extension that would kick in immediately afterward. An NFL first-round pick typically gets a fifth-year option, which is at the heart of the controversy surrounding Baker Mayfield now.
After earning over $32 million over these last four seasons following his selection as the No. 1 overall pick in 2018, he's now on a fifth-year option worth under $19 million. He's still on the Cleveland Browns, even as they've signed DeShaun Watson to a fully guaranteed five-year, $230 million deal, the largest in NFL history.
The point is that the Browns, after Mayfield's struggles, felt that they had to go through alternative means for a franchise quarterback. The Heat are nearing a similar fork-in-the-road decision this summer, in which Herro's current play will serve as a factor.
Here's the Heat's salary cap table going forward, per basketball-reference.com: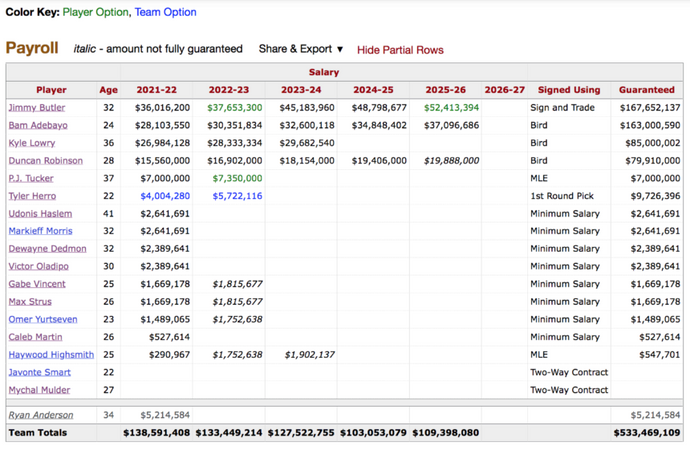 A potential Herro extension wouldn't kick in until 2023-24, and chances are Duncan Robinson–a prime trade candidate in this summer–would no longer be on the roster. Herro and Robinson could depart in the same package if Miami deems that's what's best going forward, but would such a trade leave the Heat with enough talent to remain contenders?
Again, we're seeing reports about the Heat's interest in Utah Jazz guard Donovan Mitchell. I wrote about the Mitchell-to-Miami possibilities in late April immediately following Utah's six-game first-round elimination against the Dallas Mavericks. If such a deal were to happen, Herro and Robinson would have to be included for financial reasons, and, well… never mind. I'll leave Utah alone this time.
But the door seems open because Herro has generally struggled this postseason. He also has, by far, the team's worst on-off plus-minus per 100 possessions. On the court, he's been a -5.7, while the only other player in the negative is Omer Yurtseven (-11.1), who has only played garbage minutes. Herro's on-off is a -39.8. Yurtseven has the second-worst, at -22.8, but again, he doesn't really play. Victor Oladipo, the only other notable rotation player, is a -6.1. All other key players are a net positive.
Now, in fairness to Herro, let's add more context. First, here's his playoff game log, again, per bball ref.
Game 1 was a blowout, so they didn't need him. Game 2 was fine, and Game 3 was one of his best, including 7 much-needed fourth-quarter points and 12 in the second. In Game 4, he was completely neutralized, largely thanks to Delon Wright, who guarded him for much of the series. In Game 5, without Butler and Lowry, Herro was still mostly limited, even if wasn't "bad" by any means.
In this series, Sixers coach Doc Rivers has talked about putting an emphasis on slowing Herro, who went off for 25 points on 53/67/100 shooting splits in the opener, and so far that has worked to a degree, as Herro has been held to 13.3 points per game on 42/32/90 splits ever since.
Doc Rivers on what he told his team when defending Tyler Herro:

"Let's make a mistake on anybody but Herro."

Said he's fine with mistakes, "but just not him."

— Brady Hawk (@BradyHawk305) May 5, 2022
While Herro's struggles have been born out of respect, he hasn't fully adjusted. Luckily for the Heat, it hasn't been quite the deciding factor since Butler has been an All-NBA Playoff Performer so far. Herro has the team's second-highest playoff usage rate at 24.5, leads the team in turnovers due to bad passes this post-season with 12 and hasn't quite been his Sixth-Man-of-the-Year self. He did, however, find some offense late in Game 5 over Philadelphia after a one-point first half. He found angles and was able to get to his floater after knifing through the lane, scoring 9 second-half points before sitting because the game was out of reach.
Rivers alluded to adjustments necessary for stopping Butler, who is averaging about 28-8-6 in the playoffs on 54/37/82 shooting. That could mean double teams, and that could open up things for Herro in Game 6. Maybe the Heat haven't needed a hero in the way Nas intended, but if Butler sees increased defensive resistance in Game 6, they might. On many fronts, it would go a long way if he took advantage, both in this series, and for his career.