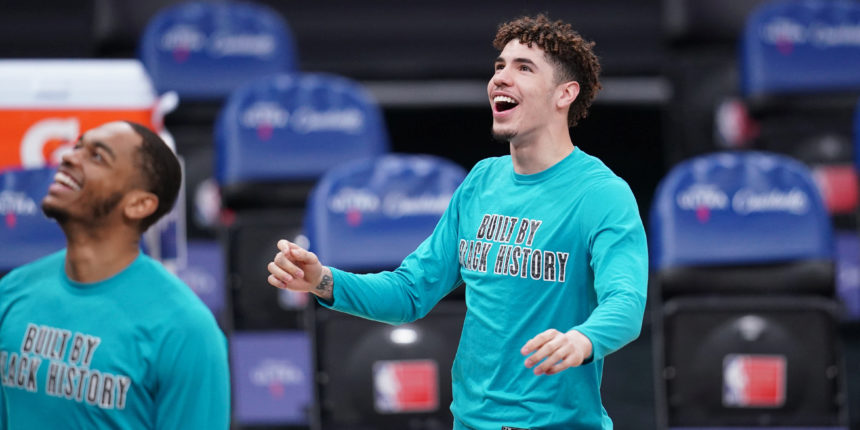 Which 2020 NBA lottery picks are separating themselves from the pack?
At the beginning of the 2020-21 NBA campaign, I took a look at how this year's lottery class began their individual seasons.
Players aren't expected to grasp every concept and adjust to the physicality of the league right away, so the first season is where mistakes are made, where roles change and minutes aren't guaranteed (*ahem* Malachi Flynn).
Regardless, it's a good time to recognize strengths and take some risky bets on a rookie's future successes.
Simply put, it's no longer too early to note the 2020 lottery picks who have already begun to find their NBA identity, so here's a list of five players doing quite well in their roles as freshmen, or, at least as well as one can do under the circumstances of this unpredictable, first-of-its-kind season.
Anthony Edwards, Minnesota Timberwolves, No. 1 overall pick
Stats: 16.4 points, 4.1 rebounds, 2.5 assists per game
Okay, so that Edwards dunk on the Toronto Raptors' precious Yuta Watanabe has been immortalized. In the initial article where I took a look at how the rookies were adjusting to playing NBA basketball, I wondered whether Edwards' charisma and charm would bleed its way onto the court, and I'm delighted to confirm that it has.
"I'd rather get dunked on than give up an easy two points by missing it."

Yuta Watanabe isn't dwelling on that Anthony Edwards poster dunk. pic.twitter.com/ipKPiiwOVH

— NBA on ESPN (@ESPNNBA) March 5, 2021
Edwards is already looking to be a poised, bonafide scorer and has already endeared himself to NBA viewers and players alike, who frequently praise his highlights and postgame interviews. There's no doubt greater efficiency will come along with reps -- he's shooting just 38.5% from the field. But in spite of those numbers, the Timberwolves should be pleased with the assertiveness Edwards' 15.6 field goal attempts per game represent. It's tough to teach that kind of confidence.
James Wiseman, Golden State Warriors, No. 2 overall pick
Stats: 11.8 points, six rebounds, 0.6 assists per game
I can't think of a stranger scenario for a top prospect to end up in.
Due to injuries that decimated the Warriors' roster for the 2019-2020 season, the tank that followed has led to a perennial NBA Finals contender landing the second pick of the draft. For Wiseman, that means entering a dynastic system that employs a superstar like Steph Curry and the championship aspirations that come with it. Because of the franchise's goals, Wiseman's flaws and drafting have been ruthlessly scrutinized since the season began. But for his sake, let's remove these caveats and judge his play alone.
One thing I've already come to enjoy is Wiseman's understanding of his role, when rolling to the basket.
His agility needs to improve since his build has the potential to give the Warriors a lot of defensive versatility, but for a big man, cleaning up his ball handling and finishing lobs goes a long way. It isn't where his development will end, though finding some strength and using his athleticism early is a great start.
LaMelo Ball, Charlotte Hornets, No. 3 overall pick
Stats: 15.7 points, 5.9 rebounds, 6.2 assists per game
So who doesn't love the Hornets? Who doesn't love LaMelo's funky strides and funkier passes? Who doesn't love their panicky home team commentators and the visceral, unabashed joy in his wails? Who doesn't love Scary Terry and the Gordon Hayward memes that come with any political unrest? I do, and you should too!
There was some shock when Ball wasn't selected with the first pick, with discourse about whether teams should draft according to "fit" versus "best available guy" flooding feeds everywhere.
It's too early to say whether the shock was warranted, and either way, LaMelo has eased his way into the league and has made his NBL professional experience obvious (only took him a few months to tune up his lower body shooting from). The ability to elevate team play, confuse opposing defenses and instill confidence in lineups is every trait you want to see in a lottery point guard. One thing to note is his decent defensive instinct. LaMelo still has ways to go, but an ability to cut off passing lanes – evidenced in his 1.6 steals per game -- is interesting indeed for a 6-foot-6 point guard.
Patrick Williams, Chicago Bulls, No. 4 overall pick
Stats: 9.9 points, 4.9 rebounds, 1.3 assists per game
It's hard for me to talk about Patrick Williams without mentioning that his video for the e-draft featured a segment detailing his job delivering flowers for his mother's florist business, but I'll try.
It's tough to find a niche on a team searching for an identity, which Chicago is. Williams has, though, and that's a testament to his steadiness. Having across-the-board efficiency with such low usage is no small feat. Gaining a power forward with a good shot would be an awesome addition for the Bulls and with reps, it's reasonable to think that Williams will be more than capable to build on the potential he's been flashing.
Tyrese Haliburton, Sacramento Kings, No. 12 overall pick
Stats: 12.5 points, 3.5 rebounds, 5.2 assists per game
Haliburton has become a favorite of mine among the rookies this season.
If there is a formula, "first year players that execute like a veteran on the court" is probably the easiest indication of future success. Already a 42.3% three-point shooter (on a significant amount of attempts), Haliburton has a knack for draining long-range shots. Paired with his 5.2 assists (against just 1.5 turnovers) in a secondary role while playing less than 30 minutes a game? The possibilities for him are endless.
At 6-foot 5, his rebounding should improve, and with the confidence Haliburton already has in excess, it's exciting to think of how he'll use his positional height advantage.
Stylistically, the Sacramento Kings have an awesome contrast between him and De'Aaron Fox. With more time alongside one another, they can act as backcourt puzzle pieces that give plenty of playmaking and pace versatility for the Kings' offense.
The 2020 rookie class has been somewhat impressive thus far, including some who were drafted outside of the lottery. But so far, these five are my favorites.