It seems early to evaluate the rookies, I know. But there is some value in checking in on the league's 2020 lottery picks. A lot is made about initial playability and whether a player can make an immediate impact for their respective team. After much research (via the eye test, Reddit posts and plentiful Twitter threads), here's a check in on the NBA's freshest faces:
1. Minnesota Timberwolves: Anthony Edwards (15.4 PPG, 2.4 RPG, 1.9 APG)
Anthony Edwards' charm will take him as far as he wants, but the No. 1 pick's play has been just as charismatic as he is. With Karl-Anthony Towns out due to a wrist dislocation, there's more than enough usage to go around, as evidenced by Edwards' 14 PPG average thus far in the season. The lottery tends to be where the highest ceilings camp, and many of these youths can be overwhelmed by the sudden professional-level burden they're expected to carry. However, Edwards was calm, cool and collected in his NBA debut, posting 15 points, 4 rebounds and 4 assists in just 25 minutes. If there's anything to keep an eye on, it would be the 19-year-old's three-point percentage. He's throwing up a good volume of these shots, but his position demands a respectable average from the perimeter. If anything, it's guaranteed he approaches this in stride.
2. Golden State Warriors: James Wiseman (11.3 PPG, 6.0 RPG, 1.6 BPG)
Wiseman is in a position similar to Edwards in the sense that his responsibility is prominent due to his organization's current situation. While there's pressure on Wiseman to maximize Steph Curry's age-32 season and help the Warriors win now, his immense potential has been on display. He's an athletic giant with a great handle for his size, and he should be an excellent fit alongside the Splash Brothers and Draymond Green next year. It's early, but I'll be keeping an eye on two things: whether the three-pointers remain at a decent clip and if he can seek out higher-percentage looks closer to the basket to get his FG% above the mid-40s. If he can reach a point where he's continually stretching the floor Curry, Thompson and Green, Wiseman would be indispensable.
3. Charlotte Hornets: LaMelo Ball (11.8 PPG, 5.1 RPG, 4.9 APG)
So far, LaMelo's flair we so often witnessed in his international play has held up to start the NBA's regular season. The distribution is there, averaging 5 assists in only 24 minutes per game and, surprisingly, his shooting looks far more polished than the awkward heaves we've come to know from his mixtapes. It's still imperfect, but LaMelo's legs under his jumper look far more consistent and repeatable than before. If there's anything to track with his game through this season, it's his defensive effort. He has the length and hands to truly disrupt smaller guards in this league, but it's simply a matter of whether he's interested on a game-to-game basis.
4. Chicago Bulls: Patrick Williams (10.0 PPG, 3.1 RPG, 0.9 BPG)
Williams' draft-day montage video was straight out of a Wes Anderson movie. The 6-foot-7 small forward told endearing stories about how his mother would pay him to assist with her flower delivery service, and that he'd be the go-to guy for all of the Bulls' flower-curating needs. But that's not what you're here for; so far, the rookie is shooting the exact same from the field and from three-point range (an impressive 47 percent), but his -12.6 net rating indicates a bit of an identity issue to start the year. Either the forward improves his offensive game by seizing higher-percentage opportunities, or he drastically changes his defensive impact. The Bulls could use it.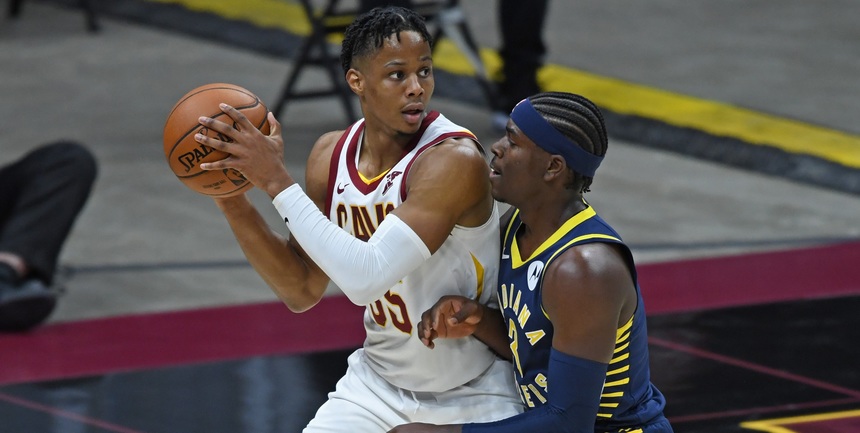 5. Cleveland Cavaliers: Isaac Okoro (7.3 PPG, 2.3 APG, 2.0 RPG)
He was known for his lockdown defense in college, but it was actually Okoro's offensive outbursts that made waves throughout the preseason. He was knocking down threes at a high clip, finishing at the rim in traffic and distributing the ball effectively. Even in the few games he's played -- due to an unfortunate ankle injury -- his impact has been tremendously felt by the Cavaliers. There was a game against the Detroit Pistons on the road in which Cleveland mounted a rally to come back and win, 128-119, in double overtime. Despite scoring zero points and only registering three rebounds, Okoro had the team's second-best plus-minus (plus-16), so he's making the most of his abundance of minutes when he's healthy. Okoro has some work to do with his discipline as a defender when it comes to fouls. But whether this is a coincidence or not, the Cavaliers' mindset has turned since he was drafted, as the team currently has a top-five defensive rating in the NBA.
6. Atlanta Hawks: Onyeka Okongwu (Injured)
Okongwu has yet to make his NBA debut as he deals with a left-foot injury.
7. Detroit Pistons: Killian Hayes (4.6 PPG, 3.6 APG, 1.1 RPG)
Hayes was a prospect whose film I enjoyed tremendously. His passes are angled in ways that don't really make sense in relation to the anatomy of the wrist, and I've been excited to see him transition into the league. His shooting was a question mark and remains so, but this is certainly a guard who can develop into a poised floor-general if given the room to do so. At 6-foot-5, the thought is plausible, but unfortunately, his transition has been interrupted by a tear in the hip (and he may need to miss the rest of the season if it requires surgery). Let's hope for a hitch-free recovery for Hayes. He's certainly a project, but the potential result is worth investing the time.
8. New York Knicks: Obi Toppin (9.0 PPG, 3.0 RPG, 2.0 BPG)
After appearing in one game, Toppin has been sidelined due to a right calf strain.
9. Washington Wizards: Deni Avdija (6.4 PPG, 4.0 RPG, 2.1 APG)
Avdija has been pretty excellent in his limited minutes, boasting an impressive 45.8 percent from three-point range on three attempts per game. So far, his subpar defense is offset by an insane 120.3 offensive rating, resulting in his 7.5 net rating. I can see Avdija serving as a jack-of-all-trades spark plug for the Wizards this season; the high ceiling is definitely there. If he continues to play like this and make positive things happen when he's on the court, Washington will have no choice but to extend his leash.
10. Phoenix Suns: Jalen Smith (2.0 PPG, 2.5 RPG, 0.5 BPG)
Smith appeared in two games, but he played a total of 20 minutes. He has been out due to an ankle sprain; then, the Suns announced that he'd miss additional time since he needs to clear their COVID-19 protocol.
11. San Antonio Spurs: Devin Vassell (5.0 PPG, 2.6 RPG, 1 SPG)
My introduction to Vassell at the NBA level was against the Toronto Raptors to start the season. His impact has been immediate, made apparent by his 95.8 defensive rating. Vassell is just the most-recent addition to the Spurs' nice little collection of athletic, versatile, defensive-utility guys. He has enough of a handle to sweep through both the guard and forward spots on the roster, serving as an awesome play finisher for a team without a clear-cut floor general besides DeMar DeRozan and his much-improved playmaking. He's only playing 15.7 minutes a night, and I would love to see how he performs with more minutes as the regular season continues.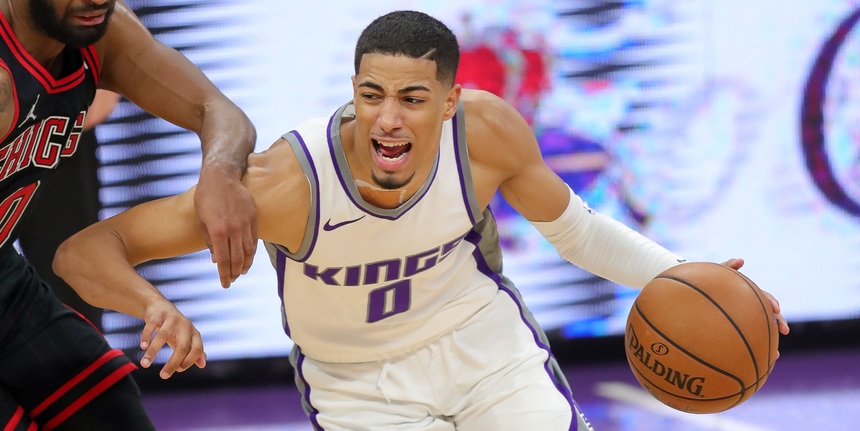 12. Sacramento Kings: Tyrese Haliburton (11.7 PPG, 4.7 APG, 1.3 SPG)
Tyrese Haliburton has been widely described by scouts as among the most NBA-ready players in this draft class, and I can see why. He's been incredibly consistent so far in the infancy of the season, posting even better stats in the Kings' losses this season. Shooting 48 percent from three on significant attempts, Haliburton seems to be embodying everything the Kings need after the loss of Bogdan Bogdanovic. I expect that initiating contact and getting to the line consistently will be the next step of his development, but right now, he's shaping up to be the perfect understudy and potential backcourt partner for De'Aaron Fox.
13. New Orleans Pelicans: Kira Lewis Jr. (2.0 PPG, 0.5 APG, 0.5 SPG)
Lewis Jr. is buried on the Pelicans' depth chart, so he hasn't played much this season.
14. Boston Celtics (via Memphis Grizzlies): Aaron Nesmith (2.7 PPG, 1.7 RPG)
Nesmith is buried on the Celtics' depth chart, so he hasn't played much this season.