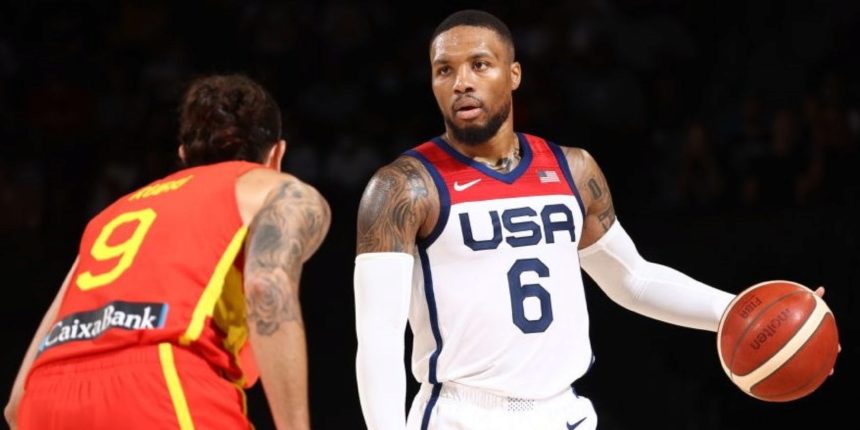 Team USA and Spain to clash again in an epic Olympic quarterfinal
Win or go home. Those are the stakes entering Tuesday's clash between the American and Spanish national teams. These squads will meet again in what has become the best international-basketball rivalry since the Soviet Union was in existence.
These teams played in the 2008 final at the Beijing Olympics (won by the "Redeem Team" in a 118-107 shootout); the 2012 gold-medal game in London (won by the Americans 107-100) and the 2016 semifinals in Rio de Janeiro (also won by Team USA 82-76). Spain is 0-12 in Olympic history against the United States, and 2-4 in World-Championship and World-Cup games.
Like Team USA, they are 2-1 in these Olympics. However, the Americans are averaging 105 points and shooting 51.4% compared to Spain's 85.3 points per game and 43.6% shooting. But the Spanish national team is clever, as evidenced by a box-and-one defense against Luka Doncic in the group phase that held the Dallas Mavericks star to just 2-of-7 from the field (although Slovenia did get the 95-87 win).
Ricky Rubio, Marc Gasol, Pau Gasol, Rudy Fernandez, Victor Claver and Sergio Llull have the longest tenures with the Spanish federation and have been through most (if not all) of the battles, but that makes Spain a much older team than the Americans. Whether that is a benefit or a hindrance remains to be seen.
But it is a certainty that Spain will try to trick the game up somehow and keep it close through the midpoint of the fourth quarter. If they can do that, it'll be a toss-up since the Americans are inconsistent in closing tight games (as seen during their exhibitions and pool play).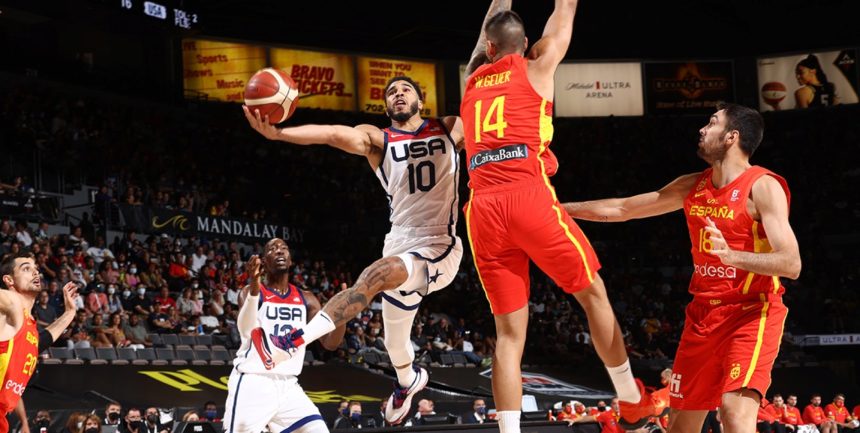 "[Spain] is a team that's been legendary in the world of basketball for being able to compete throughout the years, regardless or players who were in, regardless the generations which were involved," Spanish head coach Sergio Scariolo said. "We just have to keep being ourselves, keep our identity, that's it."
The American federation has been at this for 32 days now, though in different forms. Because of the late finish to the NBA Finals, Jrue Holiday, Devin Booker and Khris Middleton did not join the team until the eve of their opener, a loss to France. Team USA looked very good against Iran and the Czech Republic, but neither of those teams are as accomplished or experienced as Spain.
Spain enters the medal-round elimination game with a 2-1 record but suffered its first defeat against Slovenia 95-87 in its final pool-play game on Sunday night. Doncic's team scored 12 of the final 14 points.
Rubio, 30, whom the Americans got their first look at when he was a teenager leading Spain at the 2008 Olympics in China, is averaging 21.3 points and 7.3 assists a game while shooting 43.8% from three-point range. Spain's attack is very balanced: Llull is averaging 9.0 points per game, Pau Gasol is contributing 8.7 points and 5.3 rebounds, Claver is chipping in 8.7 points and 5.7 rebounds, and Marc Gasol is posting 7.7 points and 4.3 rebounds.
Since France had success playing two centers (Rudy Gobert and Vincent Poirier) together in its win over Team USA, the Americans should expect to see both Gasol brothers on the court at the same time.
The Spain-USA game (tipoff is at 12:40 a.m. EDT) is the second of the quarterfinals following Germany vs. Slovenia in the opener. Italy plays France and Australia plays Argentina in the other two quarterfinals.
Oddsmakers have made the Americans a 12-point favorite, but that is not the largest line. Slovenia, playing in men's basketball at the Olympics for the first time, is favored by 14.5 points over Germany. Australia and France are both favored by 8.5 points.
The Americans have already shown themselves capable of losing. They fell to Nigeria and Australia in glorified scrimmages in Las Vegas, then lost their opener to France.
"It would be disingenuous if you said we wanted to lose on purpose so we could learn things. That's kind of ignorant, if I said that. But circumstances should be taken advantage of no matter what, win or lose," head coach Gregg Popovich said. "We were behind the eight ball in the beginning, and we're making some fast progress. We still have a lot of improvement that we must and can make. But I think the losses in the beginning put a laser focus on how you have to play with these rules in this environment against these talented teams, who execute wonderfully. And if you do not have respect for your opponent, you're going to be in big trouble. So, we learned that the hard way.
"But it also was a difficult beginning, not being able to have a team together. And so, under some unusual circumstances, I think our guys really focused well and did a good job in gaining ground day-by-day, practice-by-practice, and hopefully we'll continue that as we move forward. And we have to if we want to be successful."
Four teams are going home early, and one of them will be either the top-ranked team (U.S) or second-ranked team (Spain) in the world. The planet waits four years for basketball games of this caliber to be played, and this one should not disappoint.