Saturday afternoon, I had a great time at the Syracuse-Georgetown men's basketball game. It was great to see all the alumni in the house from both schools. I took pictures with Rony Seikaly, Dikembe Mutumbo, Patrick Ewing and Louis Orr, who was my assistant coach at Syracuse.
Great seeing the OG Rony Seikaly
ðŸŠðŸŠðŸŠ pic.twitter.com/eBacr6RKtC

— Etan Thomas (@etanthomas36) December 11, 2021
My man Coach Orr and Coach Patrick Ewing. It's all love after the game. They got this one today though, good job coaches pic.twitter.com/tl8D4WMOW8

— Etan Thomas (@etanthomas36) December 11, 2021
The Syracuse fans all showed love. (We have the best fans in college basketball by the way.) This rivalry has so much history, and although Georgetown unfortunately came out with the win, I had an overall wonderful time watching the game.
I reached out to some Syracuse alumni — Lazarus Sims, Arinze Onuaku, Ryan Blackwell and Preston Shumpert — to get reactions after the two-game, old-Big East matchups against Villanova and Georgetown. It still pains me that we are no longer in the Big East, and yes, I am still holding out hope that, one day, we will return to the conference we belong.
Here is what all four Orange alum had to say on the team.
Lazarus Sims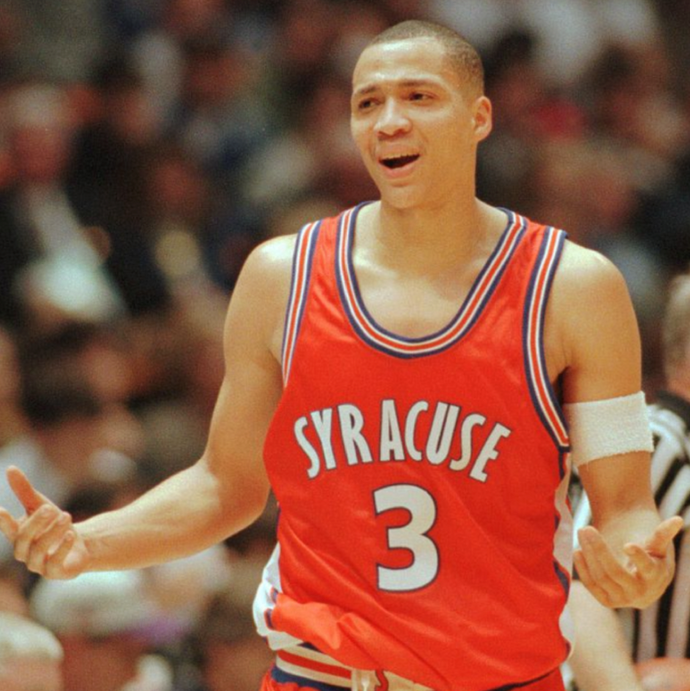 Etan Thomas: How do you think we played against Villanova and Georgetown?
Lazarus Sims: "They were both great games, but we didn't have a consistent true point guard on the floor who put everyone in the right position. I'll go back to when they won the championship in '03. Many people will say it was 'Melo [Anthony], it was Gerry [McNamara] — but really if you go back and watch the tournament, when they played their best, it was Billy Edelin who was the key. He put Gerry in his right position, the 2. In contrast to this team, against Villanova and Georgetown, when they put Symir [Torrence] in — who is a pass first point guard — it puts your shooters and your scorers in the right position. It puts Buddy [Boeheim] at the 3. It puts Joe Girard at the 2, and allows them to do what they do best. What we're doing is forcing the 2-guard into [being] a point guard, so the flow isn't there. It lasts for awhile, but it's not sustainable."
Etan: I couldn't agree more, and I like Symir. It's crazy, I was watching [Seton Hall guard and 'Cuse transfer] Kadary Richmond play against Rutgers. And the way he was running the team, [he] put everyone in their positions first, then it opened it up for him especially in the first half.... then the second half, he focused on putting everyone in their positions. He should be in a Syracuse uniform. But I see him how I see Symir in [that] we need what he brings to the team and he needs to play more. What do you think?
Sims: "Definitely, and you have to let him play through certain mistakes like you do with Joe [Girard]. We need what he does. The offense flows better with a Symir-type of point guard running the team. That's no knock on Girard, it's just not playing him to his strength."
Etan: Symir should be playing more, the same way Kadary should've been playing more last year.
Sims: You'll get no argument from me.