It may seem like the Phoenix Suns' ascent happened suddenly, but no organization becomes elite overnight. It takes years to fine-tune processes, develop a culture and establish something special.
After 10 seasons without a postseason berth — the fifth-longest playoff drought in NBA history — Phoenix has managed to completely flip the script in recent years.
Just three years removed from a 19-win season, Phoenix has developed a reputation as one of the most well-run organizations in the NBA and are on a mission to capture their first championship in franchise history.
Coinciding with the Suns' terrific on-court breakthrough, the team also renovated its arena, Footprint Center, and built a new state-of-the-art practice facility to call home. The leadership, infrastructure and resources are in place to usher in the next great era of Suns basketball.
BasketballNews.com was given a behind-the-scenes look at the Suns organization and spoke to Phoenix's decision-makers about what it takes to run an NBA franchise. Over the course of this three-part series, we'll provide a detailed look at the Suns' operation, with insight from owner Robert Sarver, team president Jason Rowley, general manager James Jones, head coach Monty Williams and more.
It should be noted that Sarver is currently under NBA investigation following accusations of workplace misconduct. When asked about the investigation, Sarver and Rowley said they legally cannot comment until the findings are announced by the NBA.
"I'm not in position to make any comment on it," Sarver told BasketballNews.com.
However, it's impossible to understate the significance of Phoenix's turnaround. Reinvigorating this franchise required a multifaceted approach, from hiring the right leaders to acquiring talented players to building some of the most enviable facilities in the league.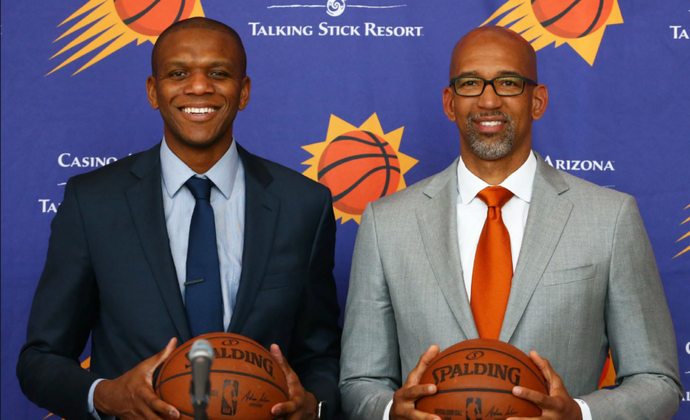 Finding the Right Leadership
Monty Williams and James Jones have played crucial roles in the team's resurgence, and Sarver raves about their impact.
"Where Monty and James have worked well together is getting the right players that would fit into our system, complementing the team and fitting the way the coach wants the team to play," Sarver told BasketballNews.com. "Having all those pieces come together is difficult, and, oftentimes in basketball, people don't see the game like that. The pieces are here for a reason and it's how it all fits together. It's kind of like if you've ever tried to decorate a house by yourself — you go buy this lamp, this bed and this rug. [You bought] all these things that you think you'll like, and then, it doesn't all look good together. But if you hire a professional decorator, it's good and everything fits together.
"With what James has done working with Monty, he's had everything fit together. It wasn't just about the best talent; it's about the fit, the culture, how we're going to play, those kinds of things. We've got an outstanding group of players that are committed together for success and generally happy for each other's success."
In 2017, Jones retired after playing 14 seasons in the NBA (including two years with Phoenix) to accept a job as the Suns' vice president of basketball operations. Two years later, the three-time NBA champion had worked his way up to general manager. Last season, he won the NBA's Executive of the Year award.
"To me, he had all the ingredients because he had the basketball intellect to really understand the game," Sarver said of Jones. "He had the experience, being around championship teams, and he had the ability to communicate well with people up and down. I thought he had all the tools, and I also had a really good feeling for his character and trust and things like that. I knew that he would be really good for the organization.
"Originally, he was brought in to help bridge communication between the front office and players and coaches. And then, he became the general manager. While he lacked front-office experience, his playing career got him a lot of experience, and [he was] learning the right pieces to put together. So, I think his strengths in terms of communication and talent evaluation and basketball strategy and putting all the right pieces together have been huge. He's definitely put his imprint on the organization in a short period of time."
Former Suns player Rex Chapman recognized early in Jones' front-office tenure that Phoenix was doing things differently than other NBA teams.
"Three or four years ago, I bumped into [James] in Las Vegas. For people who don't know, in pro sports, there is a saying: 'What's his number?' It means, 'How much money does that guy make?' It's a terrible term," Chapman said. "I was standing there with [James] and I asked, 'What's his number?' And [James] said, 'You know, I try not to do that here.' It's brilliant, and this is just part of the culture."
"I played, and you hear in sports, they talk about players in terms of value, asset, contract value — it just made it cold," Jones explained. "Look, it is a business. But I see people first. I see those players who were in the gym grinding, working, trying to be better to help their teams. I don't see them as, 'What's their number?'"
Meanwhile, Williams is one of the most respected coaches in the NBA, and he's beloved by his players. After finishing as the runner-up behind New York's Tom Thibodeau in the NBA's Coach of the Year race last season, he took home the award this year after leading the Suns to 64 wins.
"He's proved himself to be one of the best coaches in the league," Sarver said of Williams. "You could get a sense with Monty [that he'd thrive]. First of all, he had previous head coaching experience. We had a long conversation about things he learned over the years, things he would do a little differently, things he thought he did well. We had a candid conversation on things I thought that I had learned, things I would do differently over the years. Both James and I just got the feeling that Monty had the experience and ability to connect with the players. And he just had a very strong work ethic and moral compass to lead our players in the right direction."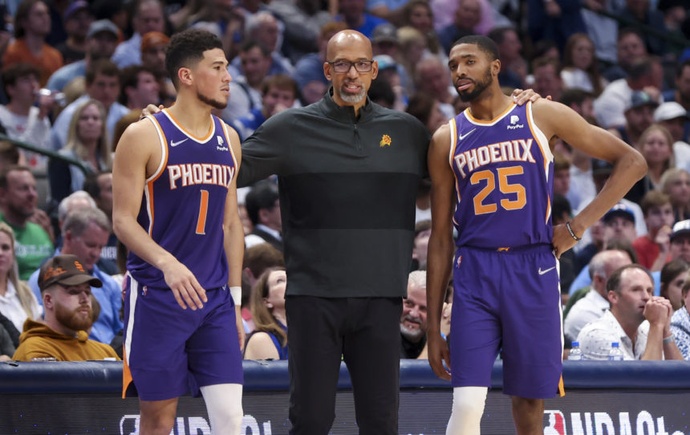 Devin Booker credits Williams for shifting the perception of the Suns and resetting the culture.
"That was Monty's biggest thing coming into [his first] season... We had many conversations, and he said his first step is we need to change the perception of this team and how people view us," Booker said last year. "And if that's having to get a little nasty, play tougher, more physical, but people are going to know when they play against us [that we're] some talented, hard-working guys... I think that the first step in recreating a franchise or a culture is gaining respect from around the league."
Jones and Williams have done a terrific job, and their staffers deserve a ton of credit too.
"We've got just a great group of people in place, many of whom you don't even know because it does take a village. It's not just one or two people," Sarver said. "I think we have a lot of good people in place... It's a people business."