Eight places.
The 2021-22 Memphis Grizzlies' offense has improved eight places from its 15th-ranked placement last season. What's so different about this year's unit? Ja Morant, Desmond Bane, Dillion Brooks, De'Anthony Melton and Kyle Anderson are all still here. Jaren Jackson Jr. is finally healthy, but he's still more of a defensively-calibrated player at this stage of the game.
What gives? Hmm...
Well, let's see what Cleaning the Glass has to say about this…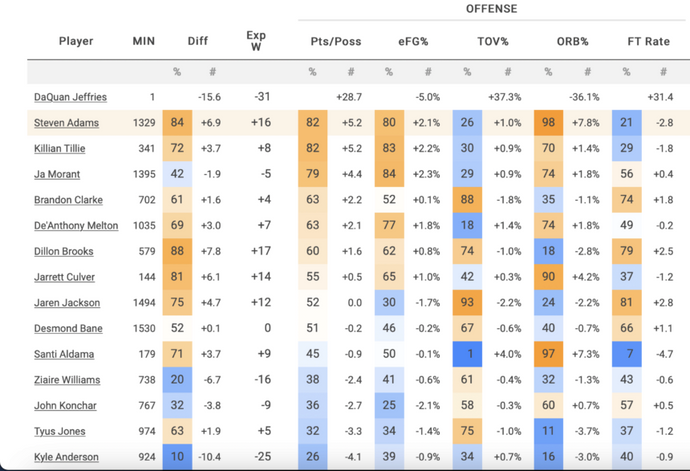 *Wipes tired eyes aggressively and looks again*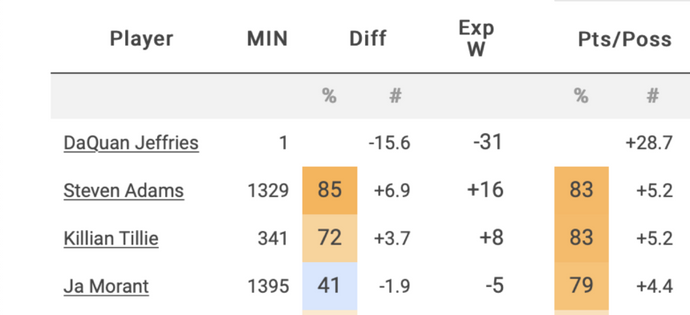 Holy crap. It's none other than Steven Adams atop the offense points per possession differential.
Now, you don't need me to remind you that on/off data can be extremely noisy and that Adams is probably not the Grizzlies' best offensive player. But if you do a little digging in the weeds, there is something to Adams being such a positive on that end of the floor. Since the 2016-17 season, Adams has finished in the 77th percentile or higher in this category — despite playing on three different teams during this time frame.
On this current team, all of the Grizzlies I mentioned earlier (with the lone exception being Jackson) average higher True Shooting percentages with Adams on the floor than with him on the bench (per PBP Stats).
I know what you're thinking now: Is this guy some sort of wizard?
No, but what he is doing for this offense is pretty darn magical.
Offensive Rebounding
The worst kept secret in the NBA is that Adams is an elite offensive rebounder. He's ranked in the 91st percentile or higher in that avenue since 2017-18 (per Cleaning the Glass). You don't need film study to tell you that.
But you do need it to explain this:
On the surface, this play looks like the typical Morant bull rush on the rim. However, look a little closer, and you'll see that center Thomas Bryant doesn't even attempt to contest Morant's shot — or go for the board on the miss — because he's too concerned with preventing this from happening again:
That's right, six offensive rebounds in one quarter. Adams so thoroughly punctured the soul of his opponent that Bryant would rather invite Morant to the rim than leave Adams free to run wild in the box.
The best part about Adams' work on the glass is that it doesn't bleed too much value from their transition defense. The Grizzlies still have the 11th-ranked fastbreak defense and the No. 7 defensive unit in those scenarios overall.
Screening
Advantage creation comes in many flavors (speed, strength, guile, etc.), and for Adams, his tool for power play initiation is the subheading of this section. This season, only three players average over the 5.4 screen assists per game that Adams is good for on a nightly basis. And similar to how a boxer develops many different deliveries for landing a punch, Adams has schemed a handful of clever tricks for deploying his body shield without garnering an offensive foul.
His favorite move consists of him positioning himself for a screen and then, at the very last second, subtly jerking himself forward a half-step to latch onto the ball-handler's defender for an extra half-second.
Three baskets in the third quarter for Morant in part due to some great screens by Adams that help get the feisty Thybulle away from him momentarily. pic.twitter.com/Rl4wTb2Hix

— Mat Issa (@matissa15) February 6, 2022
When he's not spamming that nifty little parlor trick, Adams shows the other cards in his deck some love. He can be randomly hulking down the court, then suddenly stop on a dime and set a pick. He can execute the screen version of putting a defender in jail. And he'll even try setting up a barrier while he and his ball-handler are both in the paint.
The hidden value that Adams' screening provides permeates into his teams' pick-and-roll numbers, as both the New Orleans Pelicans and Grizzlies improved in this department upon his arrival.
Check this out:

Pick & Roll Ball Handler PPP
Pelicans 19-20 (w/o Adams): 30th
Pelicans 20-21 (w/Adams): 16th
Pelicans 21-22 (w/o Adams): 28th

Grizzlies 20-21 (w/o Adams): 25th
Grizzlies 21-22 (w/Adams): 17th

A lot of other variables at play in all of this, but wow🤯🤯

— Mat Issa (@matissa15) February 4, 2022
Even more important for the Grizzlies is the effect he's having on their two offensive cornerstones in Morant and Bane.
| | | |
| --- | --- | --- |
| Player | Pick & Roll Ball Handler ('20-21)* | Pick & Roll Ball Handler ('21-22)* |
| Morant | 41st percentile | 74th percentile |
| Bane | 11th percentile | 52nd percentile |
* Data provided by NBA.com
Again, not all this growth can be attributed to the arrival of Adams, but man has his solid frame sure made navigating ball-screens easier for those two.
Passing
The most shocking revelation I had during my analysis was that Steven Adams is a pretty darn good passer. His 8.5 passer rating gives him the seventh-highest score in the league and the third-highest score among big men behind passing savants Draymond Green and Nikola Jokic (per Backpicks).
This score, of course, by no means vaults him into the top tier of passing big men. It's fair to deduce that his high standing in that measure is, in part, due to his conservative passing style.
On this play, there's probably a split-second window available for Adams to hit Bane on his cut to the rim, but Adams opts against it and chooses to live to fight another day. Nothing wrong with that. He just won't be bending the defense too often with that sort of prerogative.
Still, the passes he does choose to participate in are performed crisply. As both Parker Fleming and Basketball News' own Justin Lewis, note in breakdowns for Grizzly Bear Blues, Adams has great synergy with the team's perimeter players, and he's no stranger to diming them up on cuts to the rim.
You can see where Ziaire Williams has been watching that Desmond Bane tape! Really good off-ball movement here on the give-and-go. Steven Adams continues to be fantastic at hitting cutters pic.twitter.com/fLWn8hJJaM

— Parker Fleming (@PAKA_FLOCKA) January 7, 2022
"We've got a great relationship," Desmond Bane said of Adams in a recent exclusive with BasketballNews.com. "He seems like he's always finding me — whether it's backdoor cuts or handoffs or whatever the case may be. Steve-O's a great teammate to play with... You obviously gotta use your mind and use your smarts to your ability. I watch a lot of film and study a lot of different players and just try to pick up on some of their tendencies that work [against] them."
What's more, Adams can fuse his other offensive superpowers with his passing.
In this first play, he runs a dribble handoff action with Tyus Jones and gifts him a clean look by stonewalling his defender with a screen. In the second, instead of corralling the offensive board and restarting the possession, he has the presence of mind to volley the ball to an open shooter. Either way, Adams is creating great looks for his teammates.
The Grizzlies are the promising bunch — there is no question. What's equally without a doubt is the important role their overwhelmingly talented young core will play in the team's future success. That's a discussion for a later period in the timeline though.
Right now, let's relish the integral role Adams plays in the present-day version of this team. He's their possession extender, their pick-and-roll enforcer, and their sneakily solid two-man game playmaker.
But most importantly of all, he's their gatekeeper.
Looking to go to the hottest concerts, sports, theater & family shows near you? Get 100% guaranteed tickets to more than 125,000 live events from TicketSmarter, the official ticket marketplace of BasketballNews.com. Order online now!