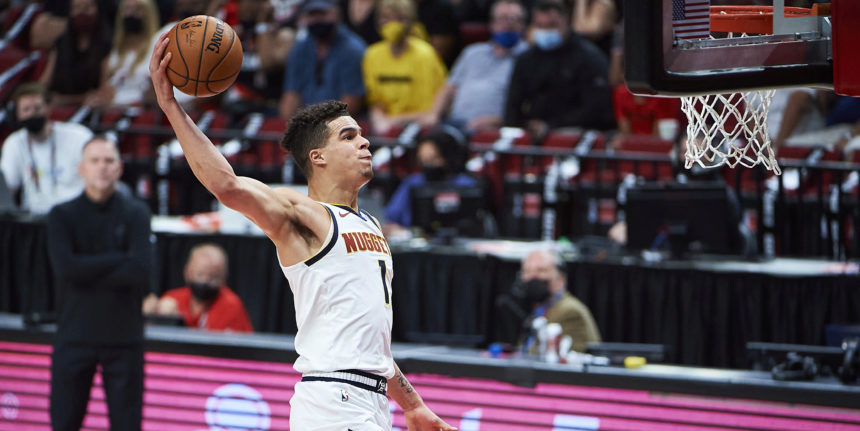 Sheridan: Why I'm taking a gamble on Michael Porter Jr. for NBA Finals MVP
MONTVALE, N.J. – The rest stop on the Garden State Parkway less than a mile over the border from New York was quiet early Saturday morning, with only three cars in the park-and-ride lot -- one of which held a sportswriter with a gambling app. That writer has a habit of believing in Michael Porter Jr.
So a $50 wager was placed with PointsBet.com on Porter Jr. to win the NBA Finals Most Valuable Player award. And as a Nuggets hedge, another $50 went down on Nikola Jokic.
But the Porter bet is more potentially lucrative, as PointsBet listed Porter Jr. at 100-1 Saturday morning, while most other books had him at lower odds. DraftKings Sportsbook, which usually takes wagers in this market, has had the Finals MVP odds dark for a couple of days.
The Jokic wager carries odds of 16-1, and it'll be more than a month before we know whether these were timely bets or merely another Benjamin falling into the legalized U.S. sports gambling sinkhole. The books had a spectacular week with the Los Angeles Lakers getting knocked out of the playoffs by the Phoenix Suns, and let's just say that there are a lot of folks in Las Vegas and in the online sports betting business that are going to be huge Milwaukee Bucks fans in the second round. After the Lakers, the books' biggest exposure is on the Brooklyn Nets, and then the Philadelphia 76ers.
BetMGM.com, which has partnered with the NBA on a new initiative called NBABet, has taken 21.7% of its handle on James Harden to win Finals MVP, 18.3% on Kevin Durant and 11.7% on Luka Doncic, who still must get out of the first round after getting Kawhi'd last night.

Only 1.7% of BetMGM's handle is on Giannis Antetokounmpo of the Bucks, just 0.9% is on Kyrie Irving, and 0.7% on Ben Simmons.

PointsBet, which is especially strong in New Jersey, Pennsylvania, Colorado and Michigan, lists Durant as the +375 Finals MVP favorite, with Donovan Mitchell at +400, followed by Antetokounmpo at +600. In the Andre Iguodala realm, PointsBet has John Collins, Clint Capela and Kristaps Porzingis at 150-1.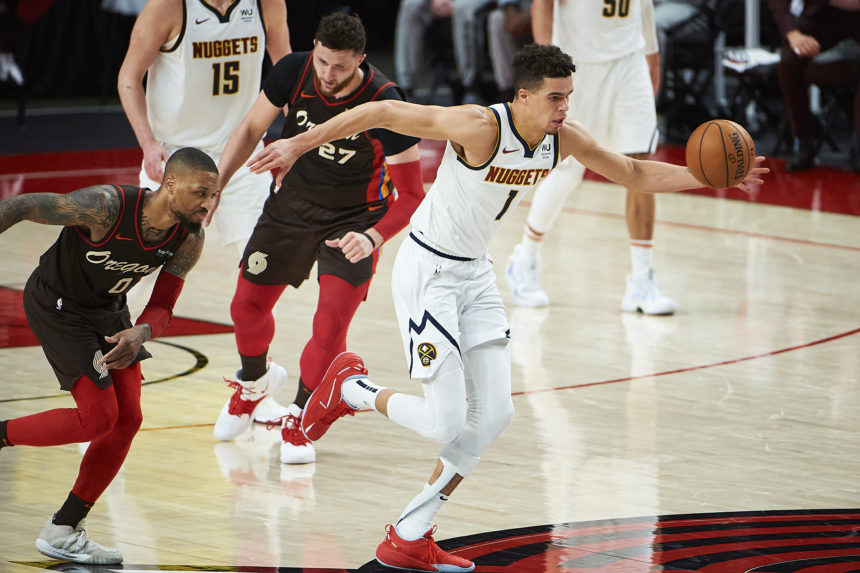 FanDuel has Porter Jr. at 250-1, along with Porzingis, Collins, Capela, Rajon Rondo, Tim Hardaway Jr., Joe Ingles and Bogdan Bogdanovic. Simmons is on their board at 120-1, and Khris Middleton and Jrue Holiday of the Bucks are at 100-1.

What this shows is that the books are not of one mind on who is going to come out of the East or West, although the Brooklyn prices are so low that the Nets are clearly seen as the favorites, despite the fact that they still have not shown that they have any idea of how to defend Antetokounmpo, Middleton and Brook Lopez at the same time when using their preferred small lineups of Irving, Harden, Durant, Joe Harris and whoever is playing the role of Jeff Green, as he recovers from a foot injury.

Brooklyn is the championship favorite at DraftKings Sportsbook with odds of +160, and the Utah Jazz are second at +300. The Dallas Mavericks have the longest odds, 50-1.

It has been a mixed year for sports betting stocks. DraftKings went from $44.86 on Jan. 1 to nearly $51 per share Friday. Penn National Gaming has risen from $80.89 on Jan. 1 to $136.47 on March 14 before coming back to earth and closing at $80.54 Friday. FanDuel's parent company, Flutter Entertainment, dropped nearly 10 percent Friday to close at $94.99, down from $119.40 on March 15.

The stock market may or may not have accounted for the profits the sportsbooks will reap from all of the losing Lakers bets they processed, and if the Nets fall to the Bucks in Game 1, it is fair to assume that the sports gaming stocks will rise again. Sports gambling will be legal later this year in Florida, New York, Nebraska and Connecticut, and gaming commissions in Arizona and Maryland are making progress on legislation; Wyoming's sports gambling rules will be finalized in the week ahead.


Wyoming borders Colorado, which will have a Most Valuable Player within its borders after Jokic's MVP victory becomes official. Denver opens against the Suns in Phoenix on Monday night, with Game 2 on Wednesday. The Nuggets went 2-1 against the Suns this season, with two of the games going to overtime, one to double OT. The teams have not played since Jan. 23.
Jokic should present a formidable matchup challenge for Deandre Ayton, and Porter Jr. will be relied upon to be a secondary scorer whose point totals will need to offset those of Devin Booker.
The Suns are slight favorites in the series, but Denver has more playoff experience, and Porter is coming off a Game 6 against Portland in which he knocked down six three-pointers in the first quarter. The third-place finisher in Most Improved Player award voting, Porter shot 10-for-13 and 10-for-19 in the final two games of the Nuggets' first-round victory against Portland.
It is unlikely that Porter will be more valuable than Jokic if the Nuggets make the Finals, but that unlikelihood is mitigated by the potential payoff ($5050) if he breaks out the same way teammate Jamal Murray did in the postseason a year ago. Jokic is a decent hedge, especially at 16-1.
If neither wins, we will have another chapter for the book "Why the House Always Wins." We shall see.
As a Basketball News reader you can get access to BetQL for 30% when you use the code BBN30, check out BetQL and win the rest of your bets for the playoffs.